CONTACT

Report potholes, stormwater blockages, dirt roads requiring grading and streets requiring painting and signage to:
044 801 9262/6 (7.45am-4.30pm)
044 801 6300 (after hours)
Uniondale: 044 752 1024
Civil Engineering Client Services Centre:
Old Town Hall Building, Market and York Street

044 801 2500/10 (7.45am-4.30pm)
044 801 6300 (after hours)
Civil Engineering Services administration offices:
Old Town Hall Building, York and Market Street
DOCUMENTS AND LINKS
Click for Bylaw related to Streets and Stormswater.
Link to effects of Illegal Dumping into Drain and Stormwater System Brochures
HOW ROAD REPAIRS ARE PRIORITISED IN GEORGE

The George Municipality's Pavement Management System (PMS) is a planning tool for the maintenance and repair of the entire George municipal road network to optimise road conditions, and is used to prioritise roads for upgrading, repairs and rehabilitation in the George municipal area.
As part of the compilation of the PMS, each road is investigated by specialised pavement engineers and its condition classified from very poor (high priority) to very good (low priority). Factors considered during the classification process is the structural, aesthetic, surface and formation condition as well as traffic volumes and functional class of the road. Integrated Development Plan (IDP) requests and the number of complaints per road may play a role.
From the investigation, treatment options are specified for each road which could vary from a diluted emulsion, minor patching and crack seal to asphalt, rehabilitation, reconstruction, replacement with brick paving and more.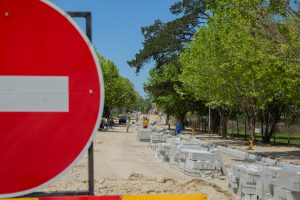 Further to the above, although a road may be regarded as high priority, it may be postponed depending on the municipality's ability to afford the proposed remedial work. Alternatively, a road that was regarded as 'good' may deteriorate very quickly to poor, for instance after flooding and/or sudden increase in heavy vehicular traffic. Constant monitoring and evaluation are therefore required and may result in the reprioritisation of roads.
Given the current financial climate and insufficient funds, George Municipality focuses on roads that are regarded as poor to very poor but continues to explore funding opportunities to address more.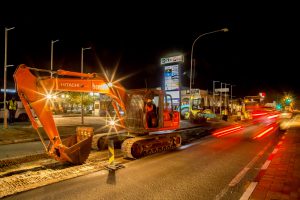 While no major repairs are foreseen for any roads in good or fair condition in the near future, routine maintenance continues as and when required. Requests for repairs to a specific road can be reported as listed above.
DRAINS AND STORMWATER SYSTEMS
Protect your property and people from the consequences of abusing the drains and stormwater systems in the following ways:
• Make sure the areas in front of stormwater drains are clear from rubbish and leaves.
• Don't litter. Keep your food papers, plastic bottles, cigarette butts and other waste with you until you get to a refuse bin and throw it in the bin or until you get home to throw it away in the right place.
• Keep your rubbish at home in a black bag and put it out on refuse collection day. You can put out up to seven bags per household every week.
• Put soiled nappies and used sanitary products inside plastic shopping bags and close it with a knot before throwing it inside your black refuse bag.
• The toilet is not a dustbin. Use it only for bodily functions and toiletpaper. Everything else must go
into a black bag, municipal skip or refuse site.
• Throw building rubble, car tyres and other big stuff away at the municipal refuse site or inside a
municipal skip placed in your area.
• If there is a recycling programme in your area, separate your recyclables and throw it into the blue
bag provided. Put the blue bag out for collection with your black bags on refuse day.
• Look out for anyone getting up to mischief and trying to open drain covers – chase them away or
report them.