CONTACT
Parks and Recreation
82 Meade Street, George
044 802 2900
parks@george.gov.za (all complaints via this address)
DOCUMENTS AND LINKS
Click for Bylaws regarding public amenities and cemeteries.
Click for Policies and Guidelines regarding beaches, landscaping, cemeteries and crematoria.
Click for Visitor Safety 
Click for where Dogs are allowed on Wilderness Beach
Click for Blue Flag Beaches 2022
GENERAL
Parks and Recreation manages beaches, parks, caravan parks and cemeteries, beautification and landscaping, trees on sidewalks, alien vegetation management and overgrown municipal properties.
BEACHES AND CAMP SITES

The George Municipality Parks and Recreation department is responsible for infrastructure and administration related to beaches including facilities, playparks, boardwalks, stairs and balustrades, toilets and parking areas.
Coastal and estuary management: nvumindaba@george.gov.za
Herolds Bay and Gwaing campsite bookings: cpafrica@george.gov.za
Permit inquiries for trading in beach parking lots: Economic Development: 044 801 9173
Please note the beach in Wilderness, eastwards from Touws River is under the control of SANParks 044 877 0046.
DOGS ON THE BEACH
Dogs or any other animals are not allowed on any beach area (sand) which falls in the George Municipal jurisdiction, according to the By-law, Keeping of dogs, cats and animals.
No dog or other animal may be in any public street or public space (any open public space the public has access to which falls under the George Municipal jurisdiction for example parks, sport fields, beachfronts and sidewalks) except on a leash and under control. This is unless the animal is in an area designated by the George Municipality as a free running area. A person is not allowed to walk a dog other than a guide dog, in a public street, public place, without carrying enough plastic or paper bags or wrappers, to place the excrement of the dog into, in the event of the dog defecating.
Please note that dogs are allowed on the sidewalk areas, (tarred, brick paved etc.) of beach fronts, if these conditions are adhered to. The beach areas under the control of the George Municipality include Herold's Bay, Gwaiing River Mouth, Victoria Bay and the Leentjiesklip areas.
SIDEWALKS AND TREES
Please address all matters relating to vegetation, landscaping of sidewalks and trees on sidewalks via email address listed above.
BOTANICAL GARDENS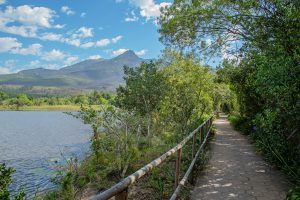 The George Municipality has a close association with the Garden Route Botanical Gardens, which operates on premises owned by the municipality. Visit them at 49 Caledon Street, Camphersdrift.
www.botanicalgarden.org.za
CEMETERIES
Enquiries on contact details above.
OVERGROWN PROPERTIES
Reporting overgrown MUNICIPAL properties:
If overgrown property is a fire hazard, please phone Fire Department 044 801 6300
Other overgrown municipal properties on number above or email hspies@george.gov.za (grassed properties) or nvumindaba@george.gov.za (alien vegetation) or edbooysen@george.gov.za (fire threat).
The municipality cuts grass on municipal properties according to a schedule and address areas of concern to nvumindaba@george.gov.za as necessary and according to the available resources.
WHY ARE SOME TREES DYING?
George is one of several areas in South Africa where the Polyphagous Shot Hole Borer (PSHB) beetle and its associated fungus have invaded and its impact on especially older trees has been significant.
PSHB is a relatively new invasive pest in South Africa, has no known local natural enemies and there is currently no single proven control measure. A chemical product has shown some promise in treating infected trees, but it is not currently registered in South Africa – registration has been requested and is expected soon (last quarter of 2019).
What is the municipality doing about it?
The municipality continues to monitor trees in streets, parks and municipal grounds and safeguards trees by cutting overhanging branches when necessary. Dead trees are being cut up piece by piece and the plant material removed.
In George the affected municipal trees are mostly alien and/or old and are therefore in any case being removed and systematically replaced when they die off.
The municipality has been working with universities and other roleplayers since the beetle was first identified in George in March 2018 to find sustainable solutions to the overall issue and continues to do so. It has, for instance, allowed the testing of possible control measures on infected municipal trees.
When a registered control product is available, the information will be shared as widely as possible and the municipality will apply the chemical to applicable infected trees on municipal property according to its budget.
Licencing for a separate dumping area for infected plant material at the George municipal dumping site is underway. However, it is believed spreading cannot really be prevented because the beetle and related fungus can spread in too many ways over which humans have little control and overall management has at this stage not been proved.
What should residents be doing about it?
The municipality reminds private property owners to check the trees on their properties regularly for signs of the beetle and to safeguard infected trees by cutting off overhanging branches as a first step.
Infected plant material can be dumped at the municipality dumping sits on the R102 (airport road). Please indicate to the personnel on site that the wood is contaminated and is not intended for composting or mulching. Solarising of plant material (entirely covering materials using black plastic bags and leaving it in hot sun) has also been recommended.
More information regarding the beetle and related matters:
https://fabinet.up.ac.za/pshb