Electrotechnical Services
CONTACT
Please report power outages, broken streetlights, and faulty traffic lights to:
044 801 9222 (07h45 – 16h30)
044 801 9202/9258
New WhatsApp Number 067 350 3295 (Available Monday to Friday 07h45 – 16h30)
Uniondale: 044 752 1024 (7.45am-4.30pm)
044 801 6300 (after hours)
Electrotechnical Services
Brick Road, Industria, George
044 874 3917 (7.45am-4.30pm)
DOCUMENTS AND LINKS
Click for the Electricity Supply Bylaw.
Click for Loadshedding Schedules.
Click for Information on the Impact of Loadshedding on Municipal Infrastructure, Useful Loadshedding Tips and Frequently Asked Questions on Load shedding
Click for Alternative Energy Sources Application Forms.
Click for TID Rollover FAQ
TID ROLLOVER (ELECTRICITY METERING SOFTWARE UPDATE)
The George Municipality has embarked on a pre-paid electricity metering software update for its approximately 50 000 prepaid consumers quite a while back. The  current software will expire in November 2024. This will not only impact George consumers but  ALL prepaid meters throughout South Africa. If your meter is not updated before the deadline, you will not be able to recharge your prepaid meter with the new tokens and therefore will not have power.
George Municipality has already successfully implemented the software update  on close to 70% of its prepaid meter base, through the work done by field staff and contractors on-site while doing a meter change, site inspection, and Amp limit roll-out. These teams will continue to go out weekly to do site inspections and Amp limit roll-out.
To expedite the software update (TID roll-over) and  in order to ensure no consumer is placed at risk of having a non-working meter, the municipality will implement the next phase  – key change process – of its TID roll-over implementation  plan from March 2023 with the issue of a separate, extra token when you make your next purchase.
Key Change Token
If your prepaid meter software has already been updated during Phase 1, you will NOT receive an extra token with your first purchase in March 2023. If you do receive a KEY CHANGE Token with your first purchase in March the following is VERY IMPORTANT TO NOTE BEFORE you insert the key change:
IMPORTANT – DON'T FORGET TO INSERT ALL old or unused tokens BEFORE you enter the KEY CHANGE  token and ONLY then INSERT the newly bought token,
The meter will NOT accept your old or unused tokens, once you enter the key change token and no reimbursement can be made on these tokens.
The meter will not accept your newly bought token, until the key change token has been inserted.
Verification or Queries – If you receive an extra token and you are unsure what to do?
Customers may phone the George Municipality on 044 801 9222 or Ontec on 044 873 5474 for verification, for response to queries  OR to request that their software is addressed. Please note that all municipal and/or Ontec officials carry identification cards with a photograph and their ID number as well as a copy of a verification letter explaining the purpose for their visit.
For more information on the TID Rollover (software update) please visit  TID Rollover FAQ to view frequently asked questions.
TOKEN IDENTIFIER (TID) ROLLOVER  https://www.sts.org.za/tid-rollover
The Token Identifier is a 24-bit field, contained in STS compliant tokens, that identifies the date and time of the token generation. It is used to determine if a token has already been used in a payment meter. The TID represents the minutes elapsed since the 1st of January 1993. The incrementing of the 24-bit field means that at some point in time, the TID value will roll over to a zero value.
All STS prepayment meters will be affected by TID roll over on the 24/11/2024. Any tokens generated after this date and utilizing the 24bit TID will be rejected by the meters as being old tokens as the TID value embedded in the token will have reset back to 0.
PRE-PAID ELECTRICITY
Pre-paid electricity services are supplied by Itron/Ontec. Phone 044 873 5474
If your pre-paid meter is broken, please report to 044 801 9222 or 044 803 9222 during office hours.
If you want to apply for a pre-paid electricity box to be installed, please visit Electrotechnical Services in Brick Road, Industria to initiate the process.
Always provide and confirm your prepaid electricity card number when you buy prepaid electricity. The municipality will not accept liability if the wrong prepaid number was supplied.
You can buy pre-paid electricity from the places listed below or online via your bank or online service providers:
www.prepaid24.co.za
http://ontec.co.za
www.ipay.co.za
The electricity token is automatically sent to the client via SMS or email.
Mobile apps belonging to banks also have a prepaid electricity purchase function.
Approved directly managed vending outlets below:
Albert Motors,  42 Albert Street, George South,
Denneoord Multisave, corner of Wellington and 8th Avenue, Denneoord
Engen Eco Stop corner of Witfontein and CJ Langenhoven,Heather Park,
Total Courtenay, 57 Courtenay Street, George Central,
Total Sandkraal, 48A Sandkraal Road, Borcherds,
Caltex Fourway Motors, corner of York and Discovery Streets, Pacaltsdorp Industria,
Poor Man's Friend, Fiscal Street, Conville,
Shell Kraaibosch, Knysna Road, Kraaibosch,
Caltex The Waves, 2242 South Street, Wilderness East,
Caltex Wilderness, George Road ,Wilderness,
Uniondale Motors, 62 Voortrekker Street, Uniondale
Royal Uniondale, Lang Straat, Lyonsville,Uniondale
Yorkers Superette, 16 York Street, George South
George Municipality, 69 York Street, George
Ontec George, Progress Street, George
Please be advised that Pick n Pay, Shoprite and the Spars are major retail outlets also included to sell prepaid electricity.
Residents who struggle with the cost of electricity are encouraged to reach out to the George Municipality to see if they qualify for assistance. You may also phone 044 801 9029 for assistance.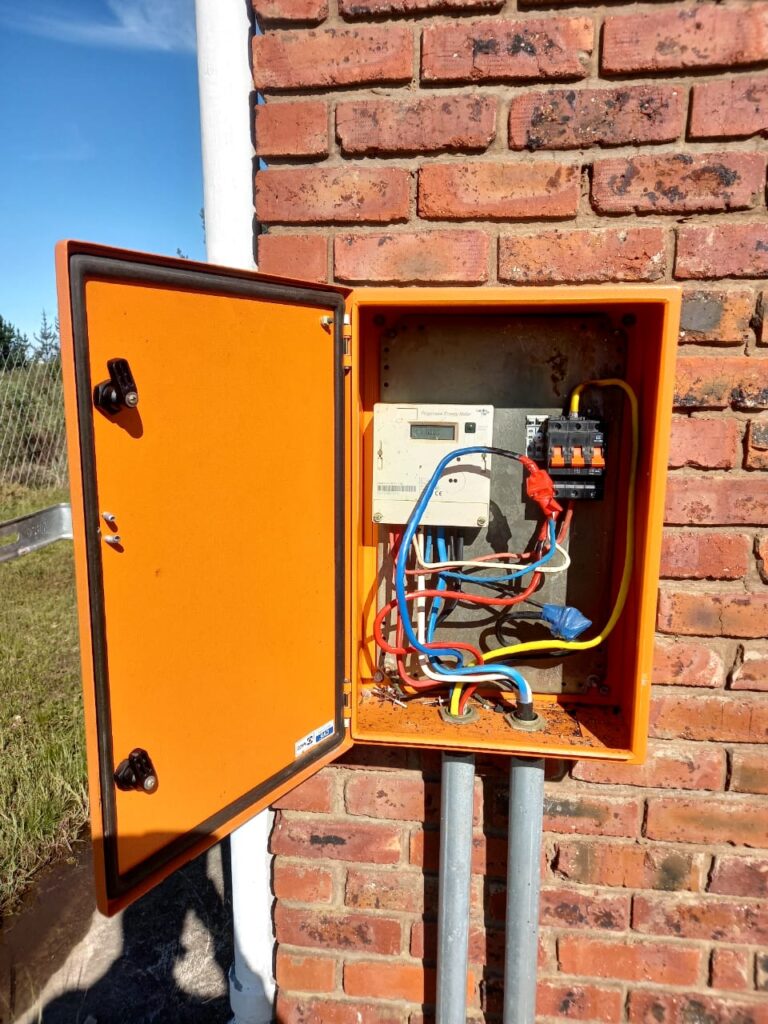 POWER CUT OFF DUE TO ARREARS? CREDIT CONTROL ACTIONS
If your electricity has been cut off or your pre-paid meter purchases has been blocked because you owe the municipality money, you can do the following:
Pay the account and then inform the office of payment during office hours on 044 801 9111 OR visit the office during office hours to make the necessary arrangements.
If you do not pay, you will be allowed one R50 electricity token in a 30-day cycle, which you can only buy Monday to Thursday.
Emergency number for reconnection after you have paid a sufficient amount:
063 699 5998. Emergencies only and at these hours:
Monday to Friday 4.30pm-8pm; Saturday 8am-8pm; Sunday 8am-2pm
LOADSHEDDING
Please note that ESKOM, not the George Municipality, determines loadshedding and how it is applied. Please follow George Municipality social media channels for loadshedding updates.
Stop the surge: please switch off appliances such as geysers, ovens, tumble driers, microwave ovens and kettles before/during loadshedding so that when power is restored, it does not create a power overload when they all go on at once. An overload will trip the power to protect the network. Please wait 30 minutes before switching on appliances that use a lot of electricity, and then do so bit by bit to help stabilise the network.
GEYSER SWITCH OFF TIMES
The George Municipality switches off geysers according to the Eskom tariff structure peak times. The switch-offs only apply to homes fitted with the relevant device (sample pictured here).
September to May (Low demand season)
Monday to Friday: 8am-10am and 6pm-8pm and 9.30pm-10pm
Saturday: 10am-12pm and 6pm-8pm
Sunday: No switch-off
June to August (High demand season)
Monday to Friday: 7am-9am and 5pm-7pm and 9.30pm-10pm
Saturday: 10am-12pm and 6pm-8pm
Sunday: No switch-off
Please note all municipalities have been required to install geyser control systems to help flatten the peaks on the national load curve and have been implemented across the country for about a decade. The geyser control system is intentionally set to switch geysers off during peak times as without it there would be more loadshedding.
STREETLIGHTS BURNING IN THE DAY?
Streetlights are usually switched on in the day so the people who are fixing them can see which ones are not burning, but it can happen sometimes that the automatic switchover function (that switches the lights off in the day) is not reactivated when the work is finished.
One electrical box usually serves a few streets, so while you may not see people working, they may just be where you cannot see them. However, teams would seldom work for more than a day in an area, except when a project is being rolled out or several lights are being installed or fixed.
In general, if streetlights are burning during the day for more than a one-day cycle, please report it during office hours to 044 801 9222 or 044 874 3917 so that the department can go investigate.
Of course, when streetlights are not burning at night, we also want to know about it. You can phone the numbers above to report it or after hours to 044 801 6300.
Streetlights are fixed on a schedule and it may take up to 10 days before they get to your street. If the broken lights in your street are not fixed within two weeks from when you reported it, please follow up with us per telephone during office hours.
STREETLIGHTS ON THE N2
Please note there are sections on the N2 where streetlighting falls under the control of the South African National Roads Agency Ltd (SANRAL) and lights are therefore NOT serviced by George Municipality Electrotechnical Services.
These areas are:
Kraaibosch area – SANRAL lighting extends from the Knysna Road/N2 turn-off intersection near the Garden Route Mall to 250 metres east of the road entrance to Victoria Bay.
Wilderness Central – SANRAL lighting extends from the George Road/N2 intersection to 150 metres east of the South Road intersection near the NSRI.
Wilderness East – SANRAL lighting extends from the Dumbleton Street/Buxton Road/N2 intersection to 1km east of the Second Avenue intersection at Caltex Garage.
While George Municipality engages with SANRAL when streetlight issues arise in these sections, George Electrotechnical Services are not responsible for the maintenance or management thereof. Please contact SANRAL on 041 398 3200 to report any street lighting issues on the N2.