Refuse Removal and Waste Management
Black bag enquiries
George Municipality Environmental Services
82 Meade Street, George.
Contact Person Name: Jody Stuurman
Black bag-related enquiries: 044 802 2900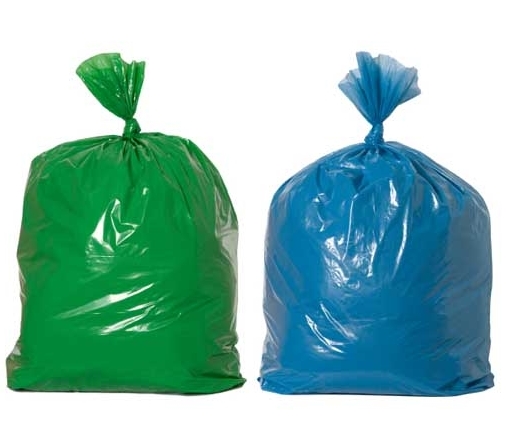 PLEASE NOTE THE SERVICE PROVIDER MIGHT SOMETIMES HAND OUT CLEAR BAGS IF THEY DON'T HAVE BLUE BAGS IN STOCK. THE CLEAR BAG ARE ONLY FOR RECYCLYING PURPOSES.
Blue/Clear and green bag enquiries:
Contact Person Name: Douw Bezuidenhout
Contact Number Office: 064 905 8180 (also WhatsApp)
Complaints Number: 072 592 6212
General Contact Email Address: admin@henquewaste.co.za
Complaints Contact Email Address: douw@henquewaste.co.za
Factory Address: 27 Rand St, George Industria, George, 6536
Website Address: www.henquewaste.co.za
DOCUMENTS AND LINKS
Click for Integrated Waste Management Plan
Click for Bylaws related to Waste Removal
Click for Illegal Dumping Brochures
GENERAL
Households may put out seven black, four green and an unlimited number of blue/clear bags on their weekly collection day.
Additional tied bundles of branches are allowed if they are shorter than a metre in length and can be picked up by one person.
BLUE/CLEAR bags are for non-soiled recyclable materials, including plastic, paper, card board, glass etc.
GREEN bags are for green waste, including organic kitchen waste such as fruit and vegetable peels, as well as garden waste, including grass cuttings, leaves etc. No soil is allowed in green bags.
BLACK bags are for 'wet' waste, things that cannot be recycled.
All refuse bags must be put out by 7am on removal day.
Please don't put bags out the day or night before removal.
Please wrap broken glass in newspaper before placing in bags to prevent injuries to workers.
A pack of 26 black bags are distributed to households quarterly.
Black bags are removed by George Municipality trucks and green and blue/clear bags are removed by service provider Henque Waste, all on the same day.
Households will receive two blue or clear bags and four green replacement bags per week.
Additional blue bags can be collected from the municipality Environmental Services department or Henque Waste at the addresses listed above.
Garden Services
Garden services are contracted by the owner of properties and must remove garden refuse themselves to the landfill site.
REFUSE REMOVAL DAYS
MONDAY: Blanco, Riverlea, Heatherpark, Heatherlands, Glen Barrie, Kraaibosch, Groenkloof, Blue Mountain Village, Herold's Bay, Victoria Bay, Rondevlei area (George side)
TUESDAY: Levallia, Rosemoor, Conville, Protea Park, Parkdene, Ballotsview, Borchards, Lawaaikamp, Thembalethu, Wilderness, Constantia Kloof, Kleinkrantz
WEDNESDAY: Camphersdrift, Fernridge, Denneoord, Bo-Dorp, Blommekloof, Tweerivieren, Hoogekraal, Hoekwil, Touwsranten farm areas
THURSDAY: Wilderness Heights, Dormehlsdrift, George South, Le Grand, Bos en Dal, Groeneweidepark, Sinksabrug, Herold, Geelhoutboom, Eselsjacht, Hansmoeskraal, Jonkershoek, Rooirivierrif, Pacaltsdorp, Rosedale, Waboomskraal, Touwsranten village
FRIDAY: Glenwood, Loerie Park, Eden George, Genevafontein, Denver Park, Bergsig, Eastern Extension
BUSINESSES: Monday, Wednesday and Friday
PUBLIC HOLIDAYS
Refuse bags will be collected on a public holidays, on the usual delivery day, including blue/clear and green bags.

DISPOSING OF SHARP OBJECTS
For the health and safety of our employees in the Refuse Department, we would like to urge the community to please take heed of the following when disposing of sharp objects as well as medical waste:
Carefully wrap up glass, ceramic or other broken, sharp household items in a sheet of newspaper or place it in a cardboard box. Tape the box shut. Put the newspaper or box into another plastic bag and tie the bag shut. The bag should now be safe to place in your general waste bin.
Throw away all needles, syringes, lancets, and other sharp objects in a hard plastic or metal container. When the container is ½ to ¾full, put on the lid tightly.
You can also use a coffee can to dispose of sharp objects.
Do not put sharp objects in glass or clear plastic containers.
You can stockpile your needles and other medical waste and look out for the quarterly open day for collecting hazardous waste hosted by George Municipality.
You can also wrap it up in the original packaging.  Once you got it wrapped up, drop it off at the recyclers or bury it in your garden should you have a safe spot.  Although made of stainless steel, blades are very thin and will degrade back to mineral form in about a tenth of the time it takes a water bottle to degrade.

RECYCLE RIGHT
If you are not sure if you are recycling correctly, below is a guide to the basics.
Please put your recyclables in a blue/clear bag and put out with your black bags.
PAPER that CAN be recycled: office paper, newspaper and magazines, cardboard (boxes flattened), brown paper bags, take away containers (food removed and rinsed), milk and juice cartons (rinsed and flattened) and books (hard covers removed).
PAPER that CANNOT be recycled: napkins, tissue paper, paper towels, wax paper, laminated or waxy paper, punch confetti, carbon paper and stickers.
METAL that CAN be recycled: cooldrink and beer cans, food tins (rinsed clean), metal lids of glass, jars, aluminium cans, rusty cans can be recycled and recycled batteries (taken to correct depot).
METAL that CANNOT be recycled: batteries, motor oil cans, paint and aerosol cans, and tinfoil.
GLASS that CAN be recycled: all colours of glass bottles and jars, beer and wine bottles (rinsed).
GLASS that CANNOT be recycled: mirrors and windows, ceramic, crystal, drinking glasses and light bulbs.
PLASTIC that CAN be recycled: all plastics numbers 1-7 (rinsed), grocery and retail plastic bags (clean) and milk sachets.
PLASTIC that CANNOT be recycled: cling wrap, and polystyrene (is recyclable but no facility on Garden Route for now).

ILLEGAL DUMPING
The municipality needs your help to combat illegal dumping:
Please spread the news in your community that dumping of waste is dangerous and a health hazard. Waste should be collected in refuse bags and placed for collection on waste removal days. Builders rubble and waste not suitable for bags must be dropped at the municipal refuse site on the R102 (airport road).
If you can provide names, vehicle registration details or addresses of alleged perpetrators and are willing to make a statement in this regard, please report it to Law Enforcement at 044 801 6350 or gmun@george.gov.za. You don't need a photograph of the perpetrator, but it will strengthen the case for a warning or fine to be issued.
If you notice dumped waste, please report for collection to 044 802 2900.
MUNICIPAL REFUSE SITE
Building rubble, garden waste and other stuff not suitable for bags, can be dropped off at the George Municipality refuse site on the R102 (airport road).
Open Monday to Friday 7am to 6pm
Saturday 7am-5pm
All public holidays, except 25 December, from 7am-2pm.

HAZARDOUS WASTE DISPOSAL
The following types of waste are considered hazardous and should, for the sake of the environment and public health, be disposed of at specialised waste management service providers.
Dirty car oil and filters, brake fluid and used antifreeze
Old paint cans, spray paint canisters, paint thinner and turpentine
Ink cartridges
Pesticides and herbicides
Household batteries
Energy saving lights and fluorescent lights
Electronic and electrical equipment
Due to health, safety and security limitations at municipal transfer stations it is requested that persons make use of specialised hazardous waste management such as those listed below. Please note costs may apply to the disposal/handing in of certain types of hazardous waste. Please phone to confirm before you drop off.
Ma'bone Waste Management: Belden Industrial Park, Fichat Street, George Industria 086 162 3672
Outeniqua Waste: 33 Rand Street, George Industria 061 434 5814
For the disposal of medical waste, the public must store the waste in a hard, plastic container and take it to their closest clinic/ hospital. Otherwise please contact:
AVERDA SA (PTY) LTD, 1 Ring Road, George Industria. 044 873 0620
ENVIROLOGIC, 41 Barrier Street, Mossdustria, Mossel Bay, 044 697 708
COMPASS WASTE SERVICES (PTY) LTD, 1471 Marion Naude Road, Berlin, Eastern Cape, 043 685 2242

GARBAGE TRUCK PRECAUTIONS
Fortunately, there are ways to keep children safe around refuse trucks without much difficulty. The most prominent dangers with refuse trucks and children are, of course, the size of the truck and the many blind spots. Because the truck are so large, and the back of the truck is very wide, it is basically impossible for refuse truck drivers to see someone behind them or not in direct view of their side mirrors. Fortunately, drivers and refuse truck manufacturers are aware of the potential dangers. That's why you'll hear a loud beeping sound when a refuse truck is about to back up and why they are driven so slowly.
You should also be aware of your refuse disposal schedule and can watch out during these times for any danger. For instance, if collection day is on Wednesday, and you know the truck usually comes by in the morning, you can tell your children to play inside or on the lawn close to the house that morning.
Teaching Your Children Refuse Truck Safety
You can aprotect your children by teaching them how to be safe when they see a refuse truck. It is usually not a good idea to play in the street but emphasise to them never to play or stand behind a refuse truck, even when it seems to be parked. Never run up to a refuse truck to say hello to the driver, and keep a reasonable distance from the truck, at least 5 meters. Refuse trucks take longer than cars to stop because of their massive size. Finally, make sure your child knows how important it is to NEVER climb onto a refuse truck, even when it stops. Not only could this be dangerous if the truck starts to move, but also the hazardous materials in the back of the refuse truck could be harmful to your kids.
Refuse trucks are hard to miss because they are massive, noisy and they usually carry with them the smell of refuse. However, children don't typically worry too much about the dangers refuse trucks may have and the drivers of these huge trucks can easily miss small children. It is important for anyone to be careful around refuse trucks that pass through their streets, especially parents or guardians of young children who play outside.
Refuse Bin/Wheelie Bin Safety
To a child, refuse bins/wheelie bins can be handy play resources. It's big enough to hide in during hide and seek, or it can be a high place to stand on or a castle wall. However, you should caution children against playing with rubbish/wheelie bins, and not just on collection day when a refuse truck could pick it up. Hazardous materials and sharp, jagged particles in your bin can be very dangerous for children, and possibly more dangerous than refuse trucks, because your rubbish/wheelie bins are there every day.