CONTACT
044 801 9312
Hibernia Street, next to the Vehicle Licence office (next to George Station).
Open weekdays 8am-3pm
Open some Saturdays 8am-12pm – please consult social media for updates.
VEHICLE TESTING STATION
The George Municipality Vehicle Testing Station offers roadworthy tests at low cost.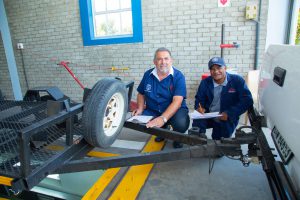 The Grade A-testing facility can handle most types of vehicles, weighing up to 10 000kg and can easily accommodate a double-decker bus.
The municipality encourages vehicle owners to test roadworthiness regularly – not just when vehicles change hands and legally require roadworthy certificates, but as a general safety precaution and especially if you transport people or drive long distances.
Tariffs are determined by legislation and is intended to be affordable so that all road users can comply and ultimately make roads safer.
The fees for roadworthy tests, as gazetted in the Western Cape Provincial Gazette:
Application for certification of roadworthiness (including test) for motorcycles, motor tricycles and motorcycles with side cars – R55
Application for certification of roadworthiness (including test) for all motor vehicles and trailers NOT exceeding 3500kg – R135
Application for certification of roadworthiness (including test) for goods vehicles and trailers exceeding 3500kg – R165
Application for certification of roadworthiness (including test) for buses -R165
Certification of roadworthiness – R33
Issue of Form CRW for a motor vehicle not registered in South Africa – R33