CONTACT
Fire emergencies only: 044 801 6311
All after-hours emergencies: 044 801 6300
General enquiries (office hours): 044 801 6300
Uniondale (office hrs): 044 752 1225
The municipality's switchboard diverts to the Fire Department after office hours. Please note this is not a messaging service for other departments, other than to report emergency service issues such as water pipe bursts and electricity outages to standby teams.
DOCUMENTS AND LINKS
Click for Community Fire Safety Bylaw.
Click for Tips on how to stay safe in the mountains of George.
Click for Event Application Forms
GEORGE FIRE DEPARTMENT RESPONDS TO REPORTS OF:

All types of buildings on fire, including informal structures.
Vehicle accidents in which people may have been injured.
Open field fires inside the urban edge (Garden Route District Municipality for open field and bush fires outside the urban edge, mountain fires and incidents of hazardous materials spills).
Other types of fire such as vehicles and stoves on fire.
Industrial accidents, collapsed buildings or soil.
Incidents that may require specialist training and equipment to save life and property.
Even if you put the fire out yourself, please call the Fire Department to come check.
FIRE PROTECTION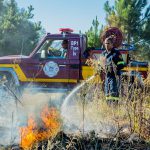 Fire Safety Plans: All buildings, except single residential units, must have a Fire Safety Certificate. A Fire Safety Plan will be part of the building plan application process, which the Fire Department can assist you with. On building completion, a fire safety inspection will be done and, if all is in order, a Fire Safety Certificate issued.
Flammable Substance Certificates: You require a Flammable Substance Certificate if you have the following on your premises: LP Gas bottle of 38kg or more, 200 litres petrol or more, and/or any other flammable substance in bulk.
Controlled Burning Permits: No burning of refuse or garden refuse allowed in the urban area (cooking fires only). Property owners outside the urban area may only burn if in possession of a Controlled Burning Permit.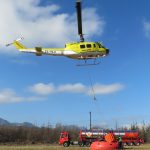 Fire Breaks: property owners are reminded they are responsible for creating fire breaks and reducing fuel load on their properties.
EVENT PERMITS
In terms of the George Municipal By-Law, any event that has more than 50 people attending (including staff and organisers) requires a population certificate. Weddings and funerals are exempted if they use a formal building.
The George Fire Department gives the final "approval" for the event in the form of a population certificate provided all laws, regulations and requirements are met.  Event Organisers can contact the George Fire and Disaster management office via email on gmjoc@george.gov.za.  Each event will be reviewed and inspection and/or other requirements will be determined on the merits of the event proposed.
WHICH PERMITS TO APPLY FOR
Event Organisers are to determine which permits they must apply for.
Permits required can include any or all, but not limited to, the list below:
Population Certificate
Permits must be procured through George Municipality, Protections Services. Contact gmjoc@george.gov.za
Health & Safety Certificate
Certificates must be obtained from Protections Services as required. (Including LPG Gas, Pyrotechnics and Fires/controlled burns.) Contact gmjoc@george.gov.za
Health Certificates for Food Vendors are compulsory.
Health Certificates are issued by Garden Route District Municipality – Municipal Health Services, Yusuf Isaacs, 044 803 1552
Liquor Licences
Liquor Board – Atj. Botha georgedfo@saps.gov.za and copy Viaan.Cupido@wcla.gov.za & sajonas@george.gov.za if the event is taking place on Municipal property.
Noise Pollution Certificate
Available from Community Services Department. Contact Abongile Nontshikiza anontshikiza@george.gov.za
Structural Engineering Certificate
As required, event organisers to arrange their own Engineer to do certification. The certificate must be presented at the final event permit inspection.
It is the responsibility of the Event Organiser to determine which permits and authorisations are required and to ensure they are submitted to Ms Santa Sternsdorf/ Tammy Arendse, George Fire Brigade a minimum of fourteen (14) working days prior to the event taking place.
Note that all Health & Safety Tariffs are applicable in ALL cases
ANIMALS
Animal rescue as per request by the SPCA only.
SNAKES
The George Fire and Rescue Service does not currently provide snake removal services but will contact a snake handler on behalf of residents.
Uniondale Fire and Rescue Services will remove snakes in the town's jurisdiction. Phone 044 752 1225.
PUBLIC EDUCATION

Schools: the fire department visits schools with a fire truck and does talks on fire safety, general safety or career development. Schools can also book a visit to the fire department to see the impressive fire fighting vehicles and equipment and a talk on fire safety, general safety or career development.
Businesses: the fire department attends business evacuation drill practise on request to provide oversight and evaluation. Businesses can also request fire extinguisher demonstrations. The services are free of charge but must be booked in advance with Edith Booysen on 044 801 6300.
FIRE SEASON
Fire season in the Western Cape is usually from November/December to February/March each year, but can be called outside this period if conditions dictate.
Permits for controlled fires are generally issued until end-October and property owners are required to ensure all controlled burns and fire breaks are completed by then.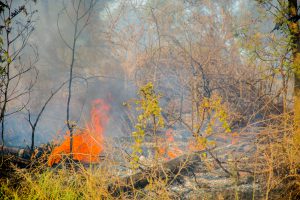 The municipality would prefer that only controlled burns for agricultural purposes – such as clearing fields for regrowth – take place and request landowners that are using fire to reduce biomass to consider alternatives such as chipping.
A controlled burn permit is valid for 12 months from the date of issue but may not be implemented during the official fire season.
On the day of the planned controlled burn the permit holder must phone the fire station for permission to light the controlled burn. Permission may be withheld if the Fire Index for the day is too high.
Controlled burns must take place Monday to Thursday, excluding public holidays, and all fires must be extinguished by 16h00 every day.
Permits will not be issued inside the urban edge (among residential areas).
The municipality appeals to the public to always be fire aware, no matter what time of the year it is. Please always exercise extreme caution, make fires in protected and designated areas only, and dispose of cigarette butts safely. Burning of garden refuse in residential areas is illegal.
LIFEGUARDS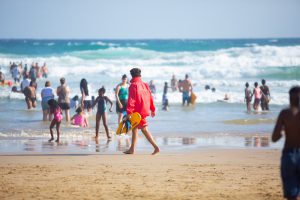 The George Municipality employs lifeguards at municipal beaches at Victoria Bay, Herold's Bay, Gwaing River Mouth, Wilderness Main, Steps and Leentjiesklip throughout most of summer – usually from 7am-7pm during high season (mid-December to mid-January) and from 9am to 5pm on weekends during other times.
The municipality is supported by the National Sea Rescue Institute (NSRI) Station 23 at Wilderness Beach. Call them on 082 990 5955.
NO FIREWORKS ANYTIME, ANYWHERE
Due to the high fire risk, there is a general ban on the setting off, selling and possession of fireworks, fire crackers, flares, paper lanterns and other such paraphernalia in the George municipal area. Fines of R300 may apply, all fireworks will be confiscated.
Report fireworks to Law Enforcement 044 801 6350 or A/H 044 801 6300