CONTACT
Venue bookings: 044 801 9115 (Monday-Friday 8am-4.30pm)

rsthysse@george.gov.za
DOCUMENTS AND LINKS
Click for Details of Venues for Hire.
Click for Application Form for Hiring of Venues.
Click for Conditions of Hire for Municipal Facilities.
GENERAL

The George Municipality has the following venues available. Please enquire on contact details above and book well in advance.
Costing depends on type of booking, type of venue and seating requirements.
Applicants must sign the rental application form and conditions of hire and pay the full booking fee within 30 days from the booking date.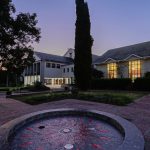 George Civic Centre Main Hall
George Civic Centre Banquet Hall
George Civic Centre Conference Hall
Blanco Community Hall
Conville Community Hall
Lawaaikamp Community Hall
Pacaltsdorp Community Hall
Pacaltsdorp Amphitheatre
Parkdene Community Hall

Rosemoor Community Hall
Thembalethu Community Hall
Thembalethu Zone 9 Community Hall
Thusong Centre Sandkraal Road
Uniondale Community Hall
Uniondale Civic Hall
Haarlem Community Hall