Delegation from Taipei Consulate donates wheelchair to George Municipality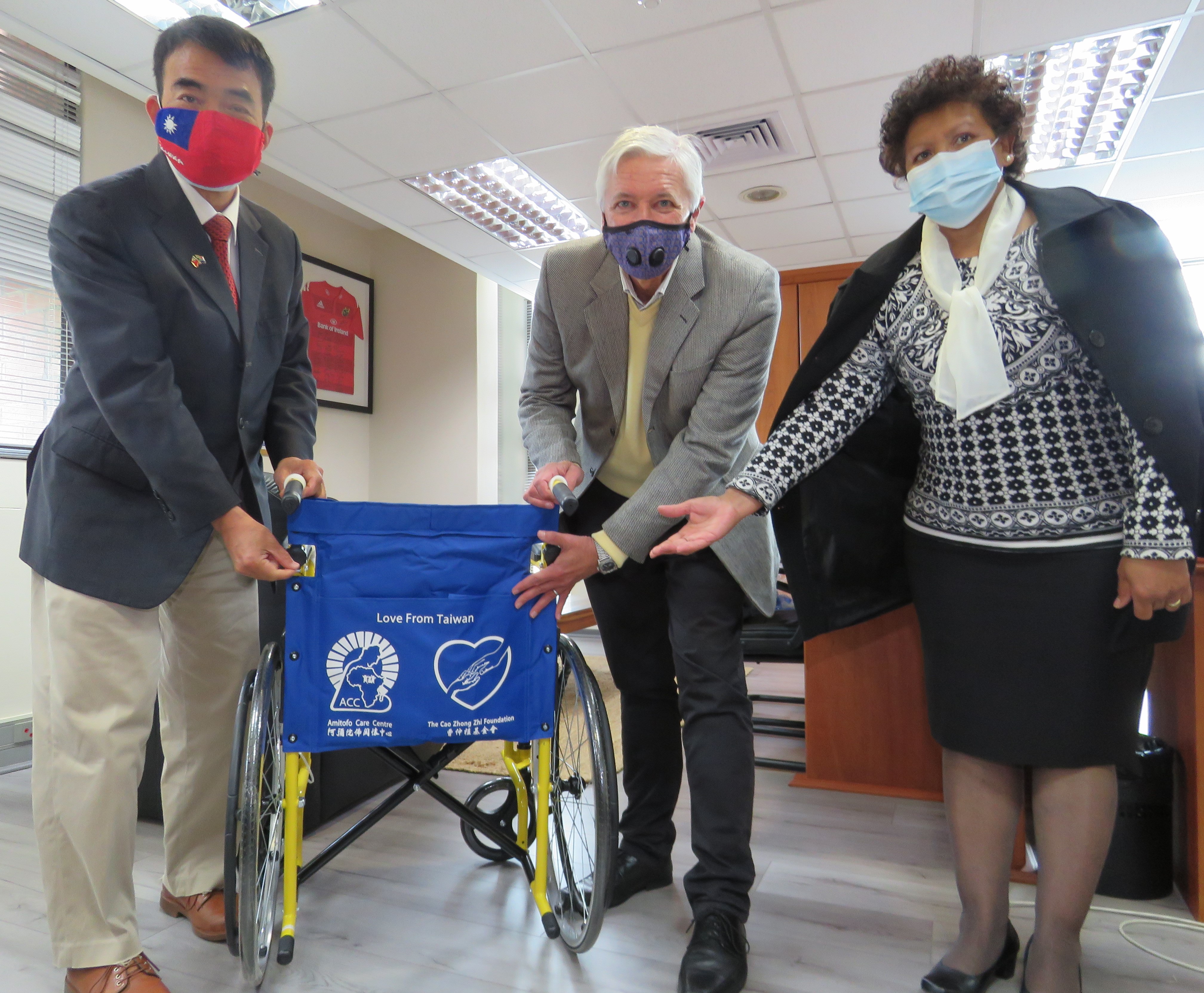 A delegation from the Taipei Liaison Office in Cape Town visited George and the Executive Mayor of George, Ald Leon van Wyk last week and donated a wheelchair with "love from Taiwan" (printed at the back of the wheelchair) to the Municipality. David Yintso Lin said Taiwan provides medical equipment globally in support of different countries. "We have a saying in Taiwan, true friends stick together and this is the idea behind this gesture. We would like to be of help during these difficult times," Lin said. Douglas Chang, First Assistant Director: Taipei Liaison Office in Cape Town, was part of the delegation visiting George.
Mayor Van Wyk said he is very grateful for the gift from the Taipei office and is sure the wheelchair will make a recipient very happy. He said they will decide later on a recipient for the wheelchair.
The Mayor with the delegation and members from Council visited Meals on Wheels Community Services (MOWCS) in Loerie Park from where the George branch cooks daily meals and provides food parcels for several schools, 120 elderly beneficiaries, 40 crèches and several institutions such as the George Night Shelter and children's homes. The consulate recently made a donation of R45 000 to Meals on Wheels George.
Love: With 'love from Taiwan' written at the back of a wheelchair that the Taipei Liaison Office in Cape Town donated to George Municipality. Here are David Yintso Lin, Director General: Taipei Liaison Office in Cape Town with Mayor Leon van Wyk and Deputy Mayor of George, Cllr Charlotte Clarke.
Thanks: Mayor Leon van Wyk thanked David Yintso Lin for the delegation's visit and gifted them with George coffee table books and George shopper bags.