George Municipality takes services to the people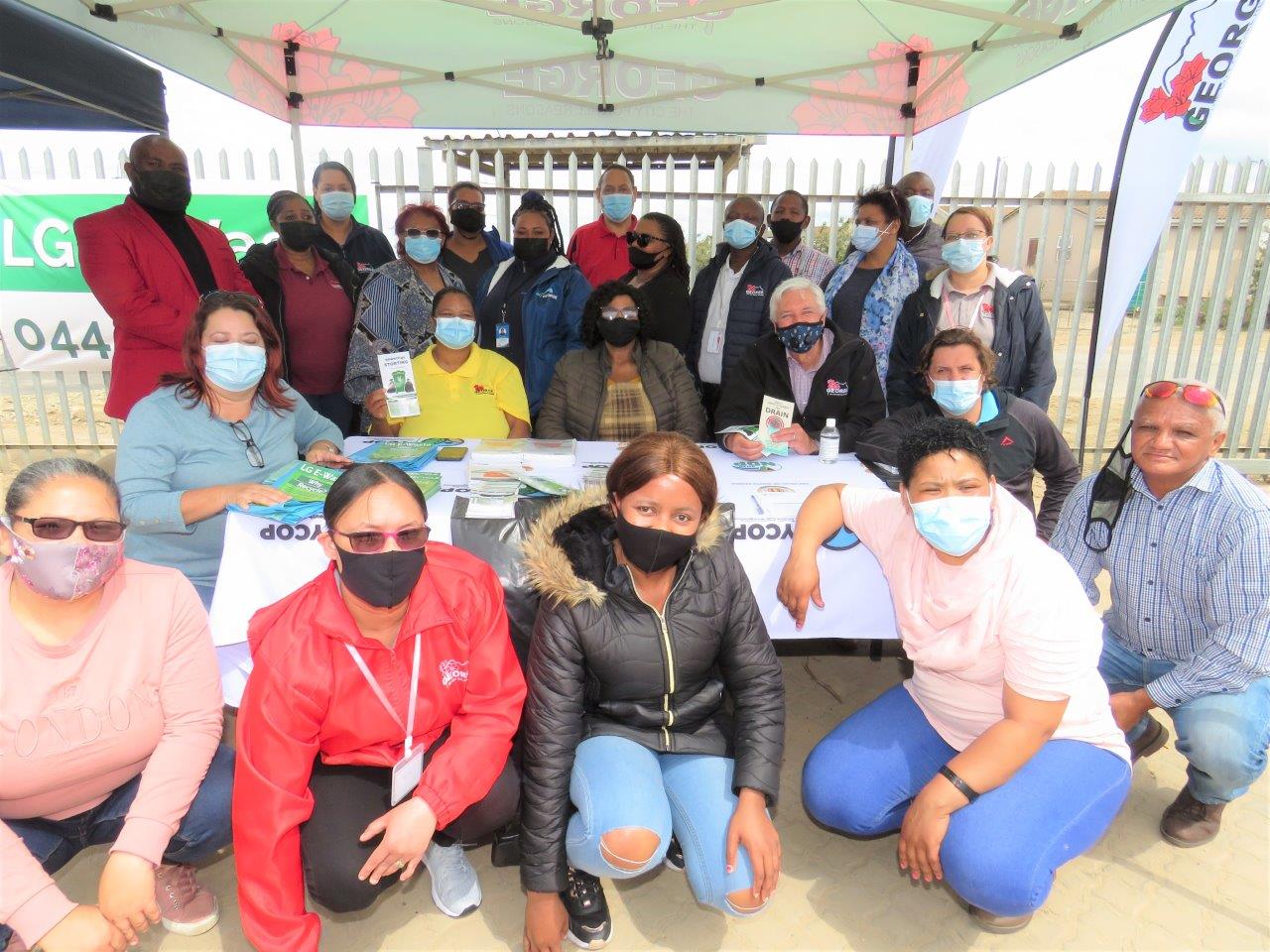 George Municipality takes services to the people
George Municipality held a Jamboree (a gathering of all the services of the George Municipality at one venue) at the Rosedale Community Centre/Area Office last Friday (15 October) to bring services closer to the people of Rosedale.
The departments from George Municipality represented were Human Settlements, Community Development, Cleansing, Libraries, Civil Engineering (water, sewage and roads), Finance, Electrotechnical Services and GO GEORGE. They had tables or stalls at the venue where they answered the public's questions, gave information and helped with complaints.
According to Ms Lauren Waring, Acting Director Human Settlements, the directorates pulled together to arrange the jamboree. "The Rosedale area was chosen for this jamboree because there is a new housing development, which usually generates many challenges, so we decided instead of everyone having to come to town, let's take the services to the people.
"It was a great success. We will initially have these jamborees at new housing developments across the municipal area and then arrange jamborees in other areas."
Waring said the municipality did consumer education with people moving into new houses, but people still had questions or challenges afterwards. "Once you are in a new home, it comes with responsibilities like electricity and other services. People must know how to deal with their accounts, what is the owner's responsibility and what is the municipality's responsibility.
Human Settlement officials assisted the community with mostly water and roof leakages, general housing faults, ownership queries, waiting list applications and more.
Electrotechnical Services assisted with electrical complaints while Finance assisted with Indigent applications, and more. Cleansing informed the public about the dangers of illegal dumping and how to deal with hazardous waste.
Rachel Williams, Manager George Library, said she and her team promoted reading that made people relax. "In October we focus on mental health and encourage adults and children alike to read fiction if they struggle with any mental related issues, insomnia. Covid-19 has a negative emotional effect on most people and this is how the libraries can assist our communities."
Captions:
Jam1: Mayor Leon van Wyk visited the Jamboree. Here he holds a healthy cabbage from one of the food gardens that is now under the guidance of the Community Development section of the Municipality. From left are Lizel Arnold, Food Garden coordinator: Rosedale, Janine Adams, Community Development, Bernedene Afrika, Food Garden Coordinator: Conville and Willbedine Jordaan, Community Development.
Jam2: On the other side of the Community Development stall information was distributed on gender and health related issues. From left are John Pato with some information pamphlets, Mayor Leon van Wyk, Diena Esau with information, Ejustley Boshoff (Community Development) Cllr Marlene Barnardt and Nozipho Stone (Community Development).
Jam3: Explaining the new routes in Rosedale at the GO GEORGE stall are in front Khadija Luangula (Communication champion) and Janel Gelant (Communications Champion and next to her Cllr Marlene Barnardt. Standing are Mayor Leon van Wyk (left) and James Robb from GO GEORGE (far right) holding onto a life-size backdrop of the inside of a GO GEORGE bus.
Jam4: Mayor Leon van Wyk have a look at how Human Settlements officials, Yandisa Malgas and Lizelle Petersen assist members of the public with human settlement queries. At the back are from left Channold Duitsjan, Cllr Melvin Roelfse, Ward Councillor in Rosedale area, Alfred Posula and Roger Ramage.
Jam5: Providing the community with much needed information regarding illegal dumping are from left, Ethan Stoffels (Department of Environment, Forestry and Fisheries), Lorenze Gelderblom and Shaun Kemsley from LGE Waste, Karin Stoffels (Environmental Services) and Mayor Leon van Wyk.
Jam6: Jackie Pyler (left) and Shimoné Smith from Civil Engineering Services with informative pamphlets they handed out to the community – not to throw junk down toilets and drains and how it could have a bad ripple effect on the whole City's sewage system. Mayor Leon van Wyk in the middle with one of the pamphlets.
Jam7: Juanita Dudley from Rosedale (in blue top) is assisted by Sphiwo Mlotha (left) and Lenie File from the Finance Directorate. With them is Cllr Dirk Wessels, Portfolio Councillor for Finance.
Jam8: Rachel Williams and Malibongwe Luyenge from George Library Services with Libby, (green mascot) a free app where you can borrow eBooks, digital audiobooks, and magazines from your public library. You can stream titles with Wi-Fi or mobile data, or download them for offline use and read anytime, anywhere. All you need to get started is a library card. In front are Sandy Claassen (14) from Pacaltsdorp High School, Elmar Heyens (4) and Sihle Papali (13) from Pacaltsdorp Primary School interested what the Library stall had to offer.
Jam9: Some of the George Municipality officials, Councillors and Mayor Leon van Wyk in attendance at the jamboree.
Jam 10: At the Electrotechnical stall are from left Yandiswa Ngxwani (electrical complaints/ reception), Mayor Leon van Wyk, Nomakhaya Nqumse (Client Services) and Debby Goosen (Electrical Assistant).