Georgie adds joy to APD celebration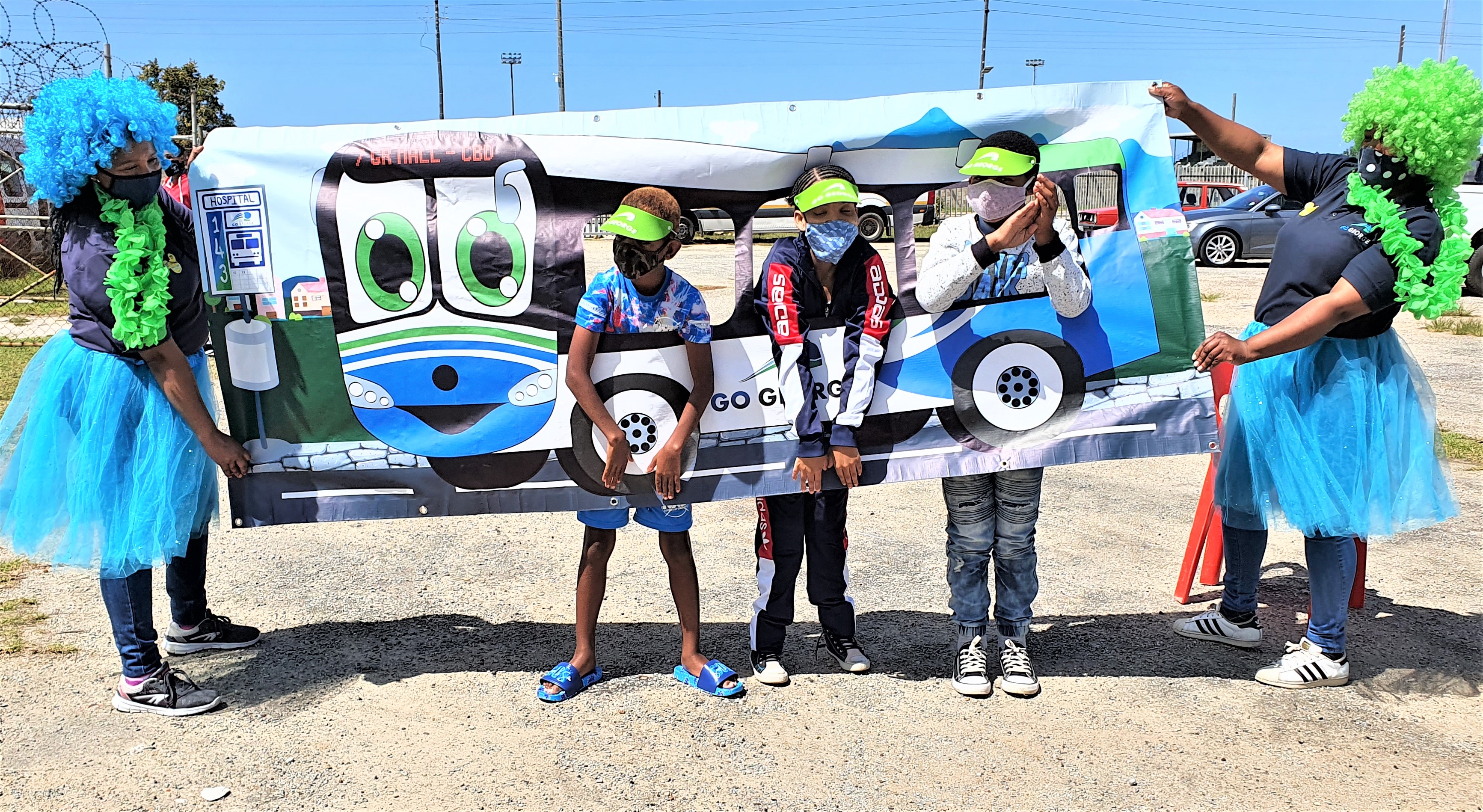 Georgie adds joy to APD celebration
Disability Rights Awareness Month 2020 ended on a high note at the Optima Centre in Pacaltsdorp last Thursday, National Disability Rights Awareness Day. GO GEORGE joined the children and staff in celebrating the end of the Association for People with Disabilities' annual programme.
The GO GEORGE team presented a fun outdoor programme, sharing appropriate educational information with the 25 children attending on the day. In line with their Covid safety policy, the staff and children attend the centre in accordance with a rotational schedule. The star of the day, however, was the popular mascot Georgie whose appearance evoked loud cheers and applause and soon had most of them dancing, singing and wheeling along.
GO GEORGE drawstring bags containing educational material to engage the children in bus-related games were handed out and received with much excitement. This event marked the culmination of GO GEORGE's engagements for Disability Rights Awareness Month.
Inspiring video of Carpe Diem dancers on bus
GO GEORGE released a video on the same day, featuring the Hip Hop Dance Crew of the Carpe Diem School for children with special needs. A sterling group of youngsters rising above their individual challenges and motivating others, they performed in and around the GO GEORGE buses that have been designed to be accessible to all. Special effort was made to consider universal design guidelines in the presentation of the video too, which, in addition to the inspiring content, created quite a stir in Disability circles worldwide within hours of being released and shared with South African stakeholders. Watch the video by clicking on this link: https://youtu.be/dqsawU3haxo
CAPTION:
Who says we have not been on a GO GEORGE bus yet? The bus banner held up by communication champions proved to be a firm favourite with the youngsters.
Georgie sorg vir vreugde by APD-viering
Die Maand vir die Bewusmaking van die Regte van Mense met Gestremdhede 2020 het verlede Donderdag – Nasionale Bewusmakingsdag Vir Die Regte Van Mense Met Gestremdhede – op 'n hoë noot by die Optima-sentrum in Pacaltsdorp afgesluit. GO GEORGE het by die kinders en personeel aangesluit om die einde van die Vereniging vir Mense met Gestremdhede se jaarlikse program te vier.
Die GO GEORGE-span het 'n prettige buitenshuise program aangebied en toepaslike opvoedkundige inligting gedeel met die 25 kinders wat dié dag daar was. In ooreenstemming met hul Covid-veiligheidsbeleid, woon die personeel en kinders die sentrum volgens 'n rotasieskedule by. Die ster van die dag was egter die gewilde gelukbringer, Georgie, wie se verskyning klipharde gejuig en applous ontlok het en gou die meeste van die kinders aan die dans, sing en ronddraai gehad het.
GO GEORGE-toerygsakke met opvoedkundige materiaal en busverwante speletjies is uitgedeel en met groot opgewondenheid ontvang. Hierdie geleentheid was die laaste uitreiking op GO GEORGE se program vir die Maand vir die Bewusmaking van die Regte van Mense met Gestremdhede.
Inspirerende video van Carpe Diem-dansers op bus
GO GEORGE het op dieselfde dag 'n video met die Hip Hop-dansgroep van die Carpe Diem Skool vir kinders met spesiale behoeftes vrygestel. Die uitmuntende groep jongmense wat bo hul individuele uitdagings uitstyg en ander motiveer, het hul danspassies uitgevoer in en rondom die GO GEORGE-busse wat ontwerp is om toeganklik te wees vir almal. 'n Spesiale poging is aangewend om universele-ontwerpriglyne in die aanbieding van die video ook toe te pas. Die eindproduk met inspirerende inhoud het binne ure nadat dit met Suid-Afrikaanse belanghebbendes gedeel is, wêreldwyd 'n opskudding in Gestremdheidskringe veroorsaak. Kyk na die video deur op hierdie skakel te klik: https://youtu.be/dqsawU3haxo
ONDERSKRIF:
Wie sê ons was nog nie op 'n GO GEORGE-bus nie? Die busbanier wat deur passasiersdiensbeamptes vasgehou word, was 'n groot gunsteling by die jongspan.