Knysna Road Phase 2 roadworks: Road resurfacing project in Knysna Road, George  Phase 2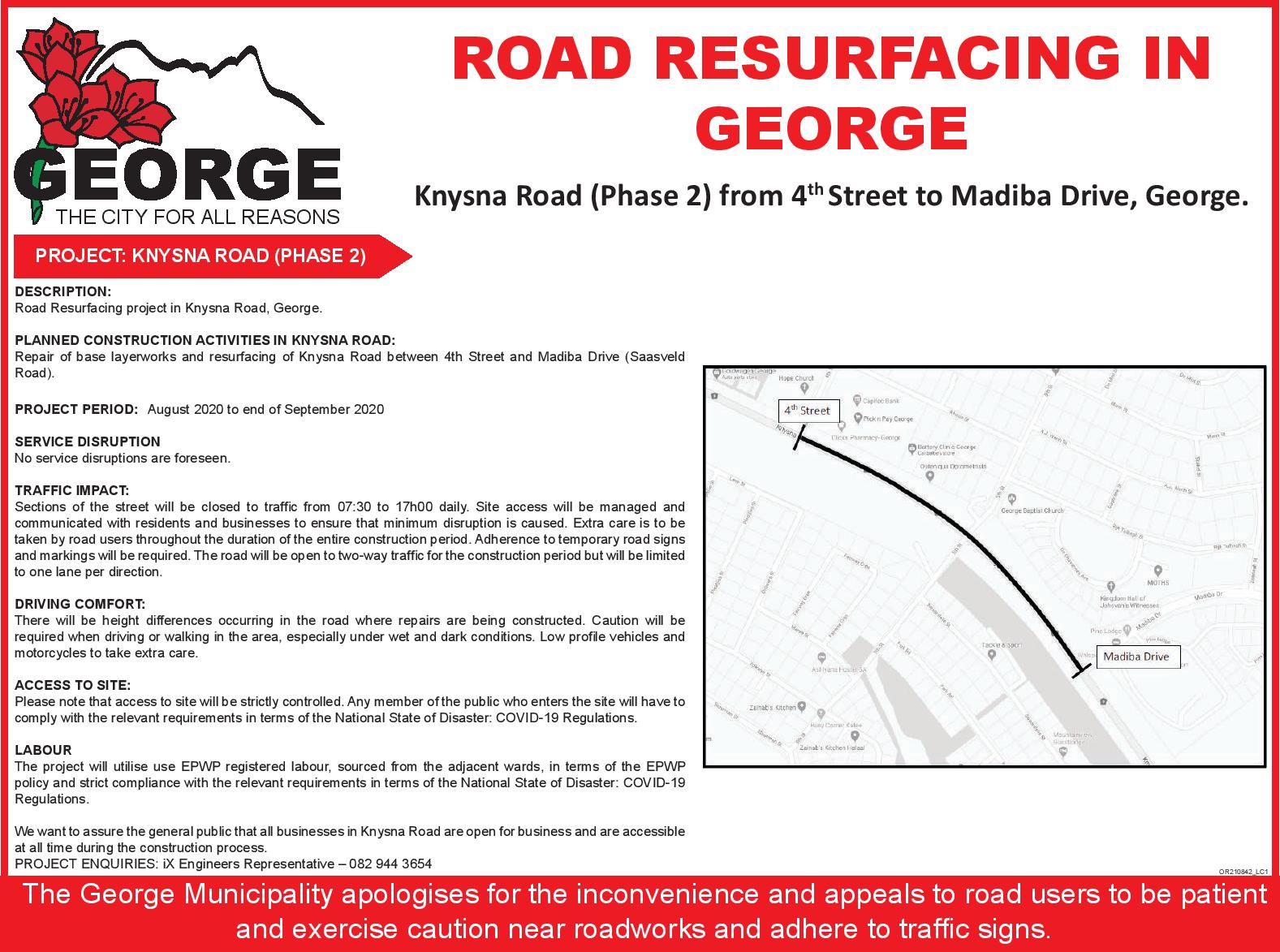 Knysna Road Phase 2 roadworks: Road resurfacing project in Knysna Road, George  Phase 2
Issued by George Municipality
For immediate release: 21 August 2020
George Municipality would like to advise the residents of George that road resurfacing will be done in Knysna Road between 24 August to 2 October 2020.
Physical construction for the complete section between 4th Street and Madiba Drive(Pine Lodge), the repair of base layerworks and resurfacing of Knysna Road will be done.
Sections of Knysna Road will be closed to traffic from 07:30 to 17h00 daily. The road will be open to two-way traffic for the construction period but will be limited to one lane per direction.
Site access will be managed and communicated with residents and businesses to ensure that minimum disruption is caused. Extra care is to be taken by road users throughout the duration of the entire construction period. Adherence to temporary road signs and markings will be required. Herewith the current planning  and  execution programme of the contractor:
All work will be done on the slow lane  from 4th street to Pine Lodge (Madiba Drive) – milling and other works from 24 – 28 August 2020 and again from 31 August to 4 September. The overlay process will start from 14 to 17 September 2020.
There will be height differences occurring in the road where repairs are being constructed. Caution will be required when driving or walking in the area, especially under wet and dark conditions. Low profile vehicles and motorcycles to take extra care.
There might be more delays and inconveniences, but we will keep the public up to date regarding unforeseen changes that can happen on site.
George Municipality apologises for the inconvenience and appeals to road users to be patient and exercise caution during the upgrade. Please look out for and adhere to temporary road signage and roadworks personnel.
Please note that access to site will be strictly controlled. Any member of the public who enters the site will have to comply with the relevant requirements in terms of the National State of Disaster: COVID-19 Regulations.
PROJECT ENQUIRIES: iX Engineers Representative – 082 944 3654