Mayor visits Conville Library – Assisting public with registration process for Covid-19 vaccination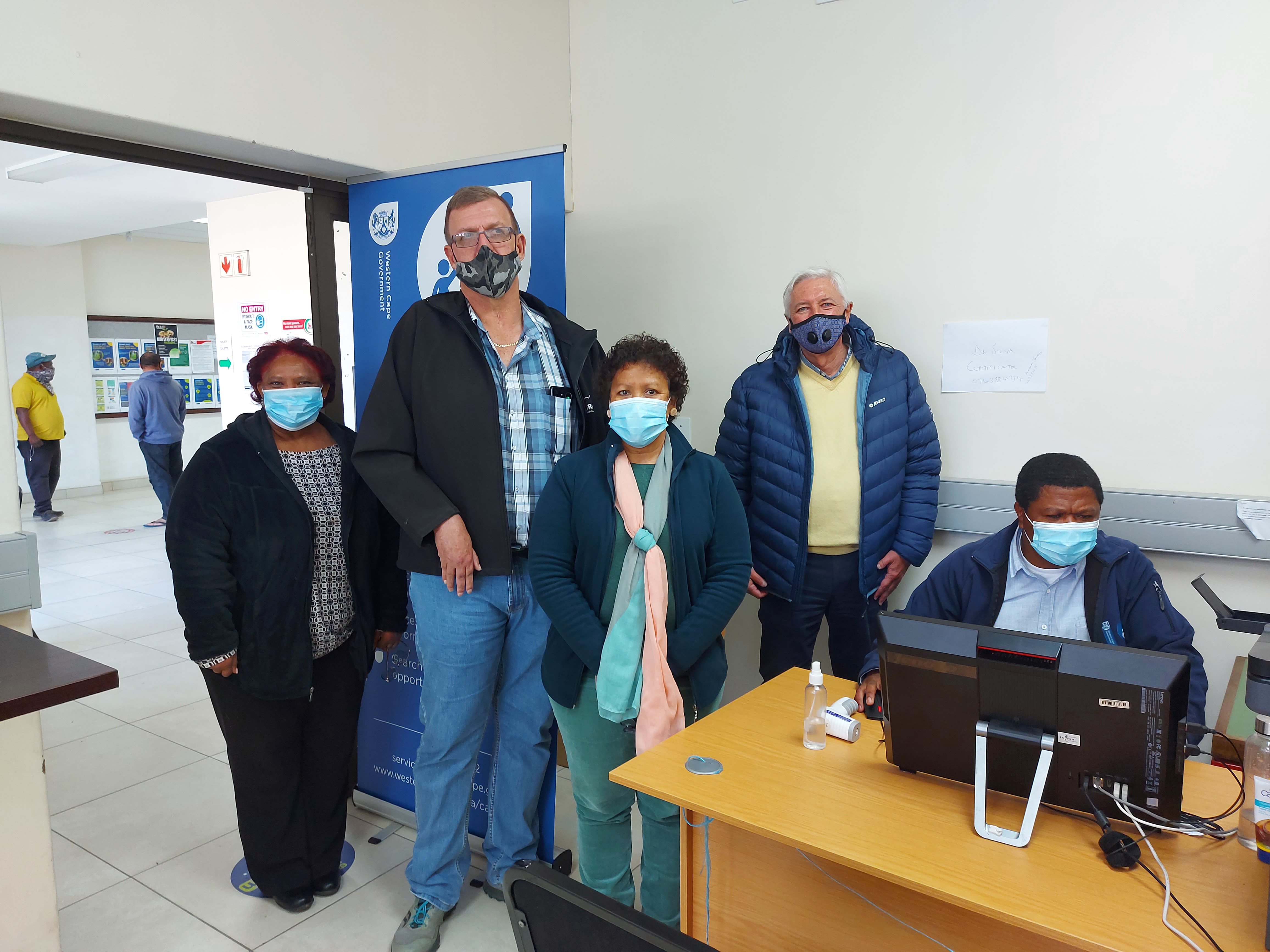 Reissued 7 September 2021 , George Municipality
George Municipality continues to provide venues for the public to receive assistance with their registration process on the Electronic Vaccination Data System (EVDS) for the Covid-19 vaccination. The system is currently open for persons over 18 years of age.
"George Municipality is delighted to be able to assist the Department of Health with their Vaccination programme by providing venues and computers, where the public can come in to register themselves. Our librarians have been specially trained to assist with the process which takes no more than five minutes," said Acting Municipal Manager, Dr Michele Gratz.
If you or a senior family member do not have access to the internet or data, please visit one of the libraries listed below from 09h00 Monday to Friday and our librarians will assist you with the EVDS registration process. Please ensure you bring your ID Book or ID number; if you belong to a Medical Aid then the Medical Aid Card and or the number; and a working cellphone number, as you will be receiving follow up SMS from the system about where to go for your vaccination.
Those who have registered will then receive an SMS with a date, time and venue. SMS messages will be sent out a few days in advance in order for clients to make the necessary arrangements. Please do not visit vaccination sites if you have not received your SMS to confirm your appointment.
If you are over 18 and registered for your COVID-19 vaccine, you can expect:
• An SMS confirming your registration.
• A second SMS with an appointment date and the place – for those who have already registered this should come in the next 2-3 weeks.
• Get vaccinated with your first dose.
• Proof of vaccination card.
• An appointment date for your second dose (if two-dose vaccine).
Additional Venues for Registration, 09:00 – 16:30 Monday-Friday
Please note all Covid-19 protocols are in place and no access without a mask will be allowed.
Thembalethu Thusong Centre (Cnr Jeriko Street & Sandkraal Road) – Cape Access Centre Office
Waboomskraal Thusong Centre (Main Road) – Cape Access Centre Office
The following libraries will be assisting members of the public to register from 9:00 – 16:30 daily from Monday – Friday.
Please note all Covid-19 protocols are in place and no access without a mask will be allowed.
Blanco Library (3 George Avenue)
Conville Library (Cnr Pienaar Street &Nelson Mandela Boulevard)
Pacaltsdorp Library (Mission Street)
Thembalethu Library ( Bacella Street)
Touwsranten Library (Bester Street)
George Library (Caledon Street)
The times for registration vary at our smaller libraries:
Avontuur Library (Ou Bains Road)
Monday 12:30 – 15:00 / Tuesday 10:30 – 13:00 / Wednesday 12:30 – 15:00 / Thursday 12:30 – 15:00 / Friday 12:00 – 14:00
Haarlem library (Hope Street) 14:00 – 17:00 daily Monday – Friday
Noll Library (Dieprivier Primary School, Nolls Halte) Mondays & Wednesdays 12:00- 15:00
Waboomskraal Library 10:00 – 11:00 daily Monday – Friday
Uniondale Library (39 Voortrekker Road) 10:00 – 16:30 daily Monday – Friday
Please be reminded that our librarians are only able to assist you with the registration process for the Vaccination and cannot assist with any medical related queries with regard to Covid-19 and/or the vaccination. See details below for any further queries you might have.
Access to Internet – Self Registration on EVDS
If you or a family member do have access to the internet, please register your over 18 family members and friends as soon as possible.
To register for the vaccine, you will need to visit: https://vaccine.enroll.health.gov.za/#/. This portal can also be found via www.westerncape.gov.za
You can also dial *134*832# and follow the prompts (FREE on all South African Networks), or WhatsApp the word REGISTER to 0600 123456.
Should you need assistance with the registration process, do not hesitate to visit www.sacoronavirus.co.za/evds/support/ or contact the call centre on 0860 142 142
Caption:
Executive Mayor, Leon Van Wyk paid a visit to Conville Library recently to observe how the library officials are assisting members of the public with registration for the Covid-19 vaccination. With him at the visit are from left Rachel Williams: Manager: George Libraries; Cllr Sean Snyman, Portfolio Councillor for Community Development; Deputy Mayor Charlotte Clarke looking on while Victor Arries from Cape Access registers a resident for vaccination.