Rehabilitation of Golf Street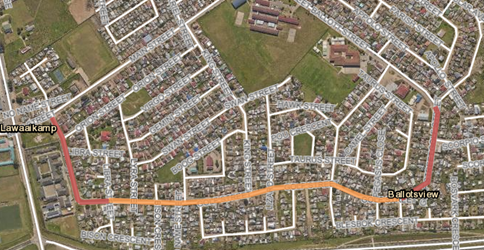 REHABILITATION OF GOLF STREET
The rehabilitation of Golf Street will impact road users from 21 September 2023 to 30 June 2024.
SERVICE DISRUPTION:
Municipal services may be disrupted during this period due to construction activities. Whenever possible, advance notification of temporary disruptions will be sent out via social media.
WORKING HOURS:
Working hours will be from 07h00 to 18h00 Monday to Friday and 07h00 – 14h00 on Saturdays as may be needed from time to time.
TRAFFIC IMPACT:
Golf Street will be constructed in half widths and will remain open for one-way traffic in the direction from Main Road to Circular Drive as indicated on the figure. Phase 2 construction commences on 21 September 2023. Phase 1, indicated in orange on the figure, is currently still under construction and the estimated completion date is 30 January 2024.
Caution needs to be exercised by residents, road users and pedestrians throughout the duration of the construction period. Adherence to flag persons, temporary road signage and markings is required.
The Road will be constructed in half-widths, but access will be granted for all directly affected residents. Access to Erven will be arranged by the contractor with the affected residents in the construction area.
PROJECT ENQUIRIES: IX Engineers (Phone: 082 944 3654)
The George Municipality apologises for any inconvenience and appeals to all residents to be patient and exercise caution during the road upgrade. Please look out for and adhere to temporary road signage and roadworks personnel. Details of further road upgrade work will be published as may be necessary.