A local paraplegic receives "love from Taiwan", as Mayor lavishes her with a wheelchair
A 39-year-old Thembalethu-based paraplegic and a community worker, Khanyisa Dukumbana started her weekend on a high note, as she received a brand-new wheelchair from the executive mayor of George Ald Leon van Wyk on Friday, 10 June 2022.
"Today, I'm happy to hand over a wheelchair to Khanyisa whom I have also learnt is a community worker for the disabled. This wheelchair, which is printed, 'Love from Taiwan' on its back, was donated to the George Municipality by a delegation from the Taipei Liaison Office in Cape Town that visited George late last year," said Mayor van Wyk as he handed over the wheelchair to the ecstatic Khanyisa.
"I'm certain that Khanyisa will be a lot more mobile with the receipt of this new chair as it will give her a lot more access to the informal areas, and the areas where she is working with disabled people. We are very honoured that we could hand this over to her," Ald van Wyk added.
Mayor van Wyk also thanked the George Municipality's gender and disability desk coordinated by Ejustley Boshoff for facilitating the process of finding an eligible beneficiary for this gift. Dukumbana is involved in outreach work to the disabled community. She's also a member of the Disabled People of South Africa (DPSA).
In response to her unexpected gift, Khanyisa said: "I would like to thank the Mayor for finding me this new 'BMW', it has all the necessary features including a seat belt. This gift came at the right time as I was starting to experience mobility problems with my existing wheelchair."
During their visit last year, the director-general of the Taipei Liaison Office in Cape Town, Mr David Yintso Lin said Taiwan provides medical equipment globally in support of different countries. "We have a saying in Taiwan, true friends stick together, and this is the idea behind this gesture. We would like to be of help during these difficult times," Lin said. Douglas Chang, First Assistant Director: Taipei Liaison Office in Cape Town, was part of the delegation visiting George last year.
Watch a video of the Executive Mayor handing over the wheelchair to Khanyisa below:
Ends.
CAPTION:
Photo 1: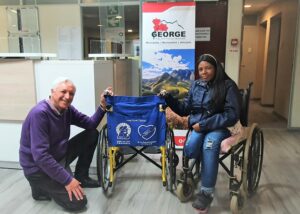 Ald. Leon van Wyk, the Executive Mayor of George (left), hands over the wheelchair, which is printed, 'Love from Taiwan' on its back, to Khanyisa Dukumbana (right) from Thembalethu.
Photo 2: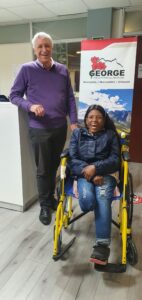 Khanyisa Dukumbana (right) thanked the Executive Mayor, Ald Leon van Wyk (left) for the new wheelchair