GO GEORGE visits Up with Down's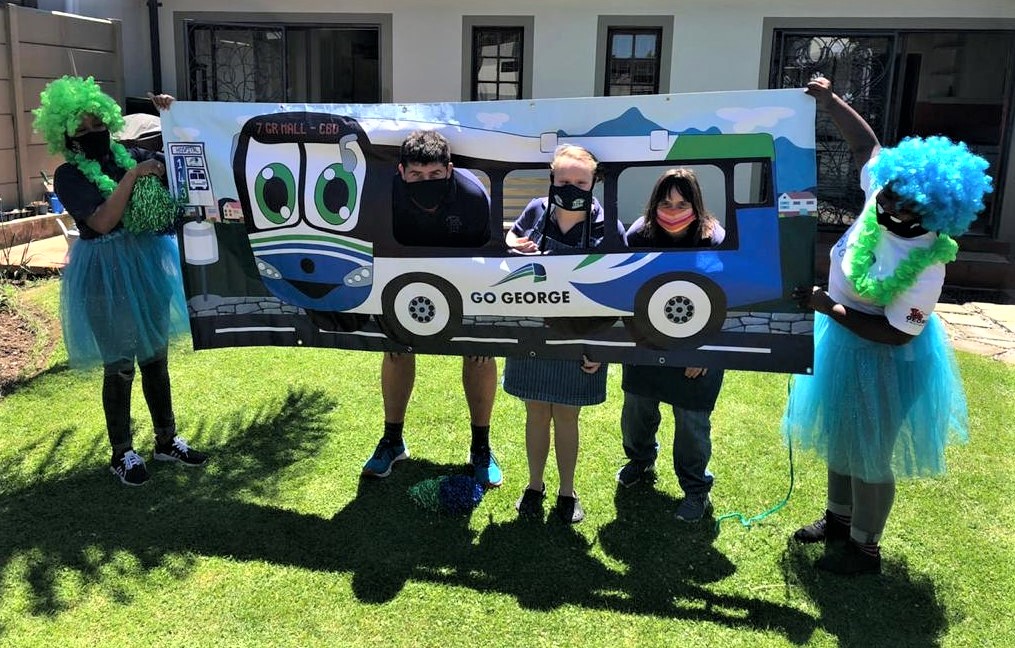 The GO GEORGE communications team paid a visit to the Up with Down's Centre for learners and adults with special needs in Blanco to share basic information about Covid-19 safety, the rules that apply when travelling on the bus, and passenger and pedestrian safety around the buses.
As usual, the friendly mascot Georgie was the star of the day with both the children and the adults as he had everybody enthusiastically join in the Jerusalema dance. However, this time, he had to share the limelight as photo model with the bus photo banner where the learners and residents queued to pop their heads through the windows and smile for the camera.
Upon receiving their GO GEORGE goodie bags, some of the children came to show the educational items they had received from GO GEORGE last year and have been treasuring ever since.
According to James Robb, GO GEORGE Manager, the design of the bus service is based on the principle that universal access in all spheres of life is not a privilege but a right entrenched in the Constitution. "GO GEORGE as a public transport service aims to be as inclusive and accessible as possible to the entire community, including people with different categories of special needs," he says.
Several schools and organisations that cater specifically for the needs of people with disabilities are included in the bus service's outreach programme for the year and especially in November, Disability Rights Awareness Month (DRAM).