Blue flag soon to be hoisted at Wilderness Beach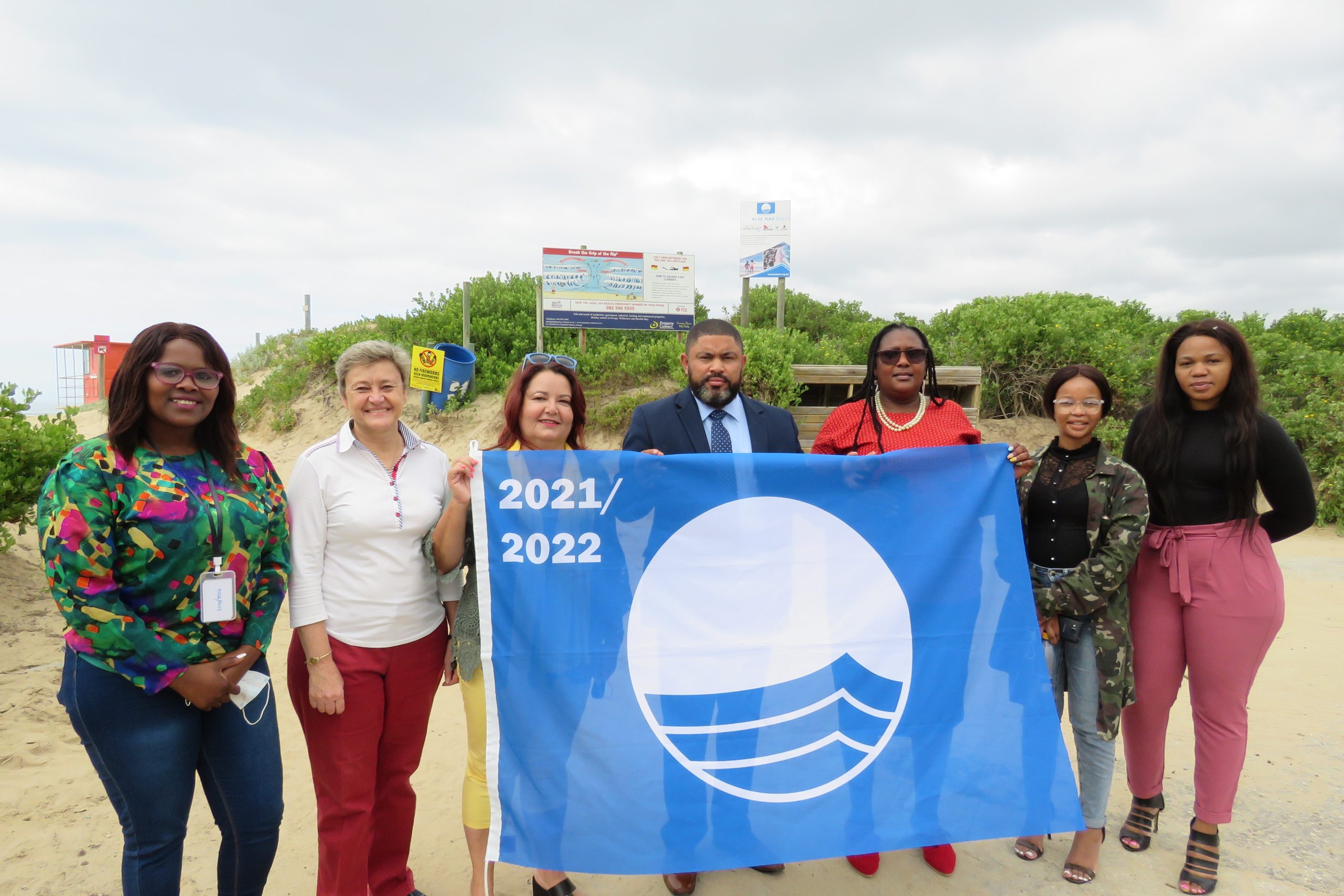 Blue flag soon to be hoisted at Wilderness Beach
Issued George Municipality, 30TH November 2021
Immediate Release
Caption: Proudly holding up the Wilderness Blue Flag are from left Manager Parks and Recreation, Nosidima Vuminda; Acting Municipal Manager, Michele Gratz; Ward 4 Councillor Marlene Barnardt; Deputy Mayor Raybin Figland; Portfolio Councillor Electrotechnical Services, Nosicelo Mbete; Project Coordinator Environmental Services, Grace Notshokuvo and Chief Clerk Environmental Services, Yolanda Mail.
Caption 2: Cllr Figland, Cllr Barnardt, Dr Gratz and Ms Vuminda inspect the recently updated public facilities readied for the 2021 festive season and Blue Flag status.
Deputy Mayor Raybin Figland, together with Ward Councillor Marlene Barnardt and Acting Municipal Manager Michele Gratz today proudly inspected the facilities at Wilderness beach that have been readied for the hoisting of the Blue Flag for the 2021/22 summer season. Nosidima Vuminda Manager Parks and Recreation for George Municipality accompanied the trio during their site inspection of the public facilities.
Wilderness Beach has full Blue Flag status and Victoria Bay and Herold's Bay both gained Pilot status. Blue Flag is an international coastal management programme that accredits beaches that meet standards of excellence in water quality, environmental management, environmental education and information as well as safety and services. In South Africa the programme is implemented by the Wildlife Environmental Society of South Africa (WESSA).
Blue Flag status offers many benefits including improved tourism facilities, enhanced management of coastal ecosystems, increased awareness of the coast and capacity building of coastal municipalities as well as carrying significant international merit.
The Blue Flag season runs from 1 December 2021 to 31 January 2022. Compliance includes high standards of water quality monitoring, public safety and lifeguard services, and well-maintained coastal amenities. Following the flash floods of Monday 22nd November large piles of debris is still in process of being removed from the beaches and as such the Blue Flag will officially be hoisted on Friday 3rd December 2021. South Africa has participated in the Blue Flag programme since 2001.