Efficient herbicide trailers for George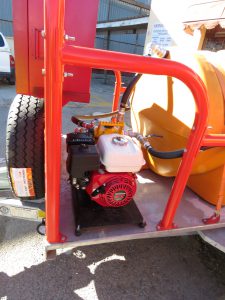 The George Parks and Recreation division was thrilled to take ownership of two brand new herbicide trailers which will be used for the spraying of granule and liquid herbicide across the George Municipal area including Wilderness and Herold's Bay. Executive Mayor Leon van Wyk in the middle, Parks and Recreation Superintendent Tyrone April and new Senior Environmental Services Manager Sivuyile Mtila visited the Fleet yard this week to inspect the new purchases.
The 1000l capacity per trailer will provide time-savings and improve efficiency for the parks team, reducing time wasted on refill trips for the smaller capacity individual pumps being used currently. The existing smaller pumps will now be repurposed and given to our Community Worker cleaning project to use as and when required. This will greatly improve their cleaning efforts in areas where not only illegal dumping but also weeds are a persistent problem.
George Municipality currently uses a combination granular and liquid herbicide. Future plans are to assess the viability of changing completely over to liquid herbicide that will result in less maintenance with the same soil action capability of granular forms.  These herbicides are targeted at specific vegetation groups at specific mix ratios to enable the municipality to control a wide spectrum annual and perennial broadleaf weeds and grasses in urban areas.
Where homeowners have gone the extra mile and planted their sidewalks decoratively and/or continue to maintain the sidewalk,  the Parks and Recreation department is cautious not to disturb or spray in these areas, within reason as sidewalks are by rights intended for pedestrians and suitable space should always be available for safe pedestrian movement.