Fire management demonstration of aerial capabilities
George Municipality continues to address the safety of the city of George in terms of fire management.  Our Fire and Rescue Services are faced with semi-desert, mountainous terrain on both sides and over the mountain, as well as large tracts of agricultural land, pine plantations, alien vegetation, coastal fynbos, indigenous forest and winding inaccessible roads connecting towns and villages over long distances.
The George Municipal Council a while back, approved a multi-faceted approach by the department to acquire key equipment and additional vehicles over a few financial years to systematically address different aspects of fire and rescue management.
The Fire Fighting team recently hosted a demonstration of the aerial capabilities of the acquired resources at the Garden Route's first dedicated emergency firefighting airstrip located on municipal property above Denneoord and which opened in December 2017. The airbase consists of a runway, helipad, firebase, taxiway and a water refilling point. In collaboration with Kishugu, a demonstration was given with the helicopter doing precision pick up of water in a "bucket" using the George fire department portable dam.
Water drops were demonstrated according to wind directions and topography and a precision drop was done to demonstrate the versatility of the helicopters as a firefighting resource, as well as how they can assist with the supply of water to the portable dam. The 14 000-litre portable dam is used as an artificial water source from which a helicopter bucket can scoop water or fire vehicles can be filled.
Executive Mayor Leon Van Wyk and Acting Municipal Manager Dr Michele Gratz were given a brief overview of the Risk Assessment done regarding the Witfontein plantations and the collaborative plan to reduce this risk by the George Fire Department, Cape Nature, Department of Environment, Forestry and Fisheries (DFFE) and other roleplayers.
The Mayor and MM were given a tour of the 10 km of Fire Breaks and paths that have been established on municipal property above Denneoord.  Fuel reduction controlled burns are planned for approximately 170 hectares of the veld around Denneoord /Garden route dam and 298 hectares of veld above the plantation in the SANPARKS area. The correct weather conditions are required for control burn conditions and the public is assured that more than adequate resources are available to conduct control burns safely with minimum risk. The first control burn was undertaken last week Thursday, 24 March on a 3-hectare block of veld above Denneoord.
Useful contact numbers:
Fire emergencies only: 044 801 6311
All after-hours emergencies: 044 801 6300
General enquiries (office hours): 044 801 6300
Uniondale (office hours): 044 752 1225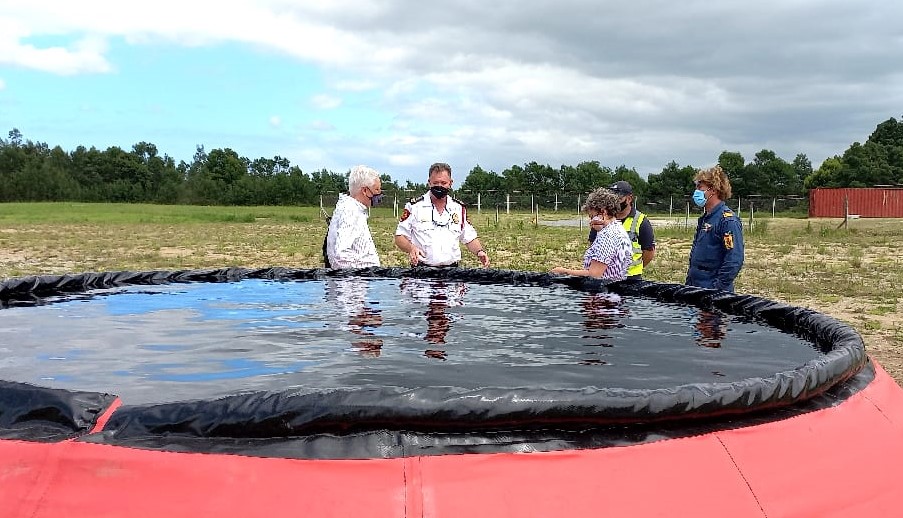 Explaining the functions of the portable dam to the Executive Mayor Leon van Wyk and Acting Municipal Manager Dr Michele Gratz is Fire Chief, Neels Barnard with Kishugu helicopter pilot Niel Mostert (in blue flight suit) and Everett Montague, spotter pilot and Airbase Manager (yellow hazard jacket).