GEORGE EMBARKS ON A PRESSURE MANAGEMENT PROGRAMME AS PART OF REVENUE
Water losses are common challenges for municipalities in South Africa, with pressure management being considered one of the most beneficial, important, and cost-effective leakage management activities, the George Municipality's Civil Engineering Services (CES) directorate has embarked on a pressure management study a move to reduce water losses and to enhance revenue.
"Most pipe bursts occur not only because of high pressure but rather due to ongoing pressure fluctuations forcing the pipes to continuously expand and contract, resulting in stress fractures," says Deon de Jager a deputy director in the George Municipality's CES directorate. Pressure builds up during night flows when demand is low, causing pipe failures (normally between 10pm and 4am).
"A pressure zone is defined as the area bounded by both a lower and upper elevation, all of which receive water from a given hydraulic grade line (HGL) or pressure from a set water surface."
The CES directorate is, according to de Jager in the process of finalizing the pressure management study. Meanwhile, the department also installed and connected 60 smart bulk water meters to our Telemetry and SACADA system during the 2021/2022 and 2022/2023 financial years.  This is an ongoing effort as the Directorate`s main goal is to convert the Municipal current water network into a smart water network.
"Currently, we have 18 pressure management zones in our water reticulation network. CES is planning to create an additional 60 new pressure management zones.  From December 2021 CES started logging all pipe bursts in our network and populating the data into our IMQS water master plan."
"Normal water distribution systems are designed to withstand pressures varying between 24 meters and 90 meters (meaning 2.4 bars minimum and 9 bars maximum).   Most of the pipe failures occur during night flows when the water demand is low, and there is a build-up of pressure in the networks. Most of the areas experiencing regular pipe bursts/failures are situated above the 90m pressure contour."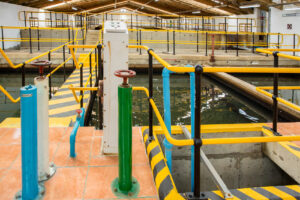 It must be realized that water reticulation network leakages during night flows are much higher due to elevated pressure.  Controlling the critical areas will enhance the potable water in hand, this is revenue enhancement.
"CES is making plans to address these critically affected areas by creating pressure management zones and controlling the high-pressure areas during night flows.  The proposed upgrades will cost the council about R35 million. Even though the project has not yet been funded, it has been on the Municipal Infrastructure Support Agency (MISA) wish list of projects for possible funding, pending the study's conclusion," concluded.
Ends.