George Municipality marks Nelson Mandela Day with many 67 minutes!
Mandela Day activities for the George Municipality, were led by the Executive Mayor, Ald Leon Van Wyk, and members of the Mayoral Committee when they donated several items to the Phambili Women's Refuse. The items were officially handed over to a thrilled Acting Manager Ms. Colleen Stoffels and on-site Social Worker Ms. Karen Arendse. Ms Stoffels noted that the contribution and will go a long way in providing meals and other needs for the women and children who currently occupy the shelter. Located in Rosemoor, Phambili Women's Refuge provides shelter for women and children who have been subjected to gender-based violence.
Mayor Van Wyk implores all residents to do their part in commemorating Mandela Day and stated that communities need to support establishments such as Phambili Women's Refuge so that we can ensure that those who are vulnerable are able to access help and can do so in a dignified way.
Office of the Municipal Manager
Dr Michele Gratz, Municipal Manager was heartened by the efforts of the various directorates noting that every little bit helps in some way. "There are so many needy organisations out there and to me it is important that our officials are actively involved within the communities they live and work in. No contribution is ever too small, as every little thing makes a difference in a person or animal's life. Our officials will continue to build on their 67 minutes for Monday, Mandela Day with their committed and diligent service to the residents of George."
Officials from the Office of the MM donated items to the SPCA charity shop. This charity shop located in the CBD and functions as not only an important fund-raiser for the SPCA, but also enables the community to buy quality second hand clothing, kitchen items, toys and books at reasonable prices.
Worker's Collection Point
36 men waiting for a job at the Workers' Collection Point situated on Industrial Avenue in George, were surprised with a cup of soup and bread thanks to two officials of the George Municipality's Economic Development, Rosina Munroe and Amy Kearns. The Workers' Collection Point is a central point for private individuals and businesses who wish to collect workers who have registered with the facility.
Disaster and Emergency Services
George Municipality Disaster and Emergency Services hoisted a banner in remembrance of the late President Nelson Mandela in front of the George Fire Station on Monday, 18 July 2022.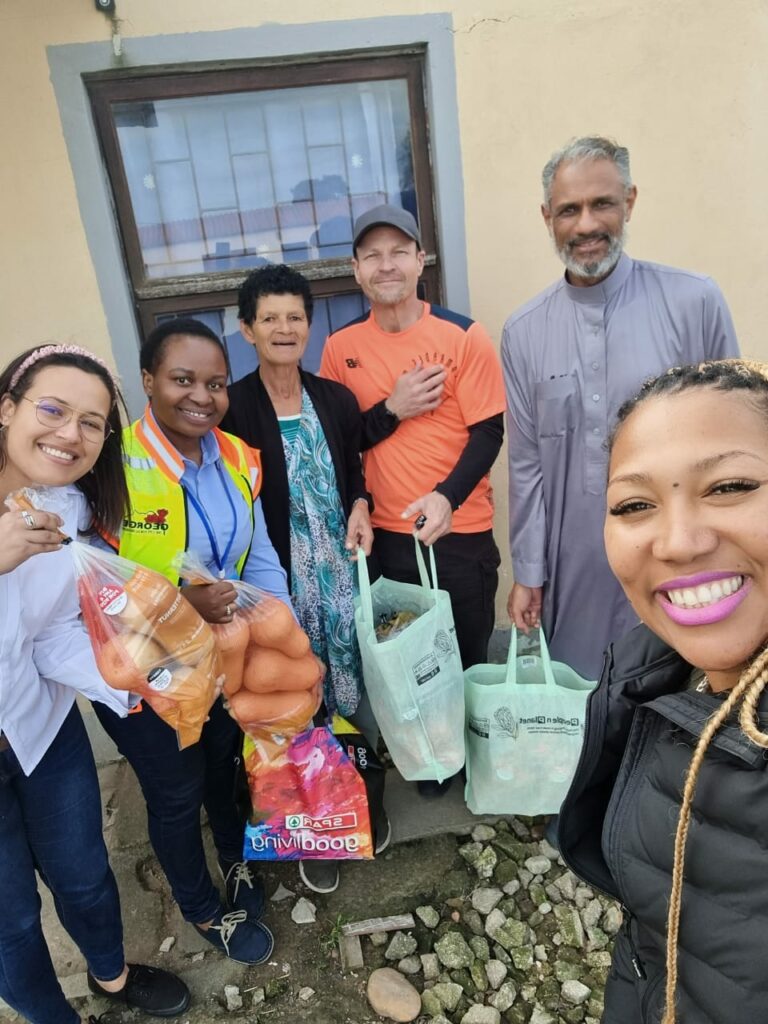 Building control and Planning
Officials in the Building Control section of the Development and Planning Directorate opened their hearts and donated soup packets to four soup kitchens in the areas of Thembalethu, Pacaltsdorp, Parkdene and Rosemoore. The soup ingredients that the officials donated to the soup kitchens are 2x 3kg carrots, 2x 3kg potatoes, 2x 2.5kg Butternut, 2x 3kg onions, 1x 2kg Rice, 2x box soya mince, 2x soup mix, 3x spaghetti, 6x soup powder and 2x beef/chicken stock.
Internal audit and Risk
George Municipality's Internal Audit and Risk Management offices visited the SPCA in Pacaltsdorp for their 67 minutes of goodwill. The group took with them four big bags of dog food, one small bag and some toys and accessories for the dogs. They also spoiled the workers at SPCA with some biscuits. After handing over the gifts, the officials walked around the dog area and played with the dogs in their cages. According to Barbara Madolo, one of the officials at Internal Audit, they have enjoyed the visit very much and loved spoiling the dogs.
Civil Engineering Services
The Civil Engineering Services Directorate chose to support the Rosemoor House for Battered Women and Children. They have collected clothes, toiletries, toys and food for delivery on Friday.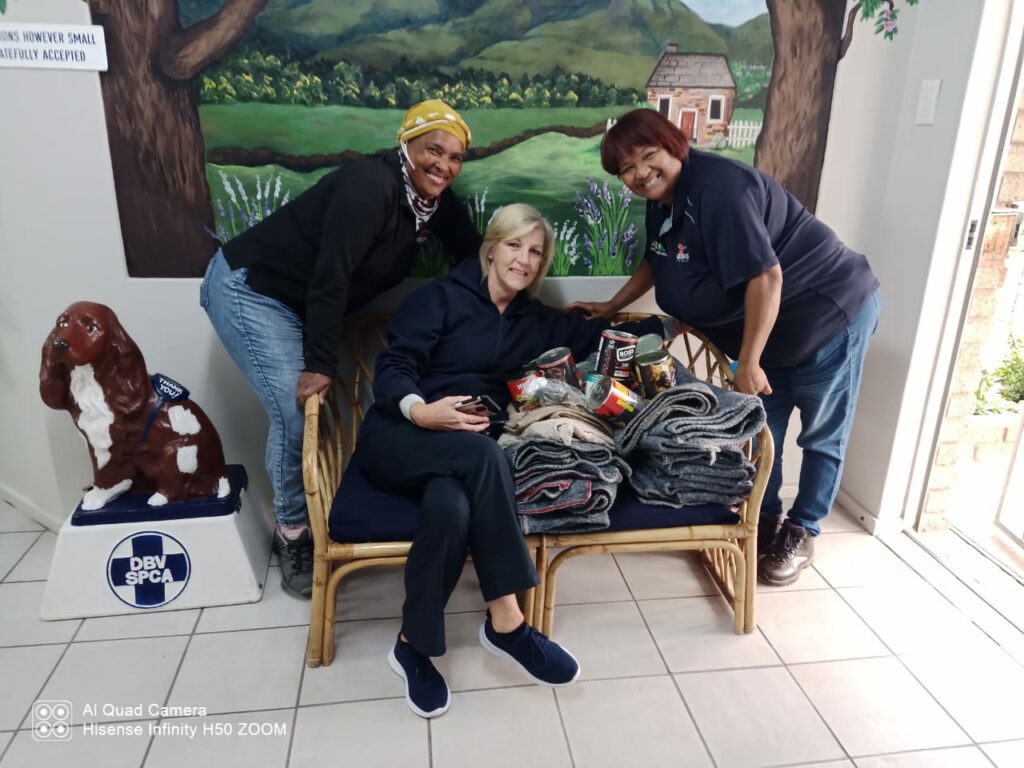 Community Services
Officials donated blankets and dog food to the SPCA on Mandela Day and other officials got their hands dirty and helped the cleansing teams in Blanco to clean up the litter in the area.
Finance
Finance officials donated blankets and dog food to the People's dispensary for sick animals in Rosemoor as well as food and toys to Kingdom Kids Creche located in Blanco.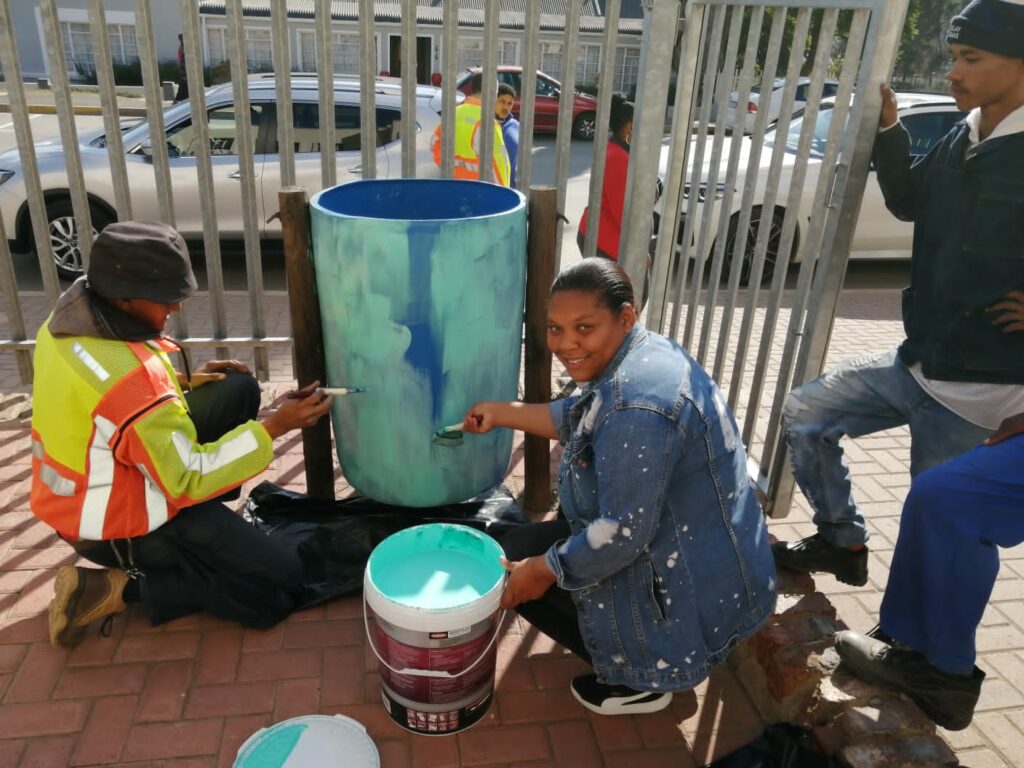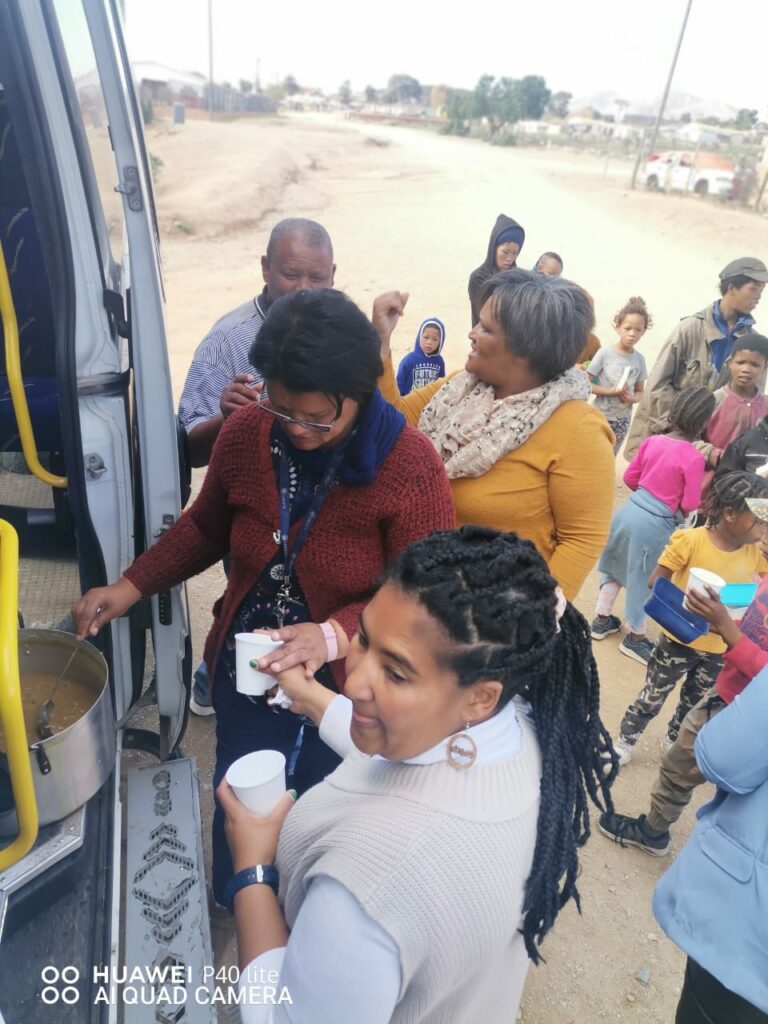 Corporate Services – Human Resources, Social Services and Uniondale
The Corporate services and HR management team all contributed towards food parcels and blankets that were delivered to Parkdene Creche and  Golden Valley creche in Blanco.  The Social Services division cleaned the house and garden of a senior citizen in Thembalethu and later held a soup drive for the People living on the Streets.  Officials in Uniondale representing all of the directorates in George, jointly organized a soup drive for children and adults in the community as well as a paint drive to update refuse bins and a clean-up in the community.