George Municipality partners with THE MUT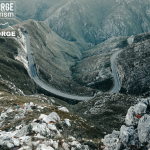 George Municipality is excited to announce a partnership with Mountain Ultra Trail (MUT) for the George Mountain Ultra Trail  otherwise known as the George MUT or THE MUT, an event scheduled to take place the weekend of the 26th June 2021. The weekend will include the hosting of the Vancouver International Mountain Film Festival, the main event on Saturday with the 60km, 25km, 10km and a family fun event 5km and on Sunday 27th June the Vertical Kilometer Challenge up George Peak will take place.
Joan Shaw, Tourism Manager for George is thrilled to have an event of this calibre on board which will showcase the stunning Outeniqua Mountain range. "Feedback from the event held in 2019 was overwhelming positive and competitors were in awe of the majestic mountains, incredible scenery as well as the professionalism of the organisation of the race itself.  This route boasts everything from big climbs, rocky trails, technical downhills and views of the Outeniqua Mountain Range to keep all athletes engaged and motivated."
"We are excited to once again host THE MUT as one of the first class sporting events to showcase George's many Sporting Event hosting and  tourism opportunities.  George Municipality remains committed to the cause of identifying and partnering with great events to stimulate and develop the George economy", said Dirk Wessels, Portfolio Councillor for Strategic Services and Finance.
Team Ecobound, the organisers are clear on their goal of hosting an international standard Trail Running event and to create a well-respected long standing event  that provides enjoyment in an environmentally responsible manner. Zane Schmahl for TEAM Ecobound,  noted that entrants for the 2021 event are growing daily with a massive growth in participation for the challenging 60km trail run. "The George MUT has been a dream for a while, ever since Jacques Mouton and I ran the very first 60km to figure out the route we have been planning and dreaming of showcasing our mountains and our town and present an international standard event to celebrate the Outeniqua's, with our City Council's backing for the first time it feels like it might just be possible," said Zane Schmahl.
For further details on how to enter please see  https://www.georgetrailrun.co.za/
#GeorgeMunicipality #GeorgeTourism
#GeorgeMUT #MUT #MUTlife #OuteniquaMountains #GardenCity
Social Media 
https://www.facebook.com/MUTGeorge
https://www.instagram.com/georgemountainultratrail/
https://twitter.com/EcoBoundEvents