George Municipality under pressure with extreme weather and fires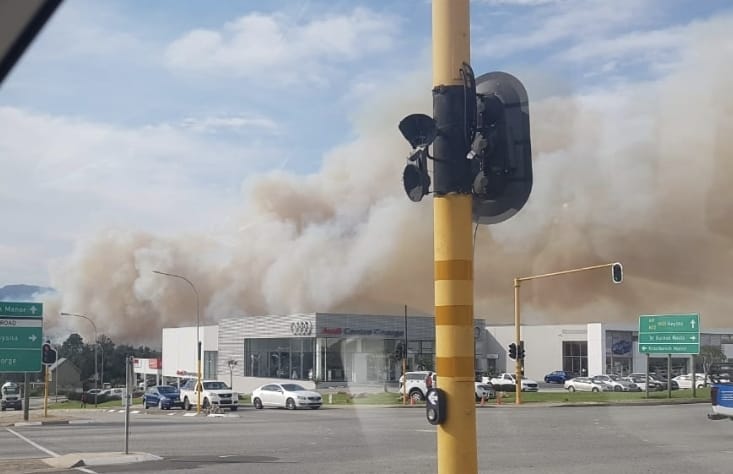 George Municipality experienced a whirlwind of complaints and callouts last week following some extreme weather conditions in the Southern Cape. Extreme berg wind conditions from Tuesday 17th May contributed to intensifying a veldfire in Hansmoeskraal that was attended to by Garden Route District Firefighters with George Fire Brigade assisting through till Thursday morning when it was finally contained and the 7mm of rainfall recorded at the Denneoord Airbase, cooled everything down.
Executive Mayor Leon Van Wyk this week thanked all officials for their efforts in bringing fires under control and dealing with disruptive power outages where repair teams worked long hours to clear vegetation and re-connect lines. "I was touched once again by the positive comments for the work of our communications team, our fire-fighters and electrical teams. We take pride in having employees (on an ongoing basis we also need to remember our water, sewer, refuse, stormwater teams and others) who are dedicated in keeping our services functioning at a high standard, as well as the privateers who pitch in or are contracted to assist," said Ald Van Wyk.
George Fire and Disaster Services
On Wednesday 18 May, the George Fire Department received a total of twenty-seven calls which included three structure fires, including a 3-bedroom house in Denneoord which was extensively damaged. Two informal structures were completely destroyed in Lawaaikamp.
A total of twenty-three calls for Veld and bush fires came in for areas including Hansmoeskraal, Groenkloof, Saasveld Road, Garden Route Dam, Kraaibosch Estate, Glentana, New Dawn Park, Zone 1 Thembalethu, Pacaltsdorp, and Ring Road. The Hansmoeskraal fire, the Saasveld Fire (which included Groenkloof, Saasveld Road and Garden Route Dam) and the Denneoord house fire came in all at the same time. Resources were stretched to the maximum and aerial support was called in to assist with the Saasveld fire. Helicopter operations were however limited at one point due to high wind speeds. Savannah Helicopters were able to provide support for a good hour and 10 minutes before being grounded late afternoon of Wednesday due to poor visibility.
Wind gusts of up to 40 km/h together with temperatures of up to 30 degrees were recorded on Wednesday afternoon at the Denneoord Airbase. Adding to the strain on resources was a motor vehicle accident with luckily no injuries recorded. Our Social Service division provided mattresses, blankets and food parcels to four families who lost their structures in fires from 17 – 21 May.
Power outages and loadshedding
The electrotechnical division had their hands full dealing with 11 high voltage power outages located in the Wilderness area alone, and another 18 in areas such as Hoekwil, Pinedew, Herold's Bay, Garden Route Dam, Saasveld and Kraaibosch.  238 low voltage complaints were dealt with during the three-day period. Some of these outages were caused by trees that fell on lines, while others were in difficult terrains requiring extreme caution from the teams. In addition to the weather-related power outages, ESKOM called Stage 2 Loadshedding for the 17 – 20 May but George was fortunate not to be affected.  George Municipality is obliged to adhere to the ESKOM Loadshedding Schedule as received and cannot make amendments or give concessions to certain areas. Director for Electrotechnical Services,  Bongani Mandla, thanked his officials for focusing on addressing the key issues to restore electrical supply under such difficult circumstances.
Damaged trees
Parks and Recreation a division of Community Services attended to 15 callouts on 18th May. Seven of these were urgent where trees had fallen onto roads and were obstructing traffic in Denneoord and Blanco and were dealt with immediately despite the inclement weather conditions. The remaining trees were either felled or broken branches were pruned back on Thursday, with teams working throughout George collecting broken branches.
Water, Sewer and streets
Our Civil Engineering teams attended to 143 sewer network callouts, 76 water network callouts and 14 complaints with regards to streets during the three-day period.