George Municipality was again well prepared to prevent major flood damage although the Uniondale area was hit the hardest
Flood wrap of the weekend
Issued by George Municipality on 7 March 2023 for immediate release
Due to the George Municipality's preparedness and a contingency plan consisting of integrated multi-sectoral and multi-disciplinary services within the organisation, we were well prepared for the heavy rainfall and flooding expected  in George and Uniondale areas over the past weekend following the South African Weather Services Level 6 warning received on Friday 3 March.  George in general measured approximately 60 mm of rain from Friday, 3 March until Sunday, 5 March. The Municipality implemented measures aimed at disaster prevention, mitigation, and response, after receiving the predicted heavy rainfall and severe thunderstorms from Saturday night to Monday morning.
Uniondale and Haarlem
In Uniondale, 65mm of rainfall was measured from Saturday until Sunday and about 68 mm of rainfall in Haarlem on the same days. Uniondale and Haarlem areas had the most damage with the newly upgraded Uniondale Fire Station that was almost completely flooded despite preventative preparations. Trenches and sandbags were used to attempt to prevent flooding but to no avail. The volume of the downpour was simply too much for the measures that were in place.
A farm in the Kammanassie area was cut off from access due to the Kammanassie River flooding. The resident was unable to pick up an urgent emergency consignment of medication for an epileptic patient and the George Fire Department assisted with the matter due to the emergency. A 4×4 vehicle was used to cross the flooded river and after some water had subsided as well.  Several roads were damaged in Haarlem and after the flooding a number of the stormwater drains need to be cleared of debris and which officials have started with.
The roads in Uniondale are extensively damaged by the storm that happened on Sunday, 5 March 2023. The road that was most adversely affected is Uitvlught road as well as Cemetery Road, Laetitia Avenue, Wehmeyer Street, Albert Street, Cathcart Street, Rose Street, Aberdeen Street, Buitenkant Street, Berg Street and Parlement Street. Some stormwater issues were experienced where large amounts of gravel washed into people's driveways and properties. Officials have started by clearing rocks, stones and sand off the roads.
In Uniondale,  40 callouts were made for formal and informal housing with regard to the supply of gunplas and flood damage, with another 40 callouts in Haarlem. After these families were assisted with most flooding issues and glunplas it was not necessary to evacuate any of their premises.
Preparations in Advance
Our Civil Engineering Stormwater teams checked and cleared roughly 100 drains along 21 Streets in George areas from Friday afternoon till 22h00 and again on Saturday from 08h00 to 22h00. Three teams were put in place to check hotspot areas where flooding problems have occurred previously.  During the storm on Sunday, only four complaints came in of people needing assistance with catch pits.
The Disaster management department had to bring in two additional staff members to assist with the call volumes at the Call Centre. Our disaster and fire brigade officials monitored areas such as Hope Street and other areas around George. Sanparks breached the Touwsriver mouth at 15h30 on Monday afternoon. The Corporate Services Directorate had halls on standby to be used if people needed to be evacuated but this wasn't necessary.
The George Traffic Services remained on standby for the duration of the storm and at least three vehicle accidents were reported on Provincial Roads. Two motor vehicle accidents were reported to the Fire Department on Sunday in Outeniqua Pass and one accident in Kaaimans Pass. The Fire Department received only 7 calls in the George area for assistance with sandbags at residential properties.
Our Human Settlements, Planning and Development Directorate cut gunplas on Friday in preparation for delivery on Saturday and Sunday. Gunplas was delivered to applicants on Saturday for them to place on their roofs in preparation for Sunday's rain. More critical areas were serviced on Sunday. A total of 138 pieces of gunplas were delivered over the weekend in George,including Uniondale and Haarlem. Pre-preparation and delivery of gunplas before the inclement weather assisted immensely as the teams could attend to the most critical complaints received from the Fire Department. The Directorate continued with the delivery of gunplas after the storm. The Directorate's maintenance section assisted 14 Rosemoor Units for the Aged with roof leaks and gunplas as well as 10 units where water was leaking through the doors.
George Municipal Manager, Dr. Michele Gratz, had huge praise and thanks to all the officials for their commitment to managing this potential disaster. "I think we did well and our preparations helped in many respects," Gratz said. She thanked the teams for responding very quickly to potential issues and putting in long hours of hard work. George Executive Mayor Ald Leon van Wyk echoed the many thanks to all the staff and especially the teams on the ground. He said the preparations were excellent and he's excited about the rainfall that we've had.
Video of the Touw Rivermouth being breached.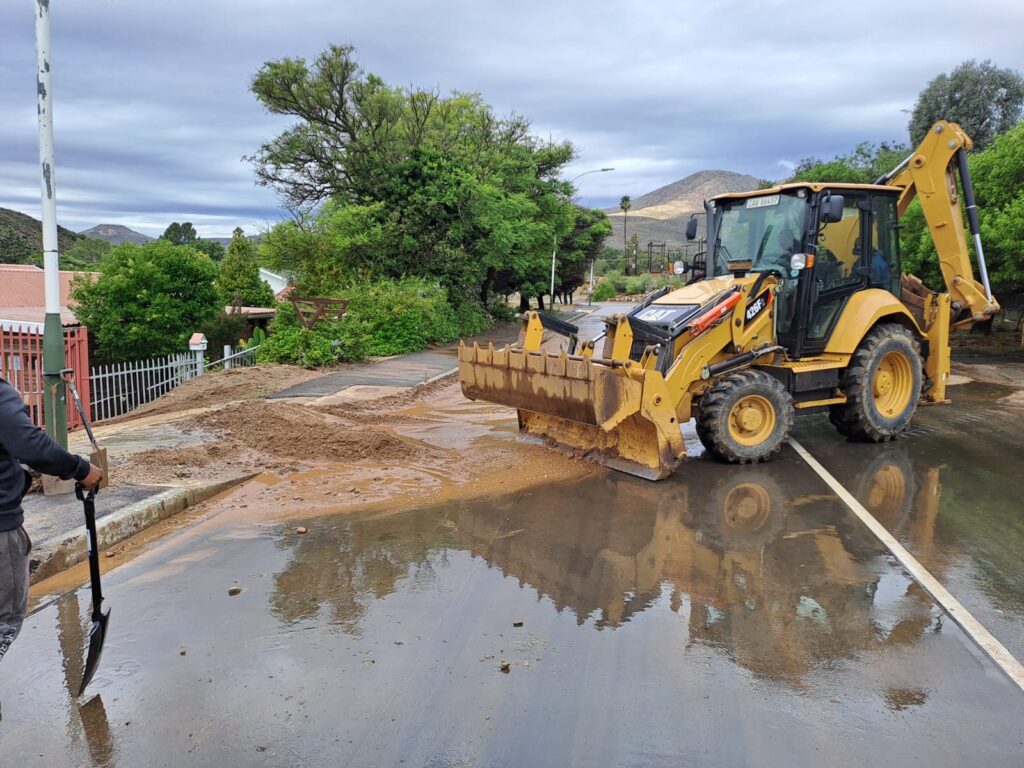 Our teams cleared the the roads and stormwater drains in Uniondale during the flooding.
Flooding at the Uniondale fire station that was recently refurbished.
Members from the George Fire brigade delivered emergency medicine with a 4×4 vehicle to a farm that was cut off due to the Kammanassie River that was in flood.
Debris lying in the road at Uniondale Poort after the storm.
Stormwater teams drive through Magnolia Street, Groeneweide Park to check and clear stormwater drains.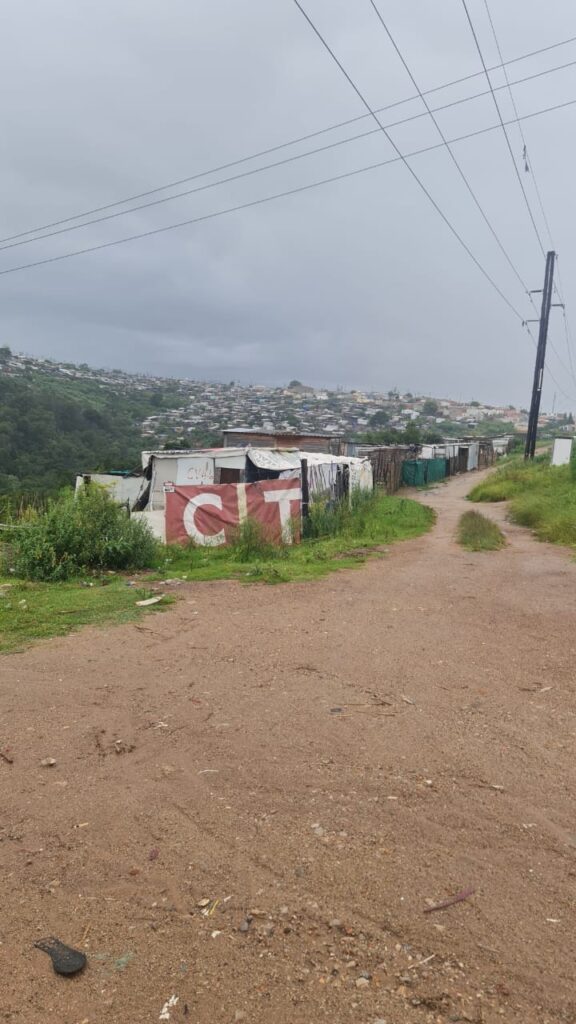 Check ups was done wat Moeggehuur and Moeggeploeg to make sure people's homes were not flooded and if they needed gunplas.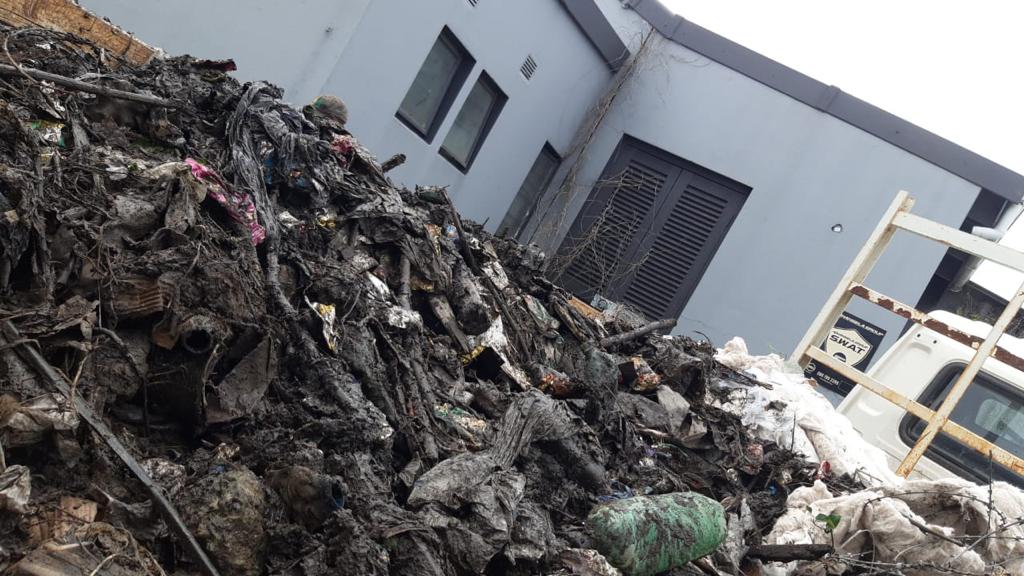 Stormwater teams cleared stormwater drains all around George since Friday to be prepaped for any flooding.