George ready for fire season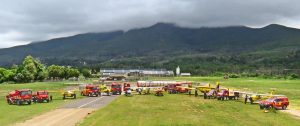 George Municipal Fire and Rescue Services are ready for the fire season, which officially runs in the Western Cape from December 2020 to March 2021.
George Fire Chief Neels Barnard said the municipality's own fleet was well-equipped and the Southern Cape would once again have additional air support from its Denneoord Emergency Airbase. "Over the past few years George has invested in state-of-the art equipment and vehicles to address a wide range of fire scenarios, including a first-of-its-kind large capacity water tanker and portable dam for remote areas, a specialised tractor to clear vegetation and a hazardous materials unit to deal with toxic materials at vehicle and factory accidents. This, combined with the services rendered from the airbase, ensures a comprehensive response to the diverse firefighting challenges in our municipal area.
"Our emergency airbase remains key to our fire and disaster management efforts as we had witnessed during the 2018 fires in George. We are grateful for the ongoing support of Working on Fire, a programme funded by the Department of Environmental Affairs, and longstanding working relationships with the Southern Cape Fire Protection Association, neighbouring municipal fire departments, Garden Route District Municipality and other emergency operators which complement the efficient fire management service we can offer in George and surrounds."
A chopper, three spotter planes and two water bombers will serve the Garden Route district from the airbase during the 2020/21 fire season.
Mr Barnard appealed to residents and visitors to be mindful of hot summer conditions and to act responsibly to ensure that there are no unnecessary fires to contend with during a time when emergency services are stretched to the limit. "Our holiday high season is starting and the influx of people to the region brings its own complications, which are this year amplified by Covid-19.
"We remind people that fireworks are illegal because of the fire risk and that no controlled burns are allowed until fire season is over. Always remember to make fires in protected and designated areas only and dispose of cigarette butts safely. There is a long, hot summer ahead and we need everyone to help in keeping our region safe," said Mr Barnard.
George Fire emergency number: 044 801 6311
General emergency number: 044 801 6300
Caption
George Municipality's fire and rescue fleet show off their fleet alongside the season's Working on Fire air support at Denneoord Emergency Fire Base.