TOURISM UPDATE: WHAT'S HAPPENING IN GREATER GEORGE THIS DECEMBER
 Find all the tourism information you need in the greater George area:
Boat cruises along the rivers and lakes in Wilderness with Wilderness River Safaris
56 activities to dip into George, Wilderness and Uniondale! 
4×4
Abseiling
Animal Parks and Rehabilitation Centres
Art Galleries and Routes
Beaches
Big Tree
Bike Park
Birdwatching
Boat Rides
Botanical Gardens and Guided Tours
Bubble Ball (children)
Bumper Boats (children)
Canoeing
Canyoning / Kloofing
Coffee and Chocolate Pairings
Explore the vast and open Outeniqua Mountains and many other scenic trails in the area. Find routes at georgetrails.org.za
Craft Your Own Gin Class and Pairings
Culinary Cooking Classes
Dine with a Local
E-Bike Rides
Farm Stalls
Fishing
Game Drives (only for accommodation guests)
Go Cart Track
Golf Courses
Guided Cultural and Historical Tours
Helicopter Flips and Charters
Horseback Rides
Indoor Play Centres (children)
Kayaking
Kloofing
The George area has several spectacular beaches to enjoy – Victoria Bay, Herolds Bay, the Wilderness beaches and Gwaing.
Learn to Surf
Local Guided Day Trips
Markets
Microlight Flights
Miniature Train Rides
Museums
Oyster Shucking, Show and Tell Experience
Paragliding
Pedal Go Carts
Picnic Spots
Pony Rides (children)
Power Van Railway Experience
Quad Biking
Rock Climbing
Scenic Drives and Lookout Points
Art, culture and history abound, if you know where to look.  Contact George Tourism for a list of site guides and experiences.
Segway
Spa and Wellness Emporiums
Stand Up Paddle Boarding (SUP)
Strawberry Picking
Township Bicycle and Cultural Tours
Trails for hiking, MTB and running
Trampoline Park (children)
Treetop Aerial Obstacle Courses
Tuk-tuk Tour
Wine Farms and Tasting Rooms
Pottery and Ceramic Classes/ Experiences
Canoeing and kayaking is one of the most sought-after experiences in the destination.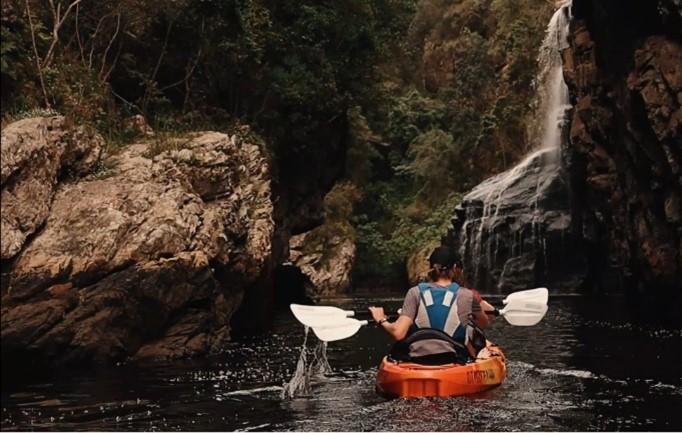 Contact the tourism office for a list of suppliers or go to our website.
EVENTS
There are so many fabulous and festive events and markets to look forward to!  See more at visitgeorge.co.za.
05 – 21 December: Uncle George Christmas Party
Step Aside Farm, George | unclegeorge.wixsite.com/mysite | 071 433 6961
This is a fun and festive evening for families!  Come together in a picnic setting and enjoy a Christmas-themed evening where children meet Santa.  There's also a magical castle, a marching band and Noddy and friends, as well as carols under the stars.  From 17h30 to 21h30.
10 December: Pacaltsdorp Lights Festival
Kaptein Dikkop Amphitheatre, Pacaltsdorp | Jonathan Fortuin: 044 802 2000 or 061 624 7431
The annual George Lights Festival has moved to the Kaptein Dikkop amphitheatre in Pacaltsdorp, and heralds the start of the festive season with the switching on of festive Christmas lights..  This year, there will be live performances by local artists, food stalls, arts and crafts, as well as a kiddie's corner. The programme is from 14:00 and 20:00. Seats are limited, so be sure to get there early for this festive community event!
The Garden Route Botanical Gardens in George is home to the Garden Route Birds of Prey Rehabilitation Centre and the Marshmallow Cafe.
Garden Route Botanical Garden, George
044 874 1558 | www.botanicalgarden.org.za | bookings@botanicalgarden.org.za
10 December – The Story of Fire
14 December – Golden Oldies Picnic in the Park
15 December – Turn to Nature for Health
19-20 December – Carols by Candlelight
22 December – The Story of Fire
Explore the largest permanent hedge maze in the Southern Hemisphere at Redberry Farm in George.
Redberry Farm
044 8707123 | www.redberryfarm.co.za | info@redberryfarm.co.za
17 December – Jakkalberry Extreme MTB Race | From R225 to R950 | 071 678 7147 | www.jakkalberry.com | juan@chaingangevents.co.za
21 December – Carols by Candlelight | R15 – R25
15 – 31 December (Closed Sundays) – Boerevintage Gift Market
Dotsure Insurance George Arts Theatre, George
044 873 3938 | www.georgeartstheatre.co.za | enquiries@georgeartstheatre.co.za
07-17 December – Jack and the Beanstalk | R70-120
George Tens 15 – 18 December
071 457 2696 | www.georgetens.co.za
15 December – Golf at Oubaai Golf Resort & Spa, Herolds Bay
16 December – Touchies at Wilderness Beach
16-17 December – Netball at Outeniqua Park Stadium, George
16-18 December – Rugby at Outeniqua Park Stadium, George
17 December – Mountain Biking from Outeniqua Park, George
17 December – Volleyball at Wilderness Beach
18 December – Trail Running from Outeniqua Park, George
Bush Lapa Musiekfees 16-31 December
044 851 0113 | www.facebook.com/BushLapaMusiekfees | 044 851 0133 | www.heroldsbayresort.co.za | admin@heroldsbayresort.co.za
18 December – Spoegwolf | R180 – R280
20 December – Bok van Blek | R120 -R250
21 December – Bernice West | R120 – R250
23 December – Juan Boucher | R120 – R250
26 December – Fatman Live | R120 – R250
27 December – Elandre Live | R120 – R250
28 December – Steve Hofmeyer | R120 – R250
30 December – Jo Black | R120 – R250
31 December – Jakkie Louw | R175 – R395
MARKETS
Outeniqua Family Market – Every Saturday 08:00-14:00
N2, George | 082 465 2952 | outeniquafamilymarket.co.za | info@outeniquafamilymarket.co.za
Showcasing the best mouth-watering local produce, as well as a large variety of craft stalls, this market is popular with locals as a weekend hang out. Live music, acres of parking, a huge kiddies play area and plentiful shaded seating make this a weekend winner.
Sunday Funday Market – Every Sunday 10:00-15:00
Milkwood Village, Wilderness | 061 547 0625 | milkwoodvillage.co.za milkwoodmanagement@gmail.com
The Milkwood Village is situated in the heart of Wilderness, with a variety of shops and restaurants, as well as a craft market in the centre of the village. Every Sunday morning the market has live music and a craft market. There is a dedicated kids zone with a big lawn to play ball and relax.
Hinenni Community Market – Every Wednesday 08:30-15:00
63Bo-Langvlei Road, Rondevlei, Wilderness | 082 788 8500 | facebook.com/ HinenniFS
This vibrant hub supports local farmers and entrepreneurs.  Find arts and crafts, farm fresh produce and eggs, homemade meals, baked goods such as breads, cakes and bakes, homemade pickles and preserves, Kimchi, Kombucha, yoghurt and so much more.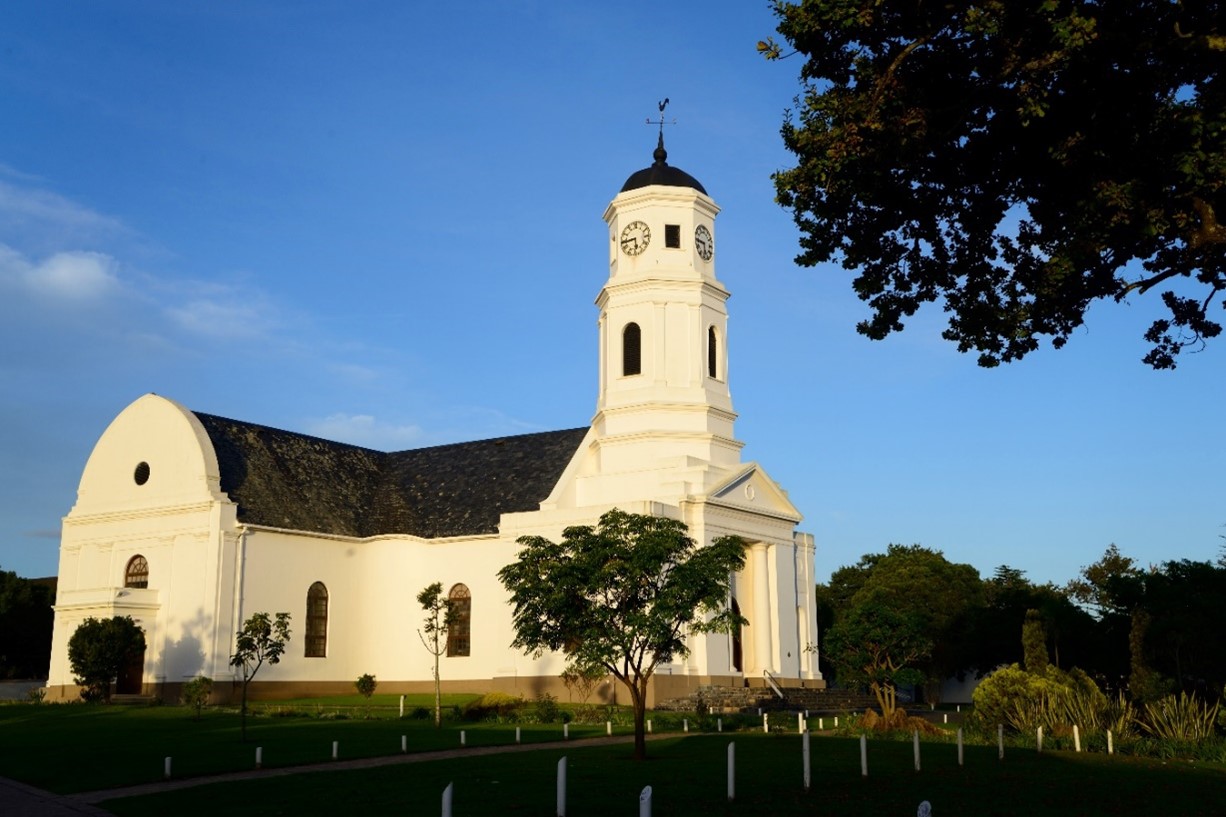 The Moederkerk is a heritage landmark in the George city centre.
Outeniqua Kersmark  – 10-22 December
Moederkerk, George | 083 772 8252 | stolsgerda2016@gmail.com
This event is a staple on the December calendar, offering a range of crafts and gifting at the iconic Moederkerk in George.
Boerevintage Gift Market – 15-31 December (Closed Sundays)
Redberry Farm, George | 083 398 0205 | www.boerevintage.co.za | info@boerevintage.co.za
Bespoke, beautiful and carefully selected items line the tables of the Boerevintage market.  This is a market not to be missed and a great place to shop for unique Christmas gifts for others… or yourself!
Hilltop Herolds Bay Garden Market – 17 December
c\r Rooidraai \ Rooiktansie Street Herolds Bay Heights | 082 490 6200 | acrawley@iafrica.com
JOIN THE CONVERSATION
Share your holiday with hashtags #visitgeorge #exploregeorge #visitwilderness #explorewilderness #visituniondale #exploreuniondale
VISIT YOUR LOCAL TOURISM OFFICE
Want to know more about what you can see, do, eat and where you can stay?
044 801 9295
info@visitgeorge.co.za
124 York Street, George Central, George, 6529
facebook/tourismgeorge
instagram/georgetourism_official
+27 44 877 0045
info@visitwilderness.co.za 198 George Road, Wilderness, 6560
facebook/wildernesstourism
instagram/wildernesstourism
+27 44 518 0030 info@visituniondale.co.za Virtual assistance
facebook/uniondaleinfo
instagram/uniondaletourism