#gettoknowgeorge – FEBRUARY 2023
#gettoknowgeorge
WHAT'S HAPPENING IN GEORGE THIS FEBRUARY
Find all the tourism information you need in the greater George area, spanning from hamlets like Herolds Bay to Haarlem to Hoekwil, at www.visitgeorge.co.za – the official tourism destination website.
UPCOMING EVENTS
Coming up over the next month you can look forward to exciting rugby matches, lekker live music and theatre shows, running and golfing for a cause. 
SPORTS EVENTS
Rugby at Outeniqua Park Stadium, George:
044 050 0660 | www.swdarende.co.za | veda@swdeagles.co.za
060 479 7095 | deslie@vwykinc.co.za | Tickets are R10 – R30
17 February: SWD Eagles vs Boland
24 February: SWD Eagles vs Leopards
24 February: Touchies Tournament
060 479 7095 | deslie@vwykinc.co.za | Tickets are R10 – R30
Golf Days
17 February: Hope Church Night Run
Garden Route Botanical Garden, George | 062 214 2814 | www.hopechurch.org.za | hello@hopechurch.org.za
The Dotsure George Arts Theatre is housed in an elegant, heritage building dating back to 1905. The building once was home to a girl's school, a bioscope and in 1969 the theatre opened its doors.  The old film reel projector still lives in the theatre foyer to this day.
MUSIC AND SHOWS
24 February: Bottomless Coffee Band
Down to Earth, Herolds Bay Resort, Herolds Bay | 044 851 0113 | www.heroldsbayresort.co.za | admin@heroldsbayresort.co.za
25 February: The Social Launch
Pollocks at Wilderness| 044 877 0481 | www.facebook.com/pollocksatwilderness
 Various: Dotsure Insurance George Arts Theatre, George
044 873 3938 | www.georgeartstheatre.co.za | enquiries@georgeartstheatre.co.za
22-25 February – Seussical the Musical
01-04 March – Seussical the Musical
07 March – Andrew Young Sounds of the 70's
The Outeniqua Family Market is a must-do for anyone living in or visiting George. Packed with delicious food stalls and a large children's play area, a morning at the market will be a Saturday well spent.
REGULAR MARKETS
Outeniqua Family Market – Every Saturday 08:00-14:00
N2, George | 082 465 2952 | outeniquafamilymarket.co.za | info@outeniquafamilymarket.co.za
Sunday Funday Market – Every Sunday 10:00-15:00
Milkwood Village, Wilderness | 061 547 0625 | milkwoodvillage.co.za milkwoodmanagement@gmail.com
Hinenni Community Market – Every Wednesday 08:30-15:00
63Bo-Langvlei Road, Rondevlei, Wilderness | 082 788 8500 | facebook.com/ HinenniFS
HIDDEN GEMS 'COFFEE WITH'
Have you visited these interesting hidden gems yet?  Enjoy your coffee with…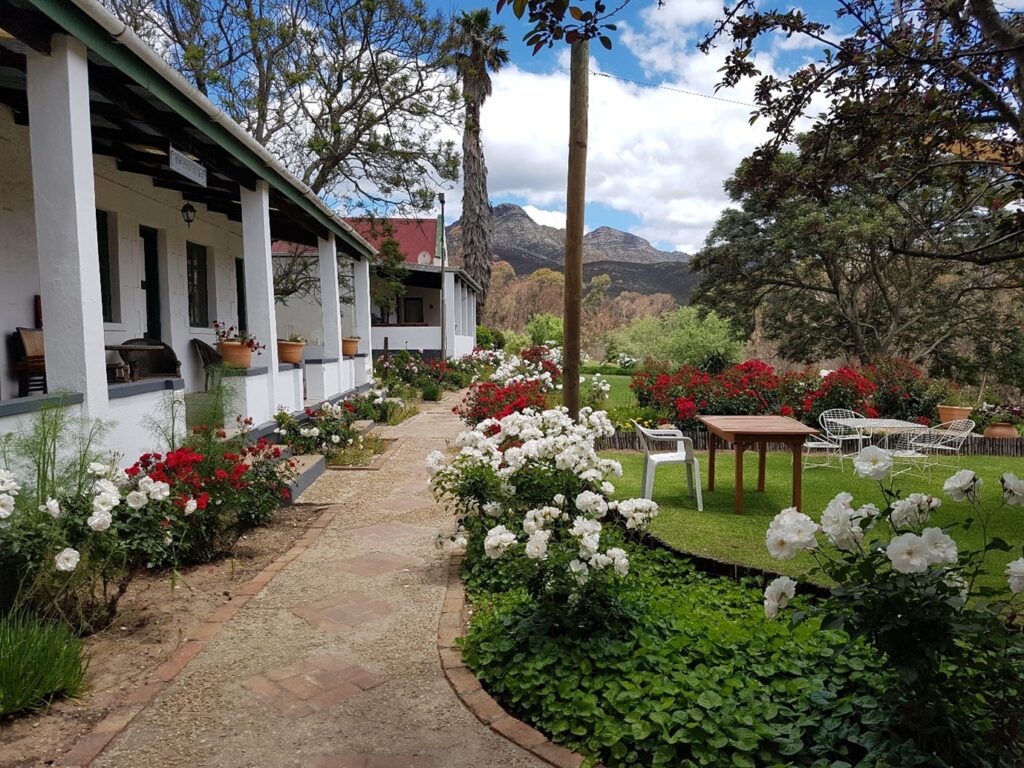 Over the Mountain Guest Farm in Herold on the Montagu Pass
Coffee with horses at Saddles and Steam Stable Café
Beervlei Corner, Seven Passes, Diep-Rivier, Wilderness | +27824945642 | info@blackhorsetrails.co.za | www.blackhorsetrails.co.zaThis charming coffee shop is situated at Black Horse Trails stables.  Enjoy tasty breakfast, lunch or cake baked on-site while in the company of horses, Great Danes and friendly sheep with great mountain views.  There is also a shop open Wednesdays to Mondays.  Check out the tallow soap and cream!
Coffee with a view at Hallo Coffee
Remskoen Street, Hoekwil, Wilderness | +27 71 322 7575 |  facebook.com/Hallocoffee.sunshineSituated en route to the Map of Africa in Wilderness, Hallo Coffee has soul soothing views that capture the beauty of the forest and sea, made even better by a hot cup of java.
Coffee with the pass at Over the Mountain Tea Garden
Montagu Street, Herold, George | +27448881700 | www.overthemountain.co.zaSituated at the top of the Montagu Pass, not only can the majestic mountain be enjoyed, but also a sense of history which permeates the picturesque grounds.  The property includes the original late 19th century Post Office, Police Station and old farmhouse buildings.  Every item served on the menu at Over the Mountain Tea Garden is homemade.  Try the unique cinnamon cake or dig into the delicious roosterkoek, pancakes or other light meals.
JOIN THE CONVERSATION
Share your awesome experiences with us on your socials!
#visitgeorge #visitwilderness #visituniondale
VISIT YOUR LOCAL TOURISM OFFICE
Want to know more about what you can see, do, eat and where you can stay?