WHAT'S HAPPENING IN GEORGE, WILDERNESS AND UNIONDALE – TOURISM UPDATE SEPTEMBER 2022
#GeorgeTourism #GettoknowGeorge
Us 'Georgiette's' are the envy of many South Africans, especially those far from the sea, sitting in long daily traffic commutes – we won't say who! We get to live in one of the top destinations in South Africa, surrounded by abundant beauty yet with all our creature comforts within proximity, and plenty to do and see! Each month the tourism section of George Municipality, which represents the tourism offices for George, Wilderness and Uniondale, will be sharing snippets to help you get to know more about all that is available to you and your visiting friends and family.
EVENTS
What's happening in George, Wilderness and Uniondale? Here are a selection of events taking place during the rest of September. View the full events calendar at visitgeorge.co.za.
16-17 September 2022: Thousand Sensations Craft Liquor Food & Music Festival at Woodfield's Estate in George
This annual event takes place on the Map of Africa and calls to craft enthusiasts! Not the knitting type, mind you, but the liquor type. The festival village is set in a natural amphitheatre and there are a variety of craft beer and other types of craft liquor stalls, as well as food vendors, a tented area and a large live music stage with headline artist, Andra. Festival goers can taste and buy the crafts available which include beer, whiskey, gin, brandy, rum, and more. Set in an incredible natural setting, situated on grasslands between natural, pine and eucalyptus forest and with magnificent mountain and sea views, this festival promises too not only be fun but also beautiful. Make sure to organise responsible transport arrangements.  Get more information via Facebook.
23-25 September 2022: The Heritage Festival at the George Showgrounds
A new festival on George's calendar, this is a music and dance festival celebrating South Africa's diverse arts and heritage.  There are a multitude of South African performers in genres such as local Jazz, Boere Musiek, Mbaqanga, Khoi Music, reggae, Afrikaans pop, folk, blues, Xhosa/Tswana/Sotho traditional music and even more.  Delicious South African style food will be on sale, featuring bobotie, braai, mala-mogodu (aka tripe) and other interesting fare.  The event includes an art exhibition and children's activities.  Attendees are encouraged to dress according to their cultural heritage.  heritagefestival.co.za
24-25 September: GTR Endurance Lap Race at the George Riding Club
The GTR Endurance Lap Race is a timed 3km cross country route that is repeated in laps at the George Riding Club.  The event village will keep the energy up with live local artists and DJ's on stage while you run.  There are solo and team entries and runners can enter either the 1 hour, 6-hour, 12-hour or 24-hour categories.  The 12 and 24-hour team entries include camping at the George Riding Club.  Learn more via Facebook.
25 September:  Lions CCPP Group Karoo to Coast from Uniondale to Knysna
This beautiful yet challenging journey consists of a 100km solo mountain bike race, which starts in Uniondale and crosses the magnificent Prince Alfred's Pass in to Knysna.  This year's event is already sold out, but friends and family of riders can support them at the start or finish line. karootocoast.com
30 September-1 October: Uniondale Landbouskou at the Uniondale Showgrounds
The highlight of this event is the exciting South African Saddle Horse and Cape Boerperd show presented by the East Cape Agricultural Show Association. Visitors can look forward to competitions in various categories of horse gaits. In addition, there will be a merino show, boerbok show and a youth show where youngsters can showcase their self-bred livestock. Take part in wine-tastings, and enjoy the entertainment provided by the Bottomless Coffee band.   See more on Facebook.
Local Markets
Hinenni Community Market
Every Wednesday from 08:30-15:00 | 63 Bo-Langvlei Road, Rondevlei, Wilderness
Outeniqua Family Market
Every Saturday from 08:00-14:00 | N2, George
Sunday Funday Market
Every Sunday 10:00-15:00 | Milkwood Village, Beacon Street, Wilderness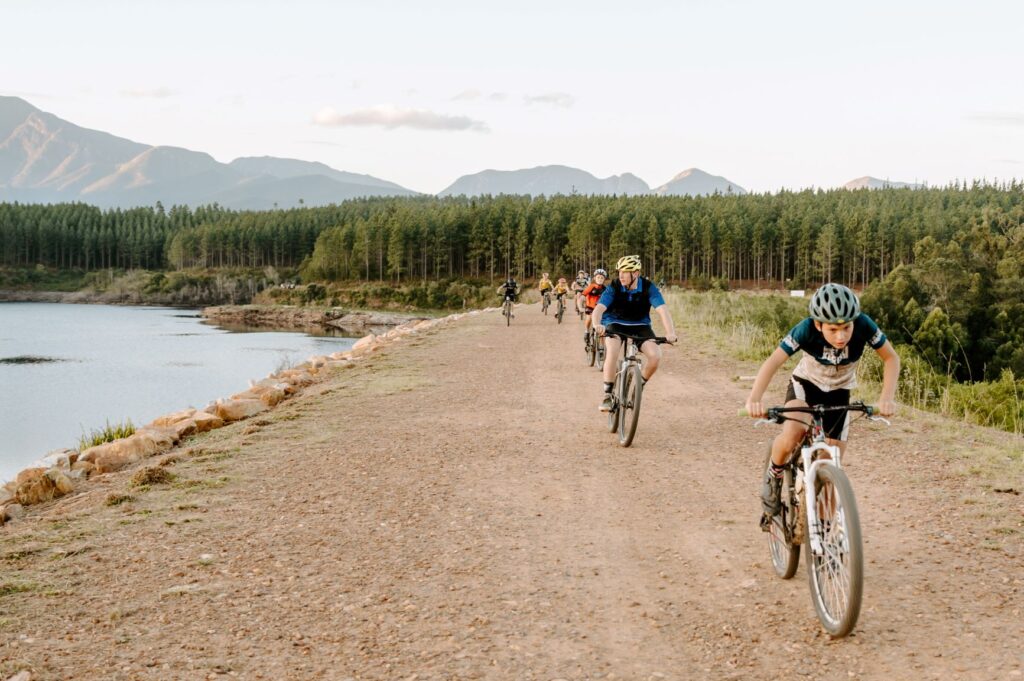 MOUNTAIN BIKING TRAILS
Do you know that George has a website dedicated to our trails?  Go to georgetrails.org.za for detailed information about available routes, distances and difficulties in not only mountain biking but also trail running, hiking and paddling.
The following excerpts have been taken from our latest blog, 'Popular mountain biking trails to try'.
The Montagu Pass provides a whole different challenge. Start at the Engen garage in Heather Park and ride on until you reach the turn off to the pass. As you climb the pass, you'll get up close with spectacular mountain scenery and fynbos panoramas. The elevation gain is approximately 862 meters. Once you've crossed the pass, you'll find yourself in Herold, a tiny hamlet dating from the 19th century. Rest for a while at the Over the Mountain Tea Garden before returning to George. The route covers approximately 33 kilometres.
A popular trail taking mountain bikers through the pastoral farmlands of George is the Dairyland Route. This one start and ends at the famous Redberry Farm, the perfect place to relax and recharge with great food and something to drink after two hours of cycling.  The route comprises of 27 kilometres of mostly gravel road through dairy farms. Beautiful Outeniqua Mountain views can be enjoyed as the trail is not too taxing with little climbing.
Read the full post at visitgeorge.co.za/blog
Want to know more about what you can see and do and where you can stay in George, Wilderness and Uniondale? Contact George Tourism:
044 801 9295
info@visitgeorge.co.za
visitgeorge.co.za