GM COMPOSTING FACILITY CONSTRUCTION UPDATE
Portfolio Councillor for Community Services: Parks, Recreation and Environment Jean Safers provides an update on the construction of the Composting facility.
George Municipality started with the establishment of a compost facility in the 2019/2020 financial year. In June 2021, the Department of Environment, Forestry and Fisheries promulgated Norms and Standards for the Treatment of Organic Waste. In terms of these norms, compost facilities must meet certain standards, and one of them is that the final platform layer works must contain a concrete platform or include a clay layer within its layer structure.
Portfolio Councillor for Community Services: Parks, Refuse and Environment, Jean Safers confirmed that this construction is in line with the norms and standards for the Treatment of Organic Waste. Builder's rubble is used to fill the ground to the desired level whereafter a layer of clay is laid on top, and the working surface will consist of a wearing course material classified as G5, according to Committee of Land Transport Officials (COLTO) specifications. The idea is that the green bags that are collected from residents every week will go into a source which will make up compost. Eventually garden refuse, kitchen waste and sludge from the sewerage works will be added to create the compost. This is all to reduce the amount of refuse going into landfill sites in the municipal area.
Work is already underway to expand the size of the platform for future use. Phase 1 of platform A of the composting will be completed in the 2021/2022 and 2022/2023 financial years. Phase 2 of platform A is also underway, and the public is requested to divert and dispose of builders' rubble at the Gwaing waste disposal facility to assist the municipality in finalising phase 2 of platform A. An attenuation pond will be constructed in the 2022/2023 financial year to treat and store stormwater runoff. Platform A will only be able to accommodate 76% of the George Municipality's green waste. However, once platform B is built, all green waste will be accommodated. The maximum number of windrows that platform A can accommodate is 13. This equals a maximum volume of 2 486 m3. The average volume of compost produced for 6 weeks is 243 m3.
The municipality urges the public to dispose of all builders' rubble at the Gwaing landfill site instead of dumping illegally, as the material is required to complete the construction of the compost facility. We also urge the community to use the three-bag system (black, blue and green) to the benefit of reducing the landfill footprint. All three bags must be placed out on the same day on the designated refuse collection day. The municipality intends to operate the compost facility from 01 July 2023.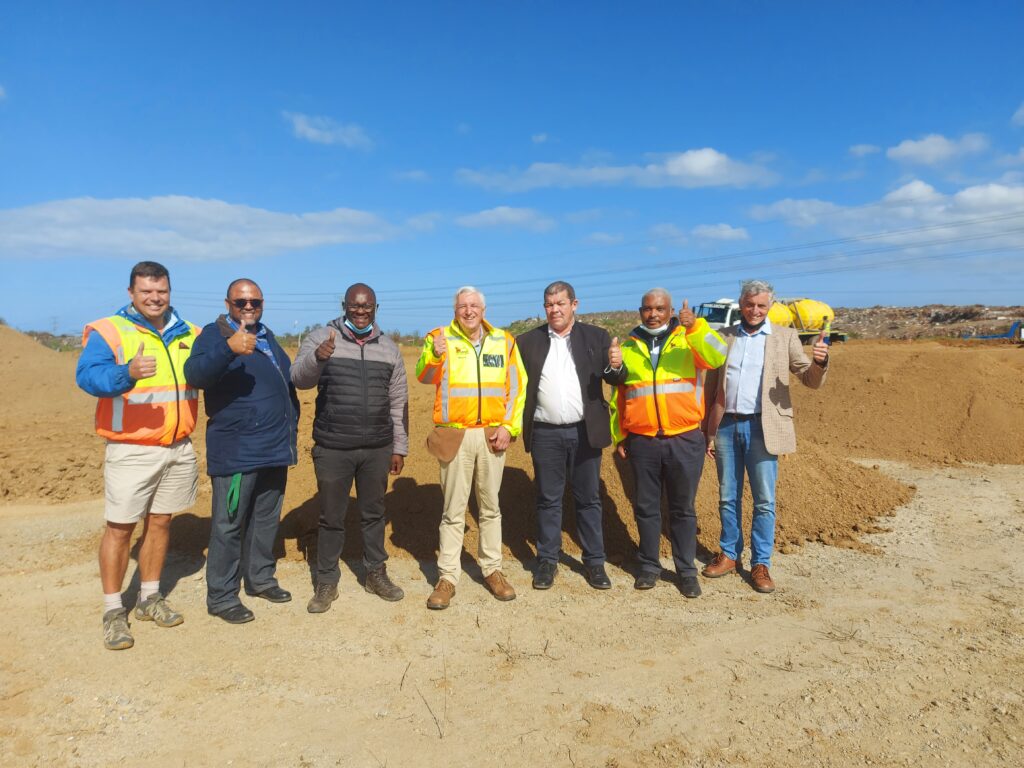 In the photo from left are Wouter van Niekerk (WJ Civils), Wessel Robertson (Head: Cleansing Services), Sivuyile Mtila (Senior Manager: Environmental Services), Ald. Leon van Wyk (Executive Mayor of George), Portfolio Councillor Jean Safers (Community Services: Parks Refuse & Environmental), Charles Lubbe (Project Manager: Solid Waste), and Portfolio Councillor Henry Hill (Planning & Development)