GM's Community Development appreciation day for nutritional centre volunteers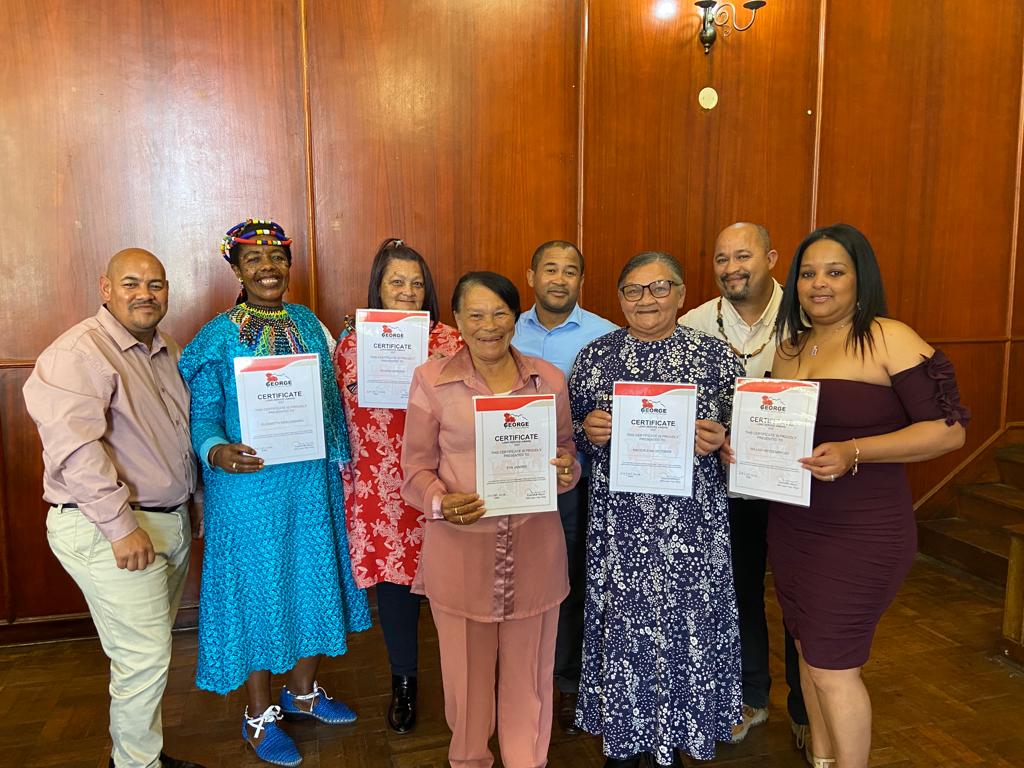 George Municipality held an appreciation day for the custodians of the municipal soup kitchens and nutritional centres last week for the amazing work they do in our communities.
The ladies and men were spoiled with a scrumptious lunch at the event.
Deputy Executive Mayor of George, Cllr Raybin Figland, the keynote speaker at the event in the George Banquet Hall, said these people running the nutritional centres are the true heroes of our communities. "We are here to celebrate and give thanks to those who dedicate their time and efforts to feed some of the most vulnerable people within the jurisdiction of our Municipality and we cannot thank you enough for the undertaking of this mammoth task to serve," Figland said.
Figland said nutritional centres or as we used to refer to them soup kitchens, play a critical role in any community by providing meals and sustenance to those who are in dire need. The Municipality currently has 119 centres that have been operational for more than 25 years. He said the pandemic we've faced has made the importance of these centres even more apparent as more people were left on the verge of extreme poverty.
"However, it is not just the nutritional centres itself that are essential, what would these centres be without the amazing people who run them? I call you 'superheroes in aprons' because you save the day for so many children, the elderly, and the frail. You volunteer, out of selflessness and commitment and it should be an inspiration to us all to do better, to do more so that we make a difference in the lives of those who need it so desperately," Figland said.
Edward Ganza, Deputy Director: Corporate Services, announced that the George Municipality is in discussions with other stakeholders, like Correctional Services, to get even more products to assist the nutritional centres. He said Correctional Services inmates run successful gardens and they are looking to sign a memorandum of understanding with this department.
He also thanked the volunteers for feeding the adults of tomorrow.
Sophia Fanelo, Manager: Community Development, said this selfless project of people who use their own time and mostly their own products to provide to hungry people in our communities is so close to her heart as she was once one of those children who was fed by a soup aunty. She told the women and men who do this selfless job, that they are earthly angels. "You don't have a job, you have a calling and your payment come straight out of heaven," Fanelo said. Fanelo said when her birth mom passed away, her soup aunty, Ma Rachel, took her in and became her mother. She said these people not only feed people but invest in they youth and in people.
Rosina Gordon from Jacaranda Street, Pacaltsdorp, a nutritional centre volunteer said she has respect for women and men who serve their community. She said she prayed to the Lord before she started the soup kitchen and wanted to help young men especially. She says young men help her now in her kitchen. She started feeding 6 children and today she feeds 300 people and the kitchen is 33 years old.
Past Veronica Horne encouraged people to keep on doing good, it is part of life and people need each other.
Photographs:
Above photograph: Cllr Melvin Roelfse, Elizabeth Swelindawo, Rosina Gordon, Eva Jansen, Edward Ganza, Deputy Director: Corporate Serivces, Magdalena Oktober, Cllr Brendon Adams, Portfolio Councillor for Community Development and Willma Heydenrycht.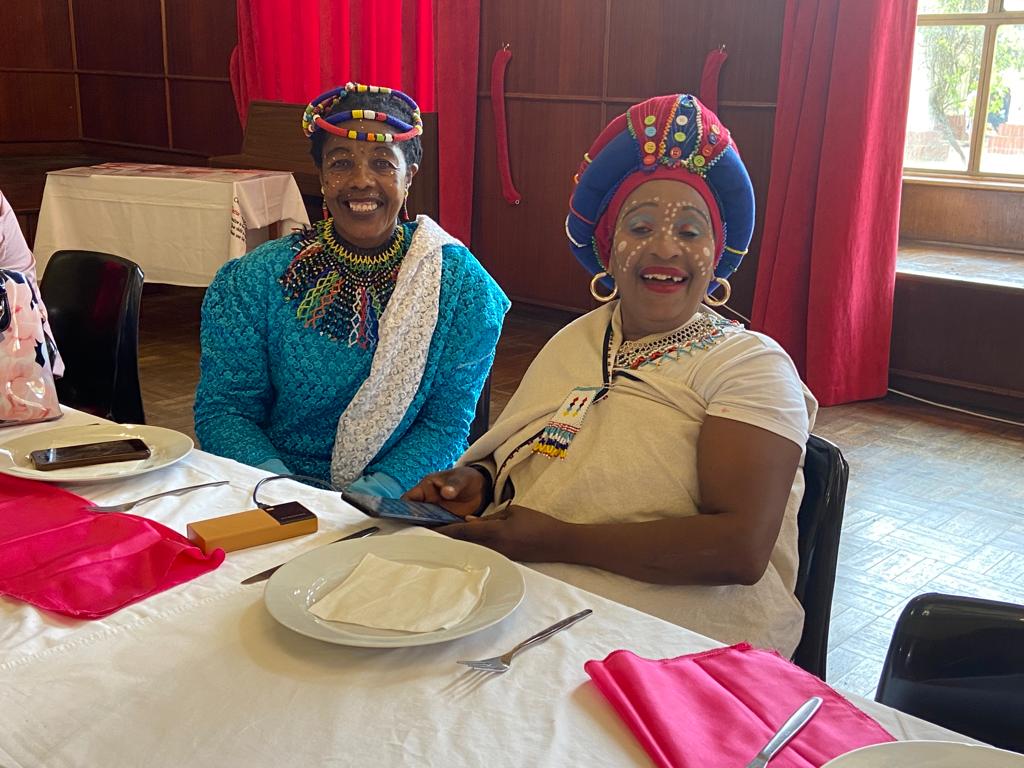 Elizabeth Swelinddawo and Cynthia Rasmeni.
Pearly Lewis, Leona Witbooi and Ann Smit at the George Municipality's appreciation day for nutritional centres.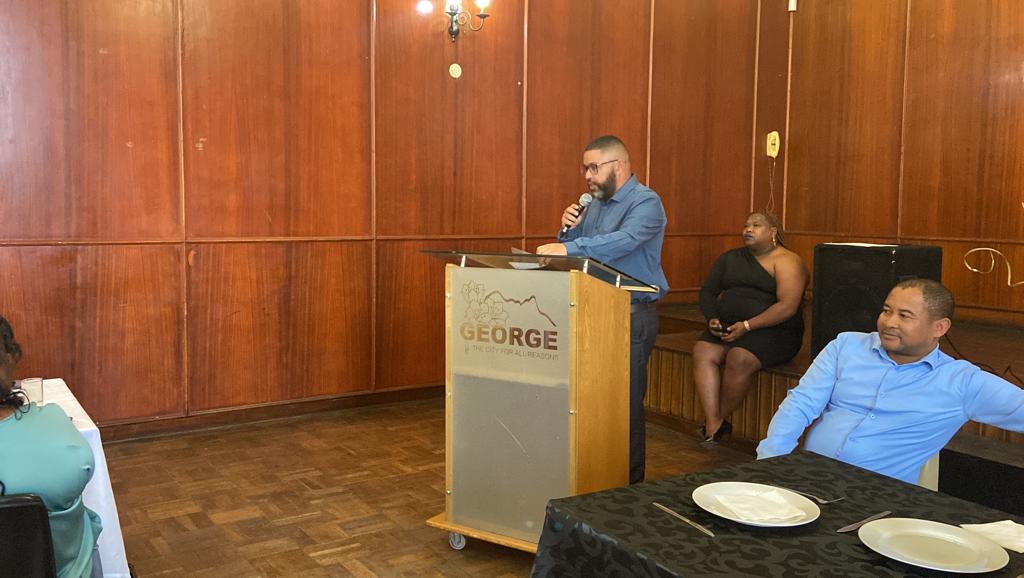 The Executive Deputy Mayor of George, Cllr Raybin Figland, delivers his keynote address at the event. Looking on is Jonathan Fortuin (in black), the MC at the event and Edward Ganza, Deputy Director: Corporate Services.