GROUND-BREAKING DRIVE-THROUGH SERVICE FOR MOTOR VEHICLE LICENCE RENEWAL WAS LAUNCHED IN GEORGE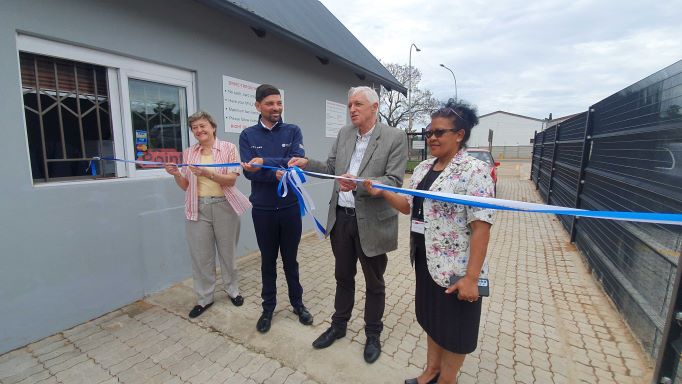 Western Cape's first drive-through service for motor vehicle license renewals was officially launched on Monday, 7 November 2022 in George by the Western Cape Minister of Mobility MEC Daylin Mitchell and the Executive Mayor of George, Alderman Leon van Wyk during a special ribbon-cutting event that marks the inception of this cutting-edge and innovative service.
George Municipality's traffic services turned what was a dilapidated building into a brand-new Motor Vehicle and Registration (MVR) satellite office which includes a drive-through service for the renewal of motor vehicle licenses. This MVR centre, which is located at 9 George Street in Blanco, a suburb situated north-east of George is an extension of the existing MVR centre that will handle drive-through service for customers to renew up to a maximum of two Motor Vehicle Licence's at a time and will also handle bulk MVR services at the inside counters.
MINSTER MITCHELL CONGRATULATES GEORGE FOR BEING INNOVATIVE TO IMPROVE ACCESS TO SERVICES
Minister Mitchell congratulated the George Municipality for pushing the boundaries to establish the first drive-through Motor vehicle registration centre in the Western Cape to make services easily and conveniently accessible to the citizens.
"What stood out for me in this facility is the conversion of what was an old and neglected infrastructure into an innovative service delivery point, I think that this model is a good example of what government should and can be if different spheres of government come together and provide on service delivery. I am very proud to be part of this first Western Cape drive-through centre for vehicle licence registration."
Turning to Ald van Wyk, the Mayor of George, Minister Mitchell said: "Mayor, thank you for this initiative, this is a legacy you and the team can be proud of, I will introduce this model to the rest of the province, and let's hope this initiative will land across the country for other municipalities to follow suit."
Our aim is to ensure that services are accessible and affordable and that citizens get the services they deserve. The Department of Transport Provincially is working with the various Municipalities as the planning authority for all these services that are directly delivered to citizens to see how we can innovate that space.
COME TO THE DRIVE-THROUGH, HAND OVER YOUR REGISTRATION DOCUMENT, PAY AND THEN HAVE YOUR LICENCE PRINTED IMMEDIATELY, SAYS MAYOR VAN WYK
"George is growing at a rapid pace and what we found at our existing motor vehicle registration centre is that it was starting to get cramped, and people that came for services needed to stand in a queue. This situation forced us to think creatively and innovatively, and so we started improving the services by providing an undercover space for the customers, thereafter, introducing an online system so that a customer can pay online and come to collect the actual licence afterwards," said Mayor van Wyk.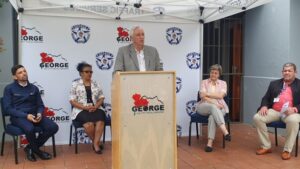 "Today, we are proud to launch the drive-through service that we've established as an extension of our existing MVR, which also serves, particularly, the bulk dealers, which are motor dealers who come with multiple motor registration items. People do not have to necessarily stand in long queues as we have widened the options to receive MVR services one could come to the drive-through, hand over your registration document, pay and then have your licence printed immediately, and be over and done with, within two to three minutes," Ald van Wyk added.
SENIOR CITIZEN FEELS VERY SPECIAL TO BE THE FIRST IN THE DRIVE-THROUGH
"I feel very special!" said an ecstatic senior citizen, John Allenby Stoffels, the first resident to renew his motor vehicle licence in a brand new and the first drive-through service for licence disk renewals in George.
"I never thought that I'd renew my car disk in the comfort of my car, just like buying food from a drive-thru restaurant, it's is always a challenge for us senior citizens to stand in long queues waiting for a service; the George Municipality has now made it easily accessible for us, this is great, and I'm happy to have been the first to experience this," said an obviously delighted Stoffels who experienced this special moment in the presence of his wife and daughter who were in the car with him.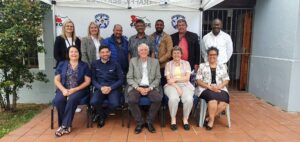 Also in attendance were the George Municipality's members of the Executive Committee, the Municipal Manager, Dr Michele Gratz, acting director for Community Services, Mr Sivuyile Mtila, the acting manager for traffic services, Mr Vernon Petersen and officials from the Motor vehicle registration.
Ends.