IT'S ALL SYSTEMS GO FOR THIS WEEKEND'S GEORGE LIGHTS FESTIVAL IN PACALTSDORP
The organisers of the George Lights Festival happening this coming Saturday, 10 December 2022, released a jam-packed programme of this annual celebration that will, for the first time, take place at the Kaptein Dikkop Amphitheatre in Pacaltsdorp.
The four-pronged programme which will take place from 14:00 and 22:00 comprises the Kiddies Corner Activities, youth programme, classic programme, and main performance.
This is a celebration not to be missed as it will be fun-filled, and everyone has been catered for, from children to adults. There will be live performances by local artists, food stalls, arts and crafts stalls and a kiddie's corner. Bring your family, neighbours, and friends as we officially switch on the lights and reign in the festive season.
The Law Enforcement, South African Police Service (SAPS) Pacaltsdorp and the local Neighbourhood watches will be present to ensure the safety of the attendees. Law enforcement agencies have promised to practice the ZERO crime tolerance policy say the organisers.
The festival event details are as follows:
PROGRAMME
Date: 10th December 2022
Venue: Kaptein Dikkop Amphitheatre, Pacaltsdorp
Time:14h00 – 22h00
Master of Ceremonies: Peter Jafta
KIDDIES CORNER ACTIVITIES: 14H00 -17H00
Jumping Castles
Face Paint
Dantjiekat – (Traffic Department)
Poppe Kas (Sanca George)
YOUTH PROGRAMME
17h00 Official Welcoming – Delegate of the Council
17h05 Opening & Short Word –
17h10 Team Curiosity
17h15 Change the Mindset Dance Crew
17h20 Pacaltsdorp Primary School Choir
17h25 Annointed  Youth -Dance Crew
17h30 Breath Life Dance Group
17h40 Heidedal Primary Dance Group
17h45 Parkdene Primary School Girls Choir
17h50 Beronique & Lynette
17h55 Ilitha Special School(Sing)
CLASSIC PROGRAMME
18h00 Opening Act – Fanatic Stage Band
18h05  Glm Academy Jaz Z Band
18h10 Ayanda Gutsha (Rap)
18-15   Suenell Ruiters (Sing)
18h20 Blxck (Rap)
18h25 Geppe (Rap)
18h30 Megan Appels (Sing)
18h35 Lee-Quion Stalmeester (Dance)
18h40 Afrika Rise & Shine (Rap)
18h45 Carly Adams (Lip Sing)
18h50 Max Gozo-(Rap)
18h55  Rodger Hld(Rap)
19h00  Dorothy Van Wyngaard (Sing)
19h05  Graziel Heathcote (Rap)
19h10  Zoe Meyer-(Sing)
19h15  Bradley Brink (Rap)
19h20  Slauter House (Dance)
19h25  Musisean (Sing)
19h30  Stivi G & Poke (Rap)
19h35  Keade (Sing)
19h40  Lorenzo Pretorius (Sing)
19H45  Le Clue Sonday (Sing)
19h50  Executive Mayor Alderman Leon van Wyk (Keynote address & switch on of lights)
MAIN PERFORMANCE:  20H05 – 22H00
Gregory Noble
Geraldo Lewis
Wesso's
B.C
Veronique Ferndale
Below street closure for Light's Festival:
Closure of Church Street [c/o Mission & Church Street; c/o Church & Populier Street.
The closure will be done from 11H00 – 24H00 to allow for set-up as well as pack-up after the event.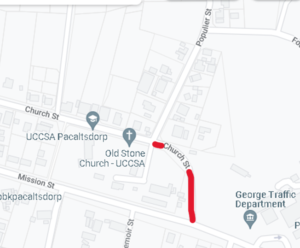 Seats are limited, so be sure to get there early. If you have any enquiries, please contact Special Programmes & Project Coordinator for Community Development in the George Municipality, Jonathan Fortuin: 044 802 2000 or 061 624 7431.
Ends.
Note to editors:
The Kaptein Dikkop Amphitheatre in Pacaltsdorp is a unique amphitheatre, built to honour the memory of Chief Dikkop, who was the leader of the Khoi – Khoi, the first inhabitants of Hoogekraal – now known as Pacaltsdorp. The amphitheatre is used for community gatherings like the monthly Pacaltsdorp Market Day, and now, the annual Pacaltsdorp Lights Festival.