IT'S TIME FOR THE GEORGE TENS SPORT & LIFESTYLE FESTIVAL AND WE'RE ON A MISSION!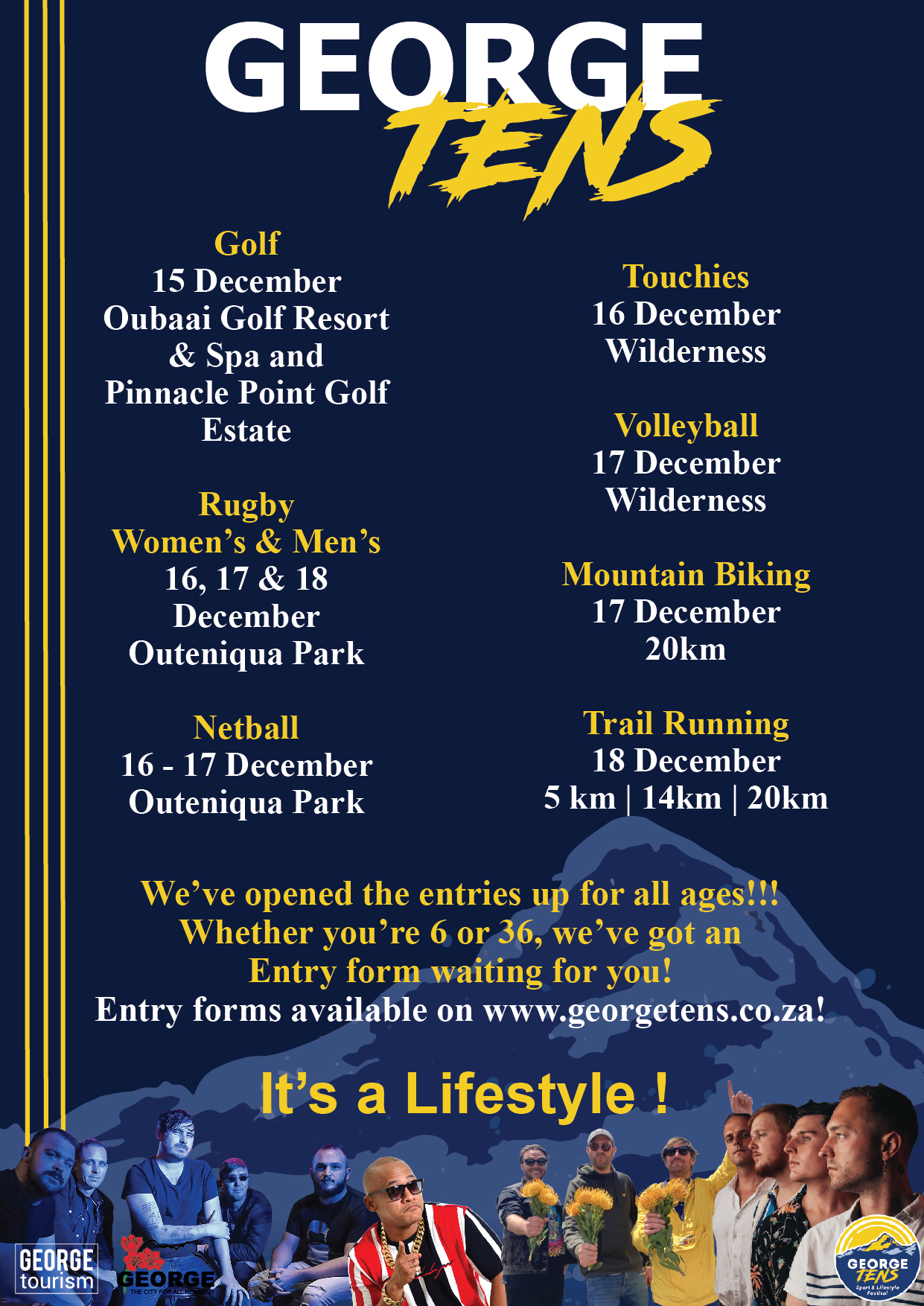 IT'S TIME FOR THE GEORGE TENS SPORT & LIFESTYLE FESTIVAL AND WE'RE ON A MISSION! 
 We have a goal – to turn the George's TENS into the biggest social sport and lifestyle event in South Africa! Will you join us?
Kicking off in 2019 as a rugby only festival, the event has now evolved to include Netball, Golf, a Trail run, Mountain Biking, Men's and Women's Rugby, and for the 2022 edition, Beach Volleyball and Touchies!  Oh, and we forget, for good measure, Boeresport!
We took a break in 2020 due to Covid 19, but got right back on track in 2021, all be it with a couple of natural disasters and restrictions still in place.  The 2022 Event is going to be SPECTACULAR!  That's our story, and we're sticking to it!
Once again, squads and fans alike, will gather from across the country, at Outeniqua Park and surrounds on 15 – 18 Dec '22, to play their favourite sports, experience the vibe, enjoy the shows, forge new friendships, create memories and share a couple of cold ones!
Co-founded by former Springbok Coach Heyneke Meyer and IG van der Merwe, and presented in collaboration with the George Municipality, the 2022 event is proud to welcome some of SA's biggest icons, including the likes of Victor Matfield, Pieter Hendriks, Vlok Cilliers, Anton Leonard, and many many more!!
Want to meet them in person?  Join these legends for a round of golf at Oubaai Golf Estate & Spa or Pinnacle Point Golf Estate on 15 Dec '22!  Limited 4-balls still available!
On 16 & 17 Dec, Wilderness Beach will gear up with Boeresport, Touchies and Volleyball!
(Did we mention the Boeresport is open to all and free to participate in! – no registrations required; you just need to be on the beach!)
Netball will hit Outeniqua Park on 16 & 17 Dec, Rugby on 16, 17 & 18 Dec.
The Mountain Bike event, 17 Dec, and Trail Run, 18 Dec, will kick off from Outeniqua Park and travel across some of the most awe-inspiring views of the Garden Route.
Not really into the activities? No problem, here's the Festival Village line-up:
16 Dec '22:  Die Heuwels Fantasties;
17 Dec '22:  Spoegwolf;
18 Dec '22:  Early B
1925 band will be opening for all, supported by our MC's Mickey Louw & Pieter Rischmüller, aka Piet Pompies from DJ Ossewa!
"The George Municipality is delighted to support this important and exciting event.  This event has the promise of stimulating and developing the George economy in a tremendous way and I encourage all role-players in the George economic community to get behind this initiative," says Portfolio Councillor for Finance and Strategic Services, Dirk Wessels.
Meyer reiterates, "Whether you are young or old, want to join as a sponsor, vendor, participant or spectator, there's an activity for you!  We've paid our dues with Covid – it's time for a December event of note – one that not only provides an amazing holiday experience, but benefits an entire community!  We can't wait you welcome you!"
Follow @George10s on Facebook and www.georgetens.co.za.
Here follows the registration information for the all the specific codes:
All prices, registration information and more on www.georgetens.co.za
Golf
15 December
Oubaai Golf Resort & Spa & Pinnacle Point Golf Estate
Women's & Men's Rugby
16, 17 & 18 December
Outeniqua Park
Schools:                      Bulletjies, Primary Schools, High Schools
Students:
Social:                         Amateurs: (U/35), Veterans (Above 35)
Premier Division:        Professional, Semi-Professional
Ladies & Mixed teams Netball
16 – 17 December
Outeniqua Park
School:                        Primary Schools, High Schools
Students
Social:                         Social/Amateurs (U/35), Veterans (O/35)
Touchies
16 December
Wilderness
Volleyball
17 December
Wilderness
Professionals
Schools:                       Primary Schools, High Schools
Social:                         Amateurs (U/35) / Veterans (Above 35)
Mountain Biking,
17 December
20km
Trail Running
18 December
5 km
14km
20km
ENDS
Social Media Tags / Handles:
#GeorgeTENS
#Festival
#GeorgeTENSFestivalVillage
#Wilderness
#georgetourism
#georgemunicipality
#georgevents
#visitgeorge
#tourismgeorge
Website:                      www.GeorgeTENS.co.za
Facebook:                   George TENS
Invictus Sport and Entertainment
Instagram:                   @george_tens
@invictussportan
MEDIA 7 INTERVIEW QUERIES
juanita@invictusinternational.co.za
frieda@invictusinternational.co.za
admin@georgetens.co.za