MAYOR LEON VAN WYK VISITED THE COMPLETED UPGRADE OF AIRWAY ROAD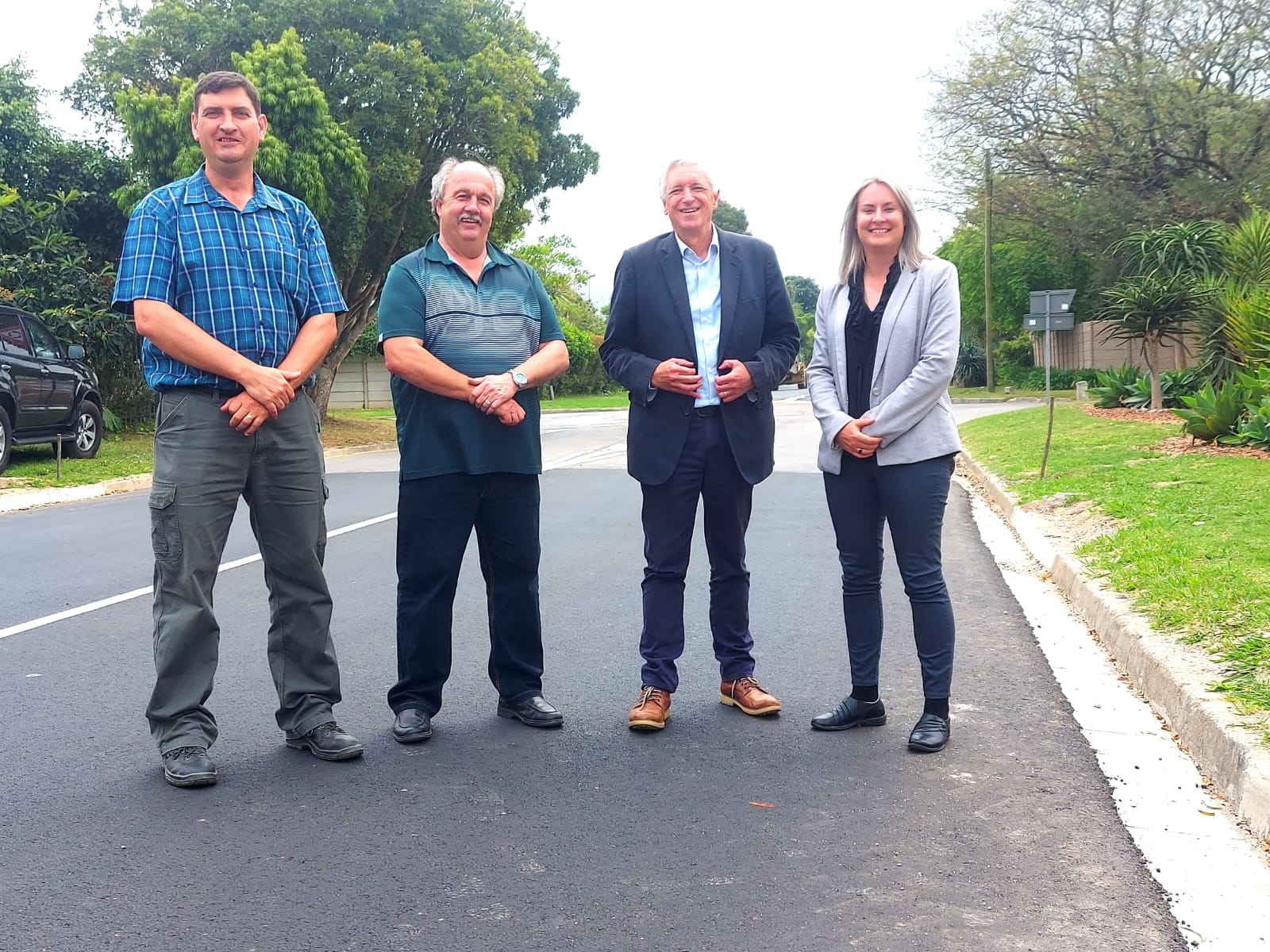 Executive Mayor of George, Alderman Leon van Wyk, accompanied by the Portfolio Councillor for Civil Engineering Services: Capital Projects & BFI, Jacqulique Von Brandis, visited the recently completed upgrading of Airway Road.
"We would like to thank the public for their patience and consideration in allowing the contractor to finalise the required work," said Mayor van Wyk. "These infrastructure rehabilitation projects are important in terms of the maintenance of our roads, improving safety and extending the useful life of municipal infrastructure."
According to Ricus Fivaz, Manager for Land Development at the George Municipality's Civil Engineering Services Directorate, this rehabilitation project was prioritized in terms of the Road Pavement Management System, and the implementation of the construction was accelerated when funding became available to execute this priority upgrade.  
The work comprised the rehabilitation of 685m of Airway Road and entailed the milling of the existing bituminous surface layers and gravel base layers, whereafter a new cold in-situ recycled subbase layer, new bituminous base and surface layers were constructed. In the process, several kerbs and existing services were also replaced.  In addition, the entry and exit radii and associated layer works of three roundabouts, between Meent Street and Plattner Boulevard, in Heather Park were improved to allow for better traffic flow and safety.
TABATA STREETS UPGRADES
Phase 1 of the upgrading and improvement of Tabata Street was completed at the beginning of 2022, and phase 2 commenced in June 2022 and is set for completion in January to early February 2023.  The current work on phase 2 is progressing very well and the Municipality would like to use this opportunity to thank the community of Thembalethu (especially zones 12, 13 & 15) and all role players for their cooperation, patience, and support.
Once completed the improvements to this main arterial through Zones 12, 13 and 15 will most certainly improve the experience of road users, pedestrians, and the lives of residents.  The Municipality has applied for additional grant funding to complete the upgrading of Tabata Street up to the Tabata Street/Nelson Mandela Boulevard southern intersection. This will most probably be implemented in two phases, subject to the securing of the required funding.
GOLF STREET
Unfortunately, the equally important upgrading of Golf Street has been delayed due to a lack of available funding but is currently the highest priority on the list of roads for upgrading are concerned. Should the Municipality's application for additional grant funding be successful this project will proceed to construction as soon as possible. In the interim various minor and temporary improvements are implemented on an ongoing basis to ensure a determined level of service is maintained
Please watch Mayor van Wyk's visit to Airway Road: https://youtu.be/KsgNXBJ3uJE