MAYOR VAN WYK CALLS FOR FULL UTILISATION OF THE WORKERS' COLLECTION POINT
The Executive Mayor of George, Alderman Leon van Wyk during his visit to the Workers Collection Point (WCP) on Tuesday, 14 March 2023 pleaded to employers in George and to people looking for employment to fully utilise this facility that was established for private individuals and businesses to utilise it as a central point for those who wish to employ temporary workers and for job seekers to avail themselves for employment opportunities.
The Municipality wants to emphasize that the Workers Collection Point, which is situated on Industrial Street, in George Industrial, is the only authorised place for job seekers and for pick-up of job seekers. The WCP is staffed by officials from the George Municipality's Economic Development Department. What makes the WCP reliable and safe for both job seekers and employers it is run professionally with the registration of job seekers capturing their personal information such as their names, identification documents and address as well as details of the employers to ensure adequate management of the whole process.
Executive Mayor Leon van Wyk meets job seekers at the Workers' Collection Point during his visit.
Mayor van Wyk visited the centre to ascertain its functionality after it has been closed temporarily last year. The Municipality was unfortunately compelled to temporarily close the Workers Collection Point (WCP) in August 2022 due to ongoing safety challenges and concern for the well-being of the staff. Following a risk assessment that was conducted and addressed at the facility, the George Municipality is happy to announce that the workers' collection point services have resumed since February this year. However, the Municipality notice that there has been a low number of both job seekers and especially the employers.
Alderman van Wyk appeals to the community of George to make use of this facility. "We are busy re-launching the whole Workers Collection Point program, so in other words, we've got workers who come to this point and are looking for work. They may well be painters they may well be in the construction industry; they could be drivers; they could be general workers."
We appeal to employers not to look around for workers, but to come to the Workers Collection Point; it's fully operational, and professionally run. Companies and businesses who are looking for workers that they might need on a temporary basis can come and collect them and come and select them," Ald van Wyk added.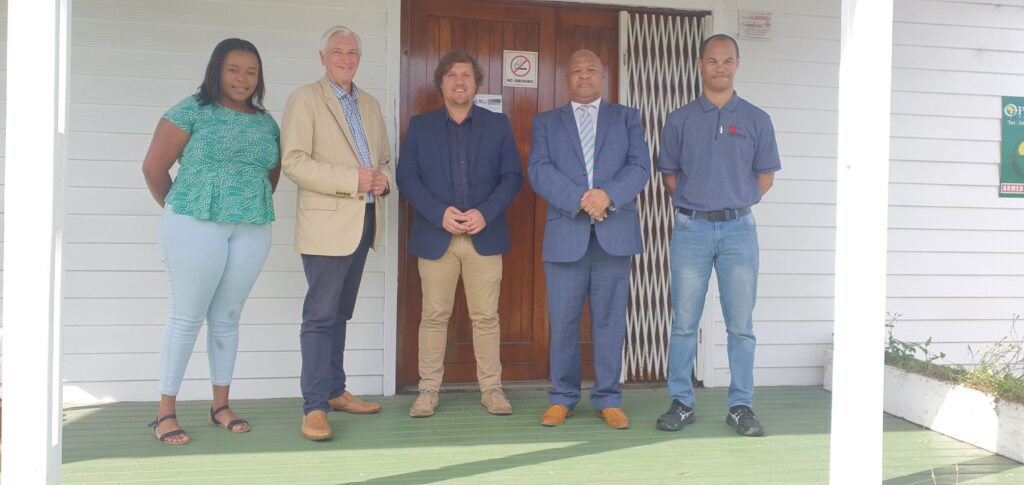 Ongeziwe Mthongwana (Local Economic Development official), Alderman Leon van Wyk (Executive Mayor of George), Portfolio Councillor Dirk Wessels (Financial & Strategic Services), Dr Kosie Haarhoff (Deputy Director for Strategic Growth and Development and Kelvin Abrahams (Local Economic Development Official). 
"We are also busy building a profile; a little CV of each of these workers and we hope to include this on our municipal app and also to try and get a check on how everybody has worked at the end of the day so that we can start building a more permanent career for each of these people. So, we would love our citizens and our businesses and our companies to join us and participate in this scheme so that we can make sure that our citizens have work thank you."
George Municipality has successfully run the facility for more than five years and has proved to be a huge success. In the past, many of the work seekers have secured longer-term work (e.g., 2-week contracts) and several permanent positions have also materialised.  The demand for skilled labour (e.g., bricklayers and carpenters) often outweighed the supply of these skills at the facility.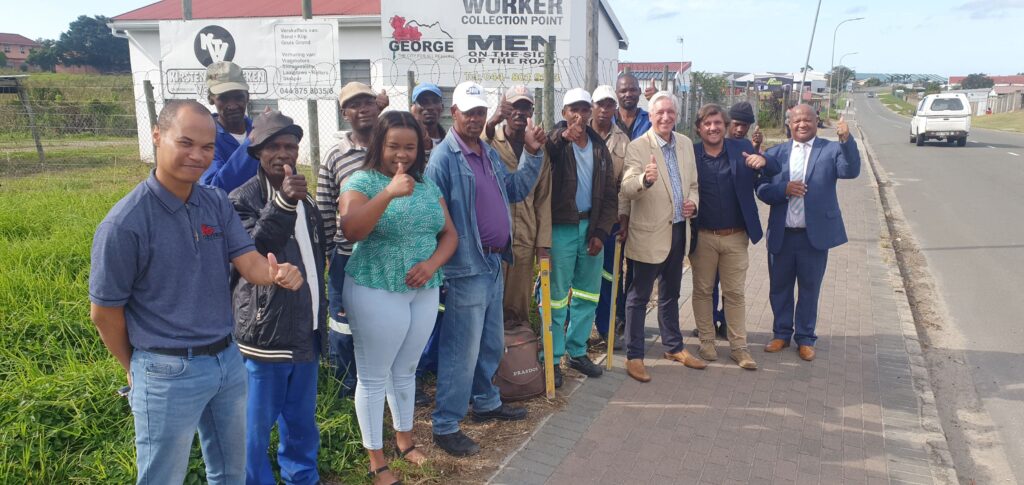 It's a thumbs-up for the Workers Collection Point as it is the only authorised place for job seekers and for pick-up of job seekers. Mayor van Wyk, Councillor Dirk Wessels and Local Economic Development officials meet the job seekers at the Workers Collection Point.
The WCP is situated at 12 Industrial Street, George Industrial and operates between 07:45 and 15:00, Monday to Friday. It is staffed by the following two officials from the Planning and Development Department
Kevin Abrahams, Email: kabrahams@george.gov.za  and Ongeziwe Mthongwana, Email: omthongwana@george.gov.za For enquiries, please phone the office on 044 801 9173.
ENDS.