Junior Traffic Training Centre opens to delight of all
Photo 1: Mayor van Wyk spent a happy morning assisting toddlers on tricycles along the various ramps and Stop Streets.
The George Junior Traffic Training Centre was a scene of great joy and much laughter on Wednesday last week when it opened its doors to the public for the first time. The centre which is intended to enable children to learn more about general road safety aspects, was officially launched on Wednesday the 24th May with groups of very excited toddlers from Heeltyd Speeltyd, Esethu Kwakhanya and Pacaltsdorp creche enjoying Daantjie Kat at top volume. One very lucky toddler was presented with a prize by Daantjie Kat for her astounding vocal abilities.
Executive Mayor Leon Van Wyk and Municipal Manager, Dr Michele Gratz spent a happy morning assisting toddlers on tricycles along the varous ramps and Stop Streets.  Executive Mayor Leon Van Wyk thanked the department for this initiative and the efforts that went into getting the centre opened and launched. " It is very important to know when and where we cross the road and at what time. This is a big opportunity to educate our youth and we encourage schools in our area to make use of this facility so that we all benefit from this centre", said Ald Van Wyk.
As the day progressed the children were trained on various road safety aspects such as buckling up when getting into a vehicle, crossing the road when safe and how to educate their parents to do the same. The George Junior traffic centre has specifically incorporated a foot bridge, in order to teach children the correct method of how to use and when to use it. A road map with various landmarks including road signs painted by Carl Thomas from Human Settlements, gives children a fun way to learn about road safety measures. Director for Community Services, Dawie Adonis applauded and thanked previous employees and political figures who had all played a part in bringing the junior traffic centre to life.
Watch our video on our YouTube channel by clicking: https://www.youtube.com/watch?v=JRKJ4xHYAtg
Photo 2: Mayor Leon van Wyk, Carl Thomas, from the Directorate of Human Settlements, George Municipality and Dr Michele Gratz, George Municipal Manager, at some of the traffic sign artwork Thomas did at the George Junior Traffic Training and Road Safety Centre.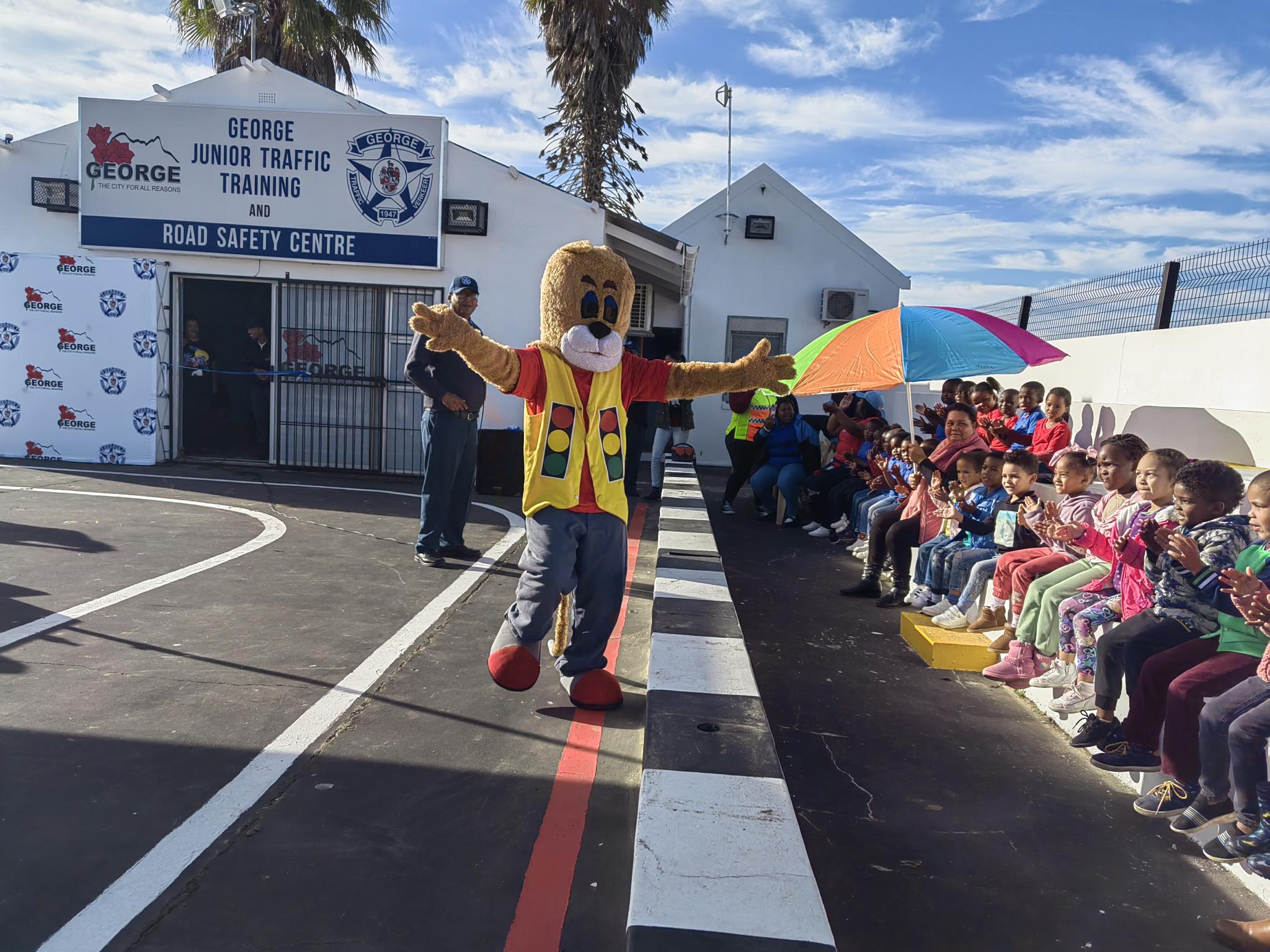 Photo 3: Daantjie Kat (Danny Cat), the Road Safety Mascot for Traffic Services, finally arrived in a traffic vehicle after the children called him a few times at the top of their lungs. One of the children even received a prize for screaming the loudest for Danny Cat to make his appearance. He sang and demonstrated to the children to buckle up with their safety belts when in a vehicle.