Be proactive – Track your own water usage!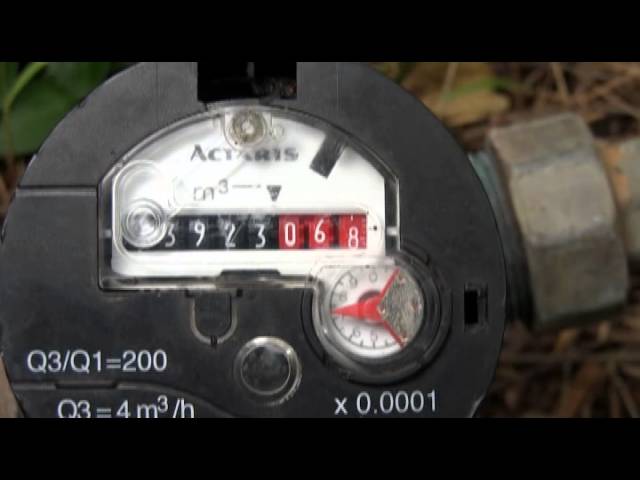 The George Council tabled stricter water restrictions to curb the excess use of potable water (treated drinking water) in December 2022. Knowing how to read your water meter and monitoring it is a simple way of keeping track of how much water is being used on your property and can help prevent water wasted through undetected leaks and avoid unexpected high bills.
George experienced below-average rainfall in 2022 and the Garden Route Dam is currently at 63.82% (based on the raised dam wall). There is a real risk of another below-average winter rainfall season ahead, so we need to keep our dams fuller for longer. The continued load-shedding contributes to the disruption of drinking water production and we need to conserve what we have in our reservoirs.
How to read your meter?
Open your water meter box. If the lid is closed, you can usually open it gently with something like a screwdriver. Please be careful not to break the lid.
No matter what type of water meter it is, the black numbers represent thousands of litres, called kilolitres, and red numbers represent litres.
Water charges are based on the number of kilolitres of water used on the property every month. If you are submitting your own readings to the City (e.g., if your meter is difficult for meter readers to access), you only need to supply the black numbers when submitting your reading.
Water meters continually record the amount of water that passes into a property throughout the lifespan of the meter. The tally on the meter does not reset from month to month. Subtract the previous reading from your current reading to determine usage for the period between readings.
Please email your water meter readings along with the account holder's name, contact details and GRG account number and date of reading to meterreadings@george.gov.za.
Please note that meter readings are done per area at different times of the month, and it is important that your meter reading email is submitted around the same time as your area's reading time. Please check the date of the previous reading at the bottom of your account to determine your meter reading slot.
Monitoring your meter readings to check how much you're using or to confirm a leak?
Check by how much the numbers on the meter increase to see how much water is being used. Monitor this on a regular basis e.g., weekly or monthly, and keep a written record.
To check if you have a leak, first stop all water use in the house (tightly close all taps) and note how much the meter reading is. Then wait about 15 minutes and check the meter reading again. If the numbers have gone up, it means you probably have a leak.
One leaking toilet can waste between 2600 – 13 000 litres of water per month, and one leaking tap can waste between 400 – 2600 litres of water per month.
What are our Water Restrictions and how do they affect your household?
Every household is now limited to using 15 kilolitres of water per month. Emergency tariffs will be charged for any household which uses more than 15kl.
Businesses dependent on municipal water, including commercial car washes must reduce their use of water by 15% of their past 6-month average.
Large industry must reduce their use of municipal water by 10% of their past 6-month average.
Gardens can be watered any time of the day but only with watering cans or buckets, no hosepipes are allowed.
The Irrigation or watering of ALL sport fields using municipal water is prohibited.
 Washing of vehicles with a garden hose is prohibited. Only buckets are allowed.
Cleaning of any outside surface areas using a water hose is prohibited.
Filling up of swimming pools with municipal water is prohibited.
Applications for exemption can be submitted to the Deputy Director Water for consideration.
Those making use of their own water must display a visible sign stating, "Own Water".
(Please see www.george.gov.za for the full list of proposed restrictions.)
Treated Effluent and Raw Water for irrigation or construction purposes is available and details can be requested from the Directorate: Civil Engineering Services (gvanniekerk@george.gov.za)
Report contraventions of the current Water Restrictions on 0800 424477 – fines apply.
Report all water leaks on 044 801 9262/66 or A/ h 044 801 6300
Water Leaks can also be reported at your nearest Area Office or Thusong Centre, emailed to gmun@george.gov.za , via the Municipal App or phoned in to 044 801 9311.
Photograph for illustration only.