New mobile incident command unit can meet a crisis where it's at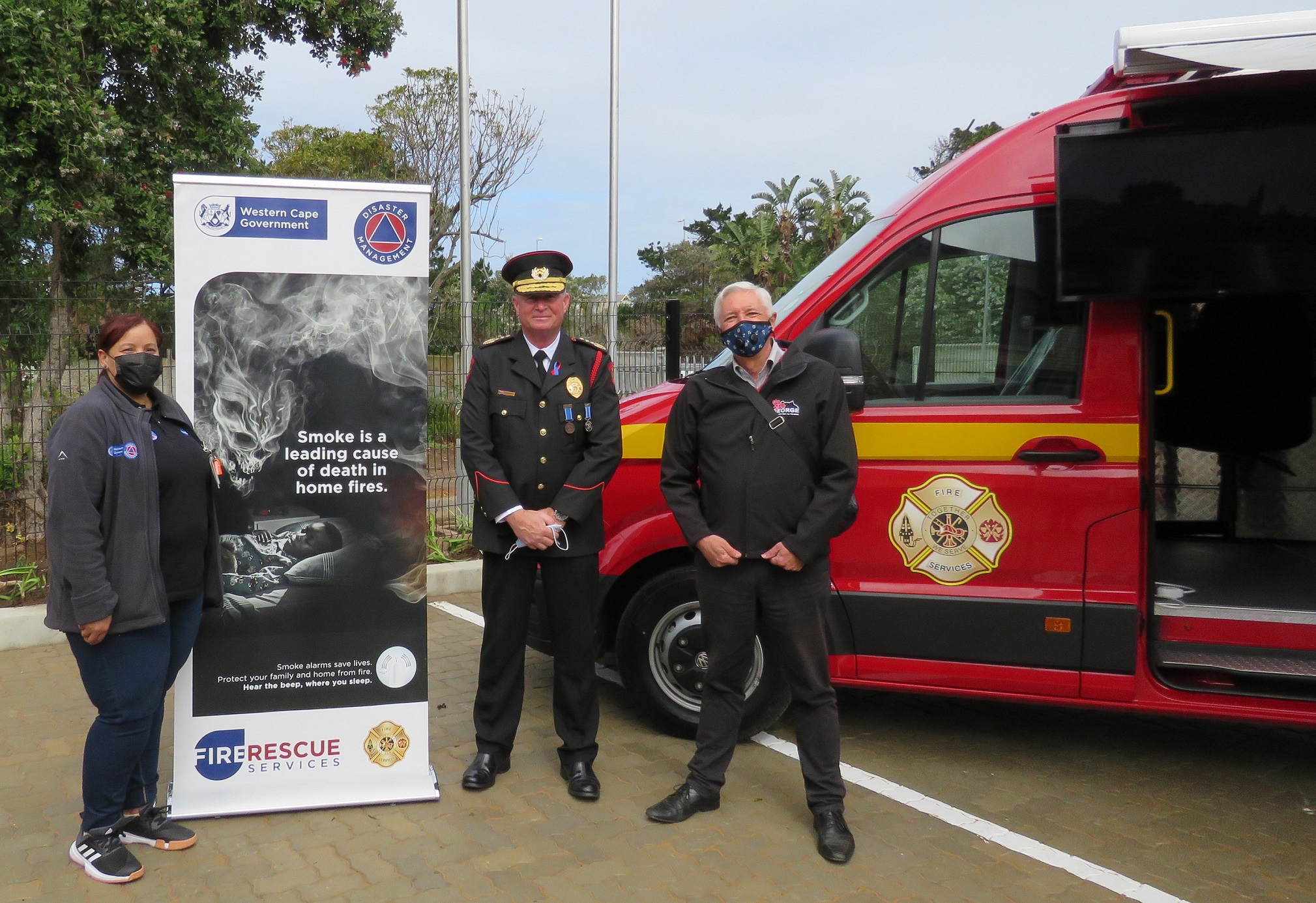 George Fire and Rescue has taken delivery of a state-of-the-art mobile incident command unit that will be used to manage administration and support on the scene of a crisis, disaster or rescue situation.
"The custom-built minibus is effectively a mini crisis command centre that can collect and distribute real-time data that will empower decisionmakers and roleplayers that are not on the scene to respond appropriately to a given situation," said Chief Fire Officer Neels Barnard.
"The diverse circumstances of the George municipal area often result in extraordinary emergency situations that range from mountain, cliffside and sea rescues and recoveries to runaway fires, floods, wind damage and more. Most of these happen far from crisis centre hubs, which require constant scene-to-management feedback and updates which in turn draws essential emergency workers off site and away from the important work of saving lives and property.
"The Type-3 mobile command unit is equipped with technology that bridges the gap so that emergency personnel can stay on site and get on with their work, while providing online, real-time information and footage to decisionmakers that support and finance the work on the ground. The communications capacity also means the ability to synchronise multi-agency situations that require communication to Joint Operations Centres, government roleplayers and other stakeholders almost anywhere in the world."
The unit can be set up almost anywhere in a short timeframe. It is the first of its kind in the country with a super-high roof to allow for standing room and additional above-counter space. The technology onboard includes two computerised workstations, radio frequency transceivers and internet access, an electric generator and solar panels, and a fixed camera with live footage capability to allow remote monitoring.
It can operate in an environment with little or no basic facilities, including no electrical service and phone lines, and has own power generation capacity to operate independently for at least three days.
The back section of the vehicle incorporates a Type-3 hazardous materials response unit with a mobile decontamination unit, hazardous materials suits and equipment for detecting chemicals, harmful gasses and radiation.
The vehicle was financed with Western Cape grant funding and kitted out using municipal funds. "We are grateful that provincial government and Council recognise the diverse challenges of firefighting in the George Municipality and surrounds. We continue to see the significant difference it makes in the field where lives and properties are saved every day," said Mr Barnard.
In the main photograph, Western Cape Deputy Director Disaster Manager Rowena Page officially handed over the municipality's new mobile incident command centre to George Chief Fire Officer Neels Barnard and Executive Alderman Mayor Leon van Wyk last week.
George Executive Mayor Leon van Wyk (left) fist bumps Brandon Woolley of Ramcom, the company that fitted the vehicle for its advanced requirement.