Public Notice: Stricter Water Restrictions effective immediately
George Executive Mayor Leon Van Wyk has today, 14 December 2022 confirmed that following the Public Participation period which closed on Monday 12 December, the stricter water restrictions and emergency tariffs as approved in Council on 24th November 2022, will be implemented. All comments received will be responded to and the public is thanked for their input and continued co-operation in reducing consumption of our potable (drinking) water.

A day of prayer for rain is due to be hosted on Friday 16th December at the Garden Route Dam from 11h00. We encourage residents to participate.
Applicable to George and surrounds, excluding Uniondale and Haarlem.
The immediate measures to be adhered to are as follows:
1. Households limited to 15 kilolitres per month.
2. Other users, businesses and entertainment industries must reduce consumption by 15% of average use of previous six months. This includes commercial car washes and other businesses dependent on municipal water.
Industries must reduce consumption by 10% of average use of previous six months.
Gardens may only be watered with water cans or buckets, any time of day.
Irrigation/watering of ALL sportfields using municipal water is prohibited.
Washing of vehicles with a garden hose using municipal water is prohibited. Buckets are allowed.
Cleaning of any outside surface areas using a water hose (municipal water) is prohibited.
Filling up of swimming pools with municipal water is prohibited.
Where own water from a borehole, water tank etc is used, "OWN WATER" signage must be displayed.
Emergency tariffs will be implemented as per 2A of the 2022/23 tariff list.
Flow reducing devices shall be installed where limits are exceeded.
Contraventions are liable to a fine or six month's imprisonment.
Report all water leaks to 044 801 9262 or A/H 044 8016300
Contraventions of water restrictions can be reported on 0800 424 477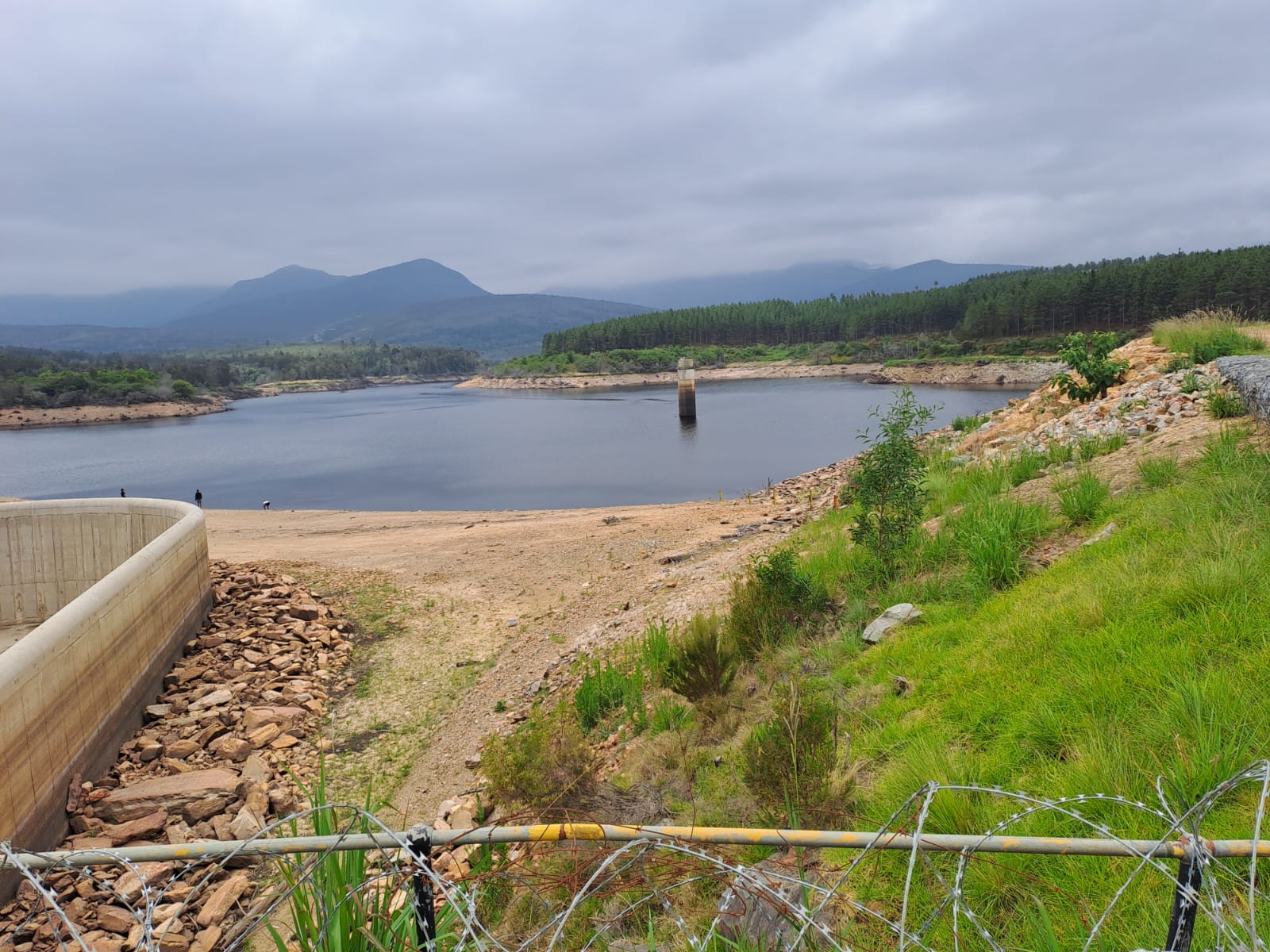 Van toepassing op George en omgewing, Uniedale en Haarlem uitgesluit.
Die onmiddellike maatreëls is soos volg:
Huishoudings word tot 15 kiloliter per maand beperk.
Ander verbruikers, besighede en vermaaklikheidsplekke moet verbruik met 15% sny, gebaseer op die gemiddelde verbruik oor die voorafgaande ses maande. Dit sluit kommersiële karwasbesighede en ander besighede in wat van munisipale water afhanklik is.
Nywerhede moet verbruik met 10% sny, gebaseer op die gemiddelde verbruik oor die voorafgaande ses maande.
Tuine mag slegs met 'n gieter of emmer natgegooi word, enige tyd van die dag.
Die natmaak van ALLE sportvelde met munisipale water word verbied.
Was van voertuie met 'n tuinslang met munisipale water word verbied. Emmers word toegelaat.
Die skoonmaak van enige buite-oppervlak met 'n waterslang (munisipale water) is verbode.
Die opvul van swembaddens met munisipale water is verbode.
Waar eie water uit 'n boorgat, watertenk ens gebruik word, moet 'n "EIE WATER"-kennisgewing duidelik sigbaar wees.
Noodtariewe sal volgens 2A van die 2022/23-tarieflys geïmplementeer word.
Vloeiverminderingstoestelle sal  geïnstalleer word waar limiete oorskry word
Oortredings is strafbaar met 'n boete of ses maande gevangenisstraf.
Rapporteer alle waterlekke by 044 801 9262 of n/u 044 8016300
Oortredings van waterbeperkings kan by 0800 424 477 aangemeld word