Operation Borcherds, Conville, Parkdene and Lawaaikamp yields 4600 black bags of rubbish
Phase two of Operation Clean up swung into action last week in areas Borcherds, Conville, Parkdene and Lawaaikamp with cleaning teams from Community Services moving in to clear up illegal dump sites and raise awareness around the dangers of illegal dumping. A total of 4600 black bags of refuse was collected and cleared over a seven (7) day period.
Illegal Dumping Awareness – George Municipal Officials for Community Services Aneliswa Igwilo, discusses the dangers of illegal dumping at the Corner Shop, Borchards.
Conville Library Colour Competition for local Creches
Conville Library Assistant Hazel Springfield set up two interesting displays explaining the consequences of Illegal Dumping. Four local creches took great delight in participating in a colouring-in-competition run by Conville Library. Parkdene Creche, Monica's Nest, Siembamba Speelgroep and Sonneblom Kleurterskool each received a Children's Book, Disney: Die Klokluier van Notre Dame, as a prize for their participation.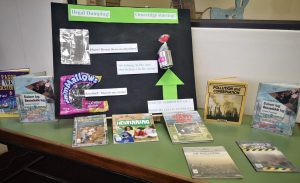 Road markings upgraded
Civil Engineering Services took the opportunity to walk along all of the main sewer lines in the areas of Borcherds, Parkdene, Lawaaikamp and Conville. Two problems were immediately addressed. A catchpit repair was undertaken in De Villiers Street, Borcherds.
In a number of instances road markings and street signage was either reinstated/ or repaired.