Promoting George at World Travel Market Africa 2023
PROMOTING GEORGE AT WORLD TRAVEL MARKET AFRICA 2023
Issued by George Municipality 30 March 2023 for immediate release
George, Wilderness and Uniondale Tourism are representing the destination at the World Travel Market Africa tourism trade show in Cape Town next week from 3-5 April, under the new Garden Route stand.
According to Sharon House from George Municipality's tourism office who focuses on destination promotion, the purpose of going to the show is to meet with the Tourism Trade, and particularly Tourism Buyers, who are interested in exploring and experiencing South Africa – to showcase everything our spectacular region has to offer local and international tourists. In previous years Garden Route towns exhibited on the provincial stand but this year the towns collaborated with the district to form one stand dedicated to the Garden Route and Klein Karoo area to promote the region more effectively.  The collaboration includes major hubs George, Knysna, Plettenberg Bay, Hessequa and Oudtshoorn.  The stand was greatly subsidised by the district and this made booking a desk space considerably more affordable for local businesses to showcase their product.  From the George area, popular strawberry agritourism attraction Redberry Farm, as well as Woodlands Villa, a new luxury accommodation in the Geelhoutboom area, applied and were approved on the stand.
The annual World Travel Market Africa exhibition is a tourism event that puts the spotlight on Africa, promoting the continent to the world, and is part of a global powerhouse of shows which take place in London, Dubai and other strategic locations.  The Cape Town show, started in 2013, represents over 100 countries, with Hosted Buyers flying in from all corners of the globe to learn more about what our continent has to offer.  Companies and product owners attending the exhibition are serious about meeting the right people, conducting productive meetings and getting a return on their investment.  In addition, WTM provides a holistic travel and tourism show that benefits travel professionals from a wide spectrum.
On the Garden Route stand, George's tourism representative has a dedicated, destination branded desk to meet with Buyers in back-to-back meetings which take place every 25 minutes.  During this time, the destination is showcased through an inspiring presentation and video to sell our region and tourism experiences.  The aim is to educate and entice the Buyer – to show them what the greater George area offers and inspire them to include greater George in future itineraries.  During this time the Buyer can ask questions about the destination, request information on specific tourism experiences they are interested in and be matched to businesses in the destination.  They are also provided with a flash stick which gives them the destination's digital brochure, media resources and tourism lists.  Meetings have been confirmed with a range of Buyers from Germany, South Africa, Poland, India, Denmark, UK, Nigeria, Malaysia, Netherlands, Canada, Romania, Belgium, Norway and France.
House said they are enthusiastic about the new stand, which will shine a brighter light on the region, to attract Buyers out of Cape Town. "We will fly the flag high for George, Wilderness and Uniondale, and wish all participants well in their endeavors next week.."  Any tourism experiences and products interested in sponsoring a prize which will be randomly awarded to Buyers on the stand, can contact Sharon House on shouse@george.gov.za by Friday, 31 March 2023.
Captions:
Paragliding at Wilderness Beach.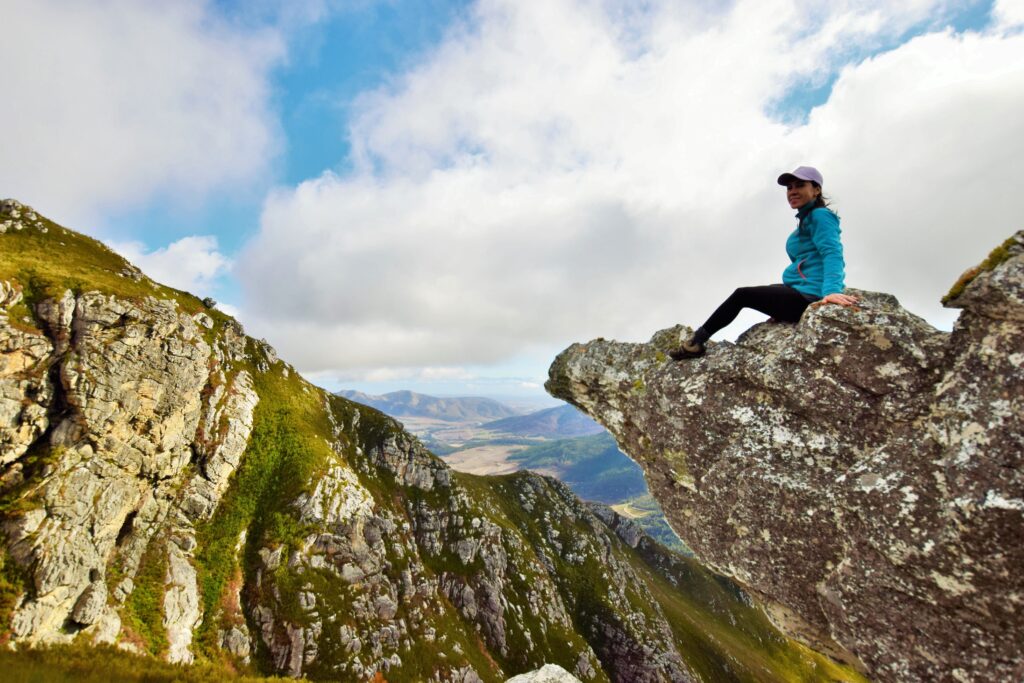 Hiking in the Outeniqua mountains.