Public Notice: Pride Parade in support of Youth Month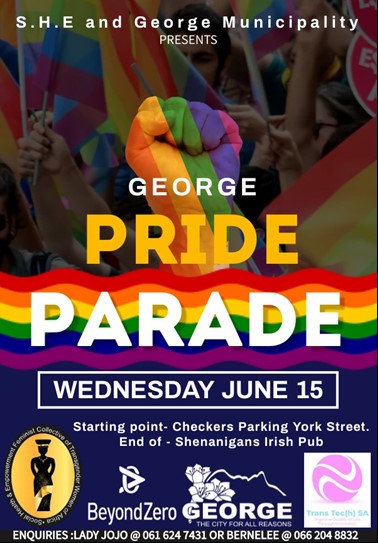 Public Notice: Pride Parade in support of Youth Month
Issued George Municipality, 7 June 2022
The Pride Parade (walk) hosted by George Municipality and S.H.E is an initiative to help raise awareness within our communities,  as well as friends ,families  and supporters for the LGBTIQA++ community in celebration of lesbian, gay, bisexual, and transgender (LGBT) social and self-acceptance, achievements, legal rights, and pride!
For many  within the LGBTIQA++ community, in particular those who are still working through their identity – the experience can involve a whirlwind of emotions and thoughts as they try to get to grips with who they are as individuals.  The festive parade provides an opportunity to wave flags, together as a group  – and to celebrate equality and diversity for the Queer family.
The Goal of the gathering:
To improve the health, safety and well-being of Lesbians, Gay , Bisexual and Transgender people. As they experience many specific health-related challenges and disparities.
Activities that will take place :
Information Stalls
Colour Splash
Public Speakers
Handover of Memorandum to SAPS
Performance
We invite all members of the Queer community and those who support the LGBTIQA+ Community, to join us.
Date:               Wednesday 15 June @ 15h30
Venue:            Meet at the Checkers parking area, opposite Steers (York Street)
Contact:          Lady Jojo 061 624 7431 or Benelee 066 204 8832 with any enquiries.