Road Safety Awareness Campaign
George Municipal Traffic Department participated in Operation Borcherds, Conville, Parkdene and Lawaaikamp on Friday 1ast October with the team stationed outside Conville Clinic.
Executive Mayor Leon Van Wyk visited the team on the day and spent some time reviewing the technology at the department's disposal. The new mobile traffic vehicle is fully equipped with Automatic Number Plate Recognition cameras (ANPR)  which can view an oncoming vehicle, and indicate whether there are any outstanding traffic fines linked to the licence plate. The fines can be printed inside the mobile bus. If the fine is a warrant of arrest, payment is immediately payable, either on the bus or the individual can be escorted to the Traffic Department. For any other fines, the driver is notified of the fine and cautioned to pay before due date.
"This vehicle allows our traffic officials to issue drivers with notices of their outstanding fines. Outstanding fines are always a cause of great concern for Council, as well as the municipality due to the expenditure on traffic policing. We know that fines for misconduct by road users are issued, but some of them just simply do not get paid. It is important that drivers adhere to road rules and pay fines when notified to avoid the process of a summons that will follow due to non-payment",  said Ald Van Wyk.
The Mayor was impressed by the devices available to test drivers who might be under the influence of alcohol. Mr. Ruben Lakata, Assistant Director, Road Safety Management, Department of Transport and Public Works explained step for step how the disposable breathalyzer's must be used and the meaning of the different colours that will display for example, yellow shows no alcohol present and green shows alcohol present.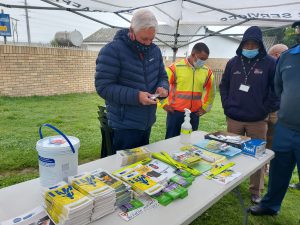 " It was a very proud moment for me as the Executive Mayor of our municipality to see our traffic officials at work and to witness the technology in action. With the Covid-19 Alert level having been changed to level one, and a number of relaxations having been affected, that does not mean that we should ignore the rules and regulations of the road. We want our drivers to keep safe, as well as drive safe."
During a light-hearted moment Ald Van Wyk tested goggles that simulate the effects of drunk driving noting that it's very sobering  on viewing the video of himself afterwards, to see how poor your judgement becomes when under the influence.
Daantjie Kat was on hand to hand out colouring books, crayons, reflective bands and more to local children to raise awareness around traffic safety. In the main photograph Mayor Van Wyk and Daantjie Kat (in the middle) and George Traffic Services officials hand over pamphlets, crayons and colour in books to children from left,  Shireen Jordaan (9),  Patriano Davids (6), Joshua Hofmeester  (9), Melenicia Hess (9), Haylene Jordaan (4) and Jay lee-anne Davids (8).