THE ENERGY INDUSTRY, BUSINESSES AND MUNICIPALITIES GATHER IN A WHEELING AND TRADING SYMPOSIUM IN GEORGE
The George Municipality's move to explore alternative energy-generating sources is gaining impetus, as the Executive Mayor of George Alderman Leon van Wyk accompanied by the Municipality's Electrotechnical Services team participated in a Wheeling and Trading Symposium that was held on Wednesday, 8 February 2023 at the Hawthorn Boutique Hotel in George, in partnership with a private electricity trading company, Enpower Trading.
Energy Wheeling is generally defined as the delivery of electricity generated by a private operator in one location to a buyer or off-taker in another location via a third-party network (Utility or Municipality). Therefore, the George Municipality intends to do wheeling services to explore available energy sources, steering them towards the Municipal grid, while also looking at a cheaper cost of electricity than Eskom's current cost. With all the privately generated energy coming into the grid, the Municipality hopes to lessen reliance on Eskom as well as become energy secure.
The speakers and panellists during the discussions were Phillip van Niekerk from the hosts, Enpower Trading, Jeandre van Zyl from Solar Energy Africa, Gerjo Hoffman from Open Access Energy, Josh Dippenaar from Sustainable Energy Africa, Nhlanhla Ngidi from SALGA, Bernhard Teuteberg from DEDAT Western Cape and Jemaine Cupido from Bitou Municipality facilitated the proceedings of the symposium.
The Symposium attracted representatives from the energy sector and companies from George and other parts of the Country, Municipalities from the Garden Route District such as Mossel Bay, Bitou, Oudtshoorn, Hessequa and Knysna as well as Municipalities outside the district such as Swellendam Municipality, Nelson Mandela Bay Metro from the City of Gqeberha in the Eastern Cape, and the Executive Mayor Mzimkhulu Thebolla of Msunduzi Municipality from the City of Pietermaritzburg in KwaZulu-Natal.
Welcoming the attendees, the Executive Mayor of George Alderman Leon van Wyk said in his opening remarks that the unreliability of Eskom's electricity supply and the increasing intensity of load shedding is causing huge disruption and damage across many production sections and the economy. "From a municipal perspective, our KWH sales have naturally declined even with households having to do their chores at times when electricity is available."
"While we are encountering power supply disruption, we need to look to innovation to take us forward into new opportunities. Today we will be discussing Wheeling. This new topic is the disruptive radical change that will take us forward into a new era of trading in electricity, creating generating facilities and transporting electricity to where it is needed," van Wyk added.
"I am very proud of our team here in George which has moved the boundaries in their quest to find solutions. Last year as a team we set new challenges in saying we needed to mitigate the risks that our municipal infrastructure faced, i.e., water treatment works, wastewater treatment works, and pump stations during load shedding. As 2022 progressed we also concluded that the Solar PV route needed to be supplemented by the rapid introduction of Battery Energy Storage."
The first wheeling transaction took place in May 2022 at George Municipality, following the signing of the use-of-system agreements in July 2021. The billing process has for many years been done manually, requiring extensive time for verification and preparation of bills once the data was retrieved from the meters.
"The need for this freely licensed software pilot became evident when we considered wheeling and renewable energy scaling on the George Municipality's electricity grid. The manual billing process was one of the main challenges and resolving this meant reducing reliance and pressure on key human resources, reducing potential errors that could occur in the billing process," said Mr Bongani Mandla, the director of electrotechnical services at George Municipality.
Mr Bongani Mandla highlighted that the current George Municipality wheeling pilot consists of trade between one generator and four off-takers through Enpower Trading (a NERSA licensed Energy Trader) and this entire process has now been automated using Open Access Energy's software.
"The Municipality is working on further improvements to its wheeling projects and to incentivise the private sector (both generators and off-takers) to participate in this program. These include creating a platform for customers to view their accounts and access their consumption and billing data in real-time on a portal, working with DEDAT Western Cape Government to speed up standardising the use-of-system contracts as well as moving from the 30-minute reconciliation to a Time-of-Use reconciliation by latest end of March 2023," Mandla concluded.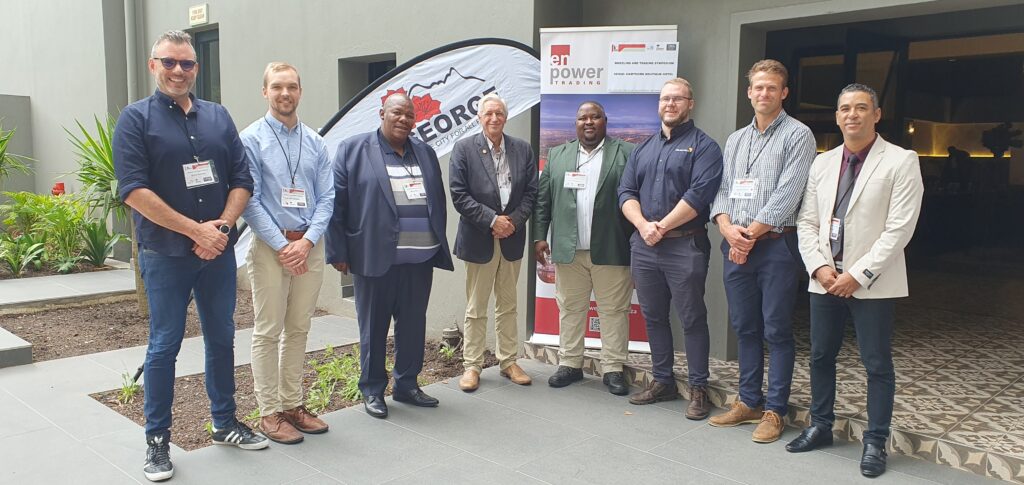 Gerjo Hoffman (Chief-Executive-Officer and co-founder at Open Access Energy), Phillip van Niekerk (EnPower Trading), Cllr. Mzimkhulu Thebolla (Executive Mayor of Msunduzi Municipality from the City of Pietermaritzburg in KwaZulu-Natal), Ald Leon van Wyk (Executive Mayor of George), Bongani Mandla (Director for Electrotechnical Services – George Municipality) Jeandre van Zyl (Solar Energy Africa), Josh Dippenaar (Sustainable Energy Africa) and Jemaine Cupido (Bitou Municipality)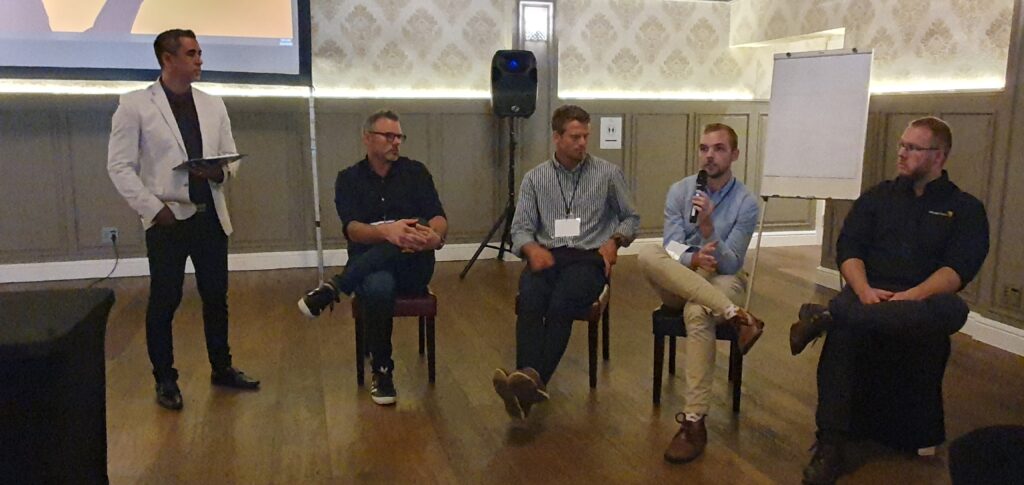 Jemaine Cupido (Facilitator from Bitou Municipality), Gerjo Hoffman (Chief-Executive-Officer and co-founder at Open Access Energy), Josh Dippenaar (Sustainable Energy Africa), Phillip van Niekerk (EnPower Trading), and Jeandre van Zyl (Solar Energy Africa)