Unique fire management for George
Massive wildfires in the Garden Route in recent years have highlighted the varied needs of an area with some of the most diverse biomes in the country.
There are few municipalities that deal with the combination of fire and rescue challenges faced in the George municipal area.
From hot and dry conditions in Uniondale and Haarlem north of the Outeniqua Mountains to windy seaside environments in the south, the George Fire and Rescue Services address fire management for semi-desert,
mountainous terrain on both sides and over the mountain, as well as large tracts of agricultural land, pine plantations, alien vegetation, coastal fynbos, indigenous forest and winding inaccessible roads connecting towns and villages over long distances.
In addition, two major national roads and several provincial roads go through the area, which require the fire department's response at vehicle accidents and transport related hazardous material incidents. The city's industrial node has also significantly grown over the past decade, which increased factory and hazardous materials fires.
Chief Fire Officer Neels Barnard said the devastating wildfires in the neighbouring town of Knysna in June 2017, which took place outside the Western Cape's traditional summer fire season, was a huge wake-up call for municipalities everywhere. "The George Municipality council approved a multi-faceted approach by the department to acquire key equipment and additional vehicles over a few financial years to systematically address different aspects of fire and rescue management.
"We wanted to be smart and use resources wisely, so we did the research, consulted with colleagues and role players and came up with practical, sustainable solutions for a variety of fire-fighting situations," said Mr Barnard.
Denneoord fire base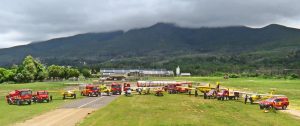 The establishment of the Garden Route's first dedicated emergency firefighting airstrip on municipal property above Denneoord in December 2017 proved a gamechanger during the month-long wildfires around George less than a year later.
The project between George Municipality, Southern Cape Fire Protection Association, Working on Fire and Garden Route District Municipality meant firefighting planes could respond much faster than they would have been able if they were stationed at a commercial airport where they would have had to wait in line for a runway along with other aircraft. This is especially applicable during the summer fire season which coincides with the very busy holiday season when thousands of flights are scheduled at commercial airports.
Five aeroplanes and a chopper are stationed at the base during the fire season, and usually at least one plane and a chopper out of season. Municipalities in the Garden Route district use the facility on a call-out basis as services are required. The airbase consists of a runway, helipad, firebase, hangars, taxiways and a water refilling point.
First-of-its-kind fire tanker and portable dam

The municipality's capacity to deal with fires in remote and dry areas received a significant boost with the delivery of a large capacity water tanker and portable dam in September 2019. The tanker is the first of its kind to be used for firefighting in South Africa.
The 35 000-litre stainless steel water tanker is a movable water source that can be driven to a suitable site from where all kinds of fire vehicles can refill. The tanker is fitted with a pump that can extract water from sources such as farm dams and can deliver 2200 litres per minute at 10 Bar. On the road the 18-metre (13-metre tanker pulled by a five-metre truck), 22-wheeler vehicle it is an impressive site and requires an advanced EC-driver's licence for articulated vehicles, which most of the city's firefighters have.
The 14 000-litre portable dam is one of only three in the country and the first for a local municipality (the others are at West Coast District Municipality and City of Cape Town). The dam is intended as an artificial water source from which a helicopter bucket can scoop water or fire vehicles can be filled. The dam in turn can be filled by the new water tanker or by other fire trucks, depending on where the portable dam is set up. Manufactured from high grade poly-yarn industrial material that can be folded up and transported inside an ordinary trailer, the portable dam's equipment includes a portable pump, hard suction pipes and valves for filling or emptying the dam water. The water pushes the walls up and the dam readjusts as water empties out (it is not an inflatable). Any water that is not used can be pumped from the dam back into the tanker and reused elsewhere.
"The tanker and dam now become part of a streamlined system in which water can be brought much closer to a fire, and therefore significantly reduce the turnaround time. Instead of having to drive several kilometres to refill one truck, or wasting valuable fuel and water refilling time for choppers, the tanker and portable dam is a sustainable combination solution that will make a significant difference in the first hour of a fire. In firefighting, the first hour is crucial to bring a runaway fire under control, which ultimately increases the chance to save people and property," said Mr Barnard.
Eyes in the sky
Drone technology is being used for multiple applications, most notably for reconnaissance during fires and rescues in areas that are difficult to access in dense vegetation, mountains, sand dunes and seaside cliffs.
The municipality's high-tech drone also enables extensive fire risk assessment across the municipal area including footage of naturally inaccessible areas, much of which is on private agricultural and residential land. The department can then take steps to address issues highlighted by assessments such as the issuing of notices to landowners reminding them of their legal responsibility regarding alien vegetation and fire management.
Bush-clearing tractor
A big part of ongoing fire management is the maintenance of permanent firebreaks, which in the 2018 George fires proved very effective in safeguarding residences at the foot of the mountain. George now has a specialised multi-use 4×4 tractor for the clearing of firebreaks, designed to access rugged terrain. It is fitted with a specialised blade in front to scrape roads and a brush cutter (bossiekapper) at the back for cutting grass and fine brush.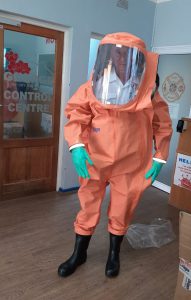 Dealing with hazardous materials
A mobile decontamination unit and two hazardous materials suits were introduced in mid-2020 to support the department's handling of hazardous materials at vehicle accidents and factory fires. The new equipment has the added benefit of protecting firefighters in the unknown possible contaminate situations that the ongoing Covid-19 pandemic may be associated with.
George Fire Department is often the first responder to vehicle accidents in which trucks had spilt dangerous contents. "The hazmat suit is fire retardant and has its own air supply to protect the firefighter from dangerous fumes and chemicals, which is also very necessary at chemical fires at factories and businesses.
"The decontamination unit is mobile and can be set up at the site to decontaminate personnel attending to the situation, which increases the safety of everyone at the site and reduces the chances of transference."
Mobile command centre
The municipality is expecting the delivery of a mobile command unit that will be used to manage administration and support on the scene of a crisis, disaster or rescue situation.
The custom-built minibus will be set up with two computerised works stations, radio frequency transceivers and internet access, an electric generator and solar panels, and a fixed camera with live footage capability to allow remote monitoring.
Wilderness fire station
Construction of a satellite fire station in Wilderness, 14km outside George, has commenced. "A satellite station here will ensure quick response to areas characterised by dense vegetation and agricultural land with high fire risk and is close to higher risk structures such as hotels and fuel stations. It is located next to the N2-highway to reduce response time to motor vehicle accidents and is near the Wilderness beach for quick response to beach and water incidents."
Mr Barnard said the fire department was very grateful to its council for recognising the diverse challenges of firefighting in the George municipal area and for supporting an ongoing plan to address as many aspects as possible in a practical and cost-effective manner. "We continue to see the significant difference it makes in the field every day, which ultimately means the more effective protection of people and property."
GEORGE FIRE AND RESCUE FLEET
The George Fire and Rescue Fleet currently comprises:
Two major pumper fire engines for structural and vehicle accident fires.
One medium pumper fire engine for structural and vehicle accident fires.
One 7000-litre water tanker for back-up water during firefighting operations.
One 34 000-litre water tanker for extended water supply where there are no hydrants.
Two 4×4 bakkie skid unit with 500-litre water tank for quick response to small fires.
Two 4×4 Unimog 2000-litre bush pumpers for tough terrain and fires in informal areas.
One 4×4 Iveco 3000-litre bush pumper truck for tough terrain and fires in informal areas.
One dedicated rescue bakkie for vehicle accidents and other rescue situations.
One response vehicle bakkie for command response for officers.
One service bakkie and a sedan for personnel transfer and general use.
(Article published in Estate Living platform for luxury estates in Autumn 2021.)