UPDATE – FLASH FLOODS IN GEORGE – The cleanup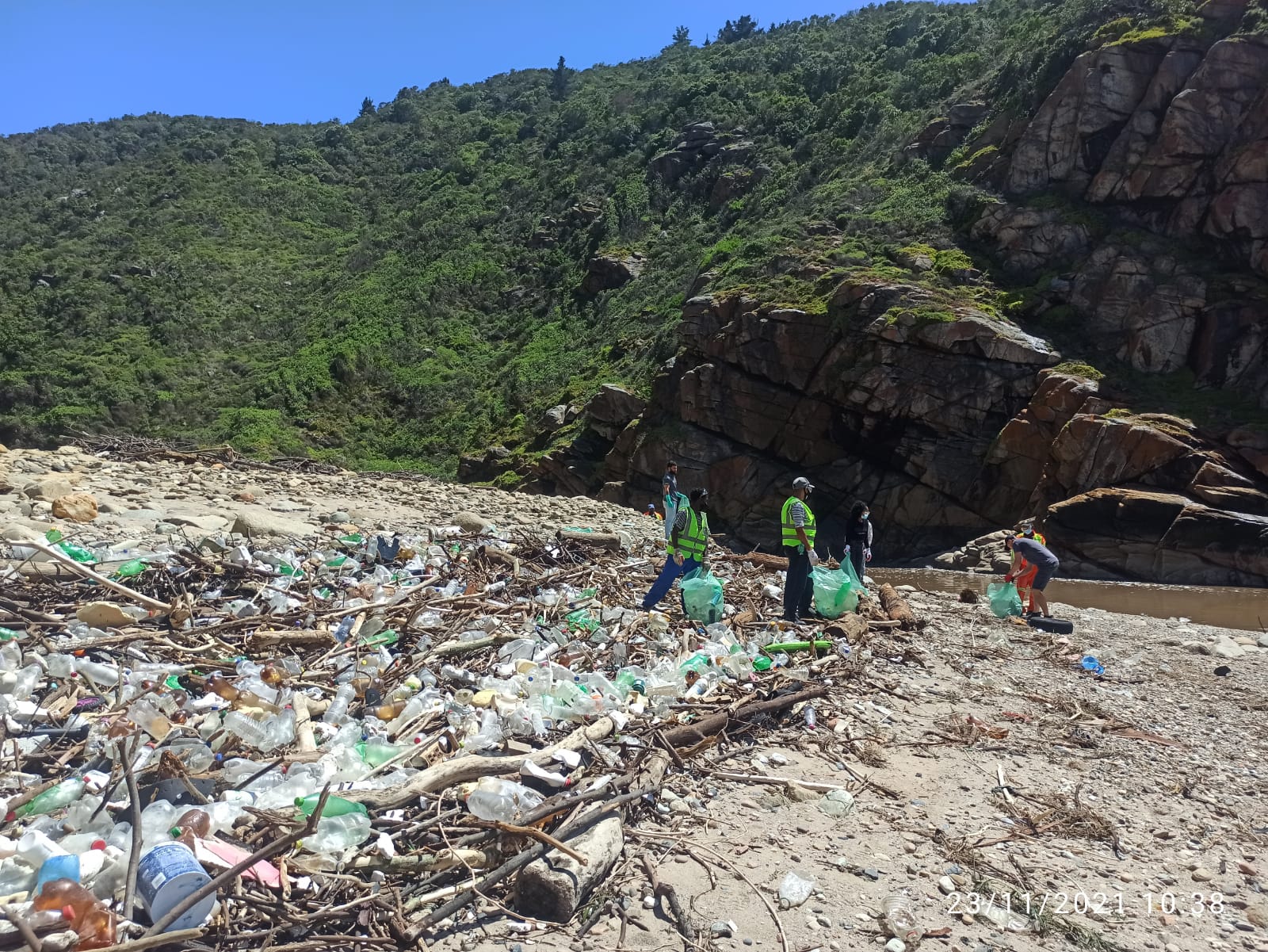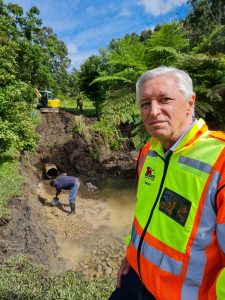 Executive Mayor Leon Van Wyk photographed at the Oewer Street repair site this morning for an update on the status of repairs. The repair work is progressing well and it is expected that the pipeline repair will be completed by 14h00. "I would like to thank the residents of George for their patience and understanding during this unprecedented weather disaster. We have now seen the extensive infrastructure damage that such flash flooding can do, with our water infrastructure taking the bulk of the force of the water."

George measured 105mm of rainfall in a two-hour period on Monday 22nd November which led to extensive flash flood damage to private as well as municipal infrastructure. In total George received 148.5 mm of rain from Monday to this morning (Wednesday 24 November). It is with immense gratitude that the municipality can advise that no injuries or fatalities were reported following the storm. The George Fire and Emergency Services is aware of 26 formal houses that flooded, and to date over 800 families of informal structures have been identified as  affected by flooding and requiring assistance. Emergency Services responded to one motor vehicle accident on Monday.
Roads which remain closed
Our traffic officials dealt with 10 traffic callouts from early morning on Monday, which included the closure of four roads that were completely impassable for a number of hours. Saasveld Road from Madiba Driver (Pine Lodge) to NMU is closed with extensive damage and repair work to be undertaken by Garden Route District Municipality which has jurisdiction over this road. In George itself, the Pienaar Street Bridge remains closed and the railway line opposite Correctional Services, Union street has been damaged.
Gunplast requests
The George Municipal Human Settlements directorate has worked solidly since Monday addressing requests for gunplast. Members of the public who require assistance with the supply of  "Gunplast" please register their requests as follows:
Telephonically report the matter to the George JOC on 044 801 6316 or After Hours 044 8016300
Visit your nearest Area Office or Ward /other Councillor who will report on your behalf.
Email to gmun@george.gov.za providing the necessary Contact Details, Names of residents affected and Street Address.
Log via the Municipal App, Housing Queries OR General Request with the necessary Contact Details, Names of Residents affected and Street Address
Such faults will be assigned to the Human Settlements Directorate for assessment and assistance where possible. An application form must be completed and the resident must provide an Identity Document.
Beaches, streets and rivers being cleaned, refuse collection backlog being cleared
Community Services have been hard at work cleaning up the beaches including Victoria Bay (79 black bags collected), Herold's Bay (220) and Ballots Bay(137 ) and will continue today.. Community Services thanks members of the public who voluntarily assisted with the clean-ups. Street cleaning teams will be clearing the streets which are full of debris. Community Workers will begin assisting the municipality with the clearing of debris from the Meul, Kat and Molen Rivers today.
Refuse Collection was unable to take place on Monday due to impassable roads. The backlog for Monday will however be addressed on Wednesday 24 November, after the Wednesday areas are cleared. The refuse teams will work until the backlog has been cleared.
Water outages, roads cleared
George Municipality has experienced severe infrastructure damage following the flash flooding. This resulted in several pipebursts affecting water supply to a large portion of the city. The municipality is managing this crisis  and continues to circulate water trucks to strategic areas throughout mostly the eastern side of the city. The water situation remains critical with reservoir levels supplying the eastern and CBD areas very low. Currently Thembalethu, Pacaltsdorp , Blanco, Conville, Borcherds, Lawaaikamp, Protea Park, New Levallia, Blue Mountain and surrounds are the only areas not affected by the water outage. The civil engineering road teams will also continue clearing sand and flood debris as they are able to throughout the city.
Power outages
Our electrotechnical teams have attended to over 30 high voltage repairs and countless low voltage matters over the past days. Currently the only areas that remain affected are the Strydom Line (Wilderness Heights)  which remains off due to two broken poles that will be replaced and lines repaired and a portion of Victoria Bay where one transformer needs replacement.
Humanitarian Relief
The Social Services department has spent most of yesterday collating a list of families and structures worst hit by the floods and which are located in informal settlements. This list will be used for the various humanitarian relief operations currently underway in George.  A family of 7 persons was sheltered in a Thembalethu community hall on Monday evening and have since returned to their structure.
The municipality has been inundated with offers of assistance for those affected by the flash flooding.
Any donations of food, blankets, clothing, mattresses, bedding, toiletries  can be delivered to the Garden Route Food Pantry located at 1 Glaze street, next door to Takelot depot.
Contact Carl on 0828260731 or Tillie on 0721881207 in this regard. George Municipality will handle the assigning of donations to those in need.
Municipal Offices closed, except Finance Cashier Hall
Due to lack of water supply in the city centre, all municipal administration in the CBD except the Finance/Client Services Hall in the main building, are closed. Chemical toilets are available nearby – please enquire from security as to their location should you need to use the facilities. Phones of administration staff have been transferred to relevant numbers and staff are working remotely.
George Municipality remains committed to service delivery. Thank you for your support, understanding and cooperation during the challenging time.
South African Weather Service has released a Level 4 Yellow Warning for Damaging Winds for George and other areas from Friday 26 November in the morning. Gale force winds gusting up to 80-100km/h are predicted. Updates will be issued by the SA Weather Services, please pay attention to local news and social media.