Update on road upgrades across George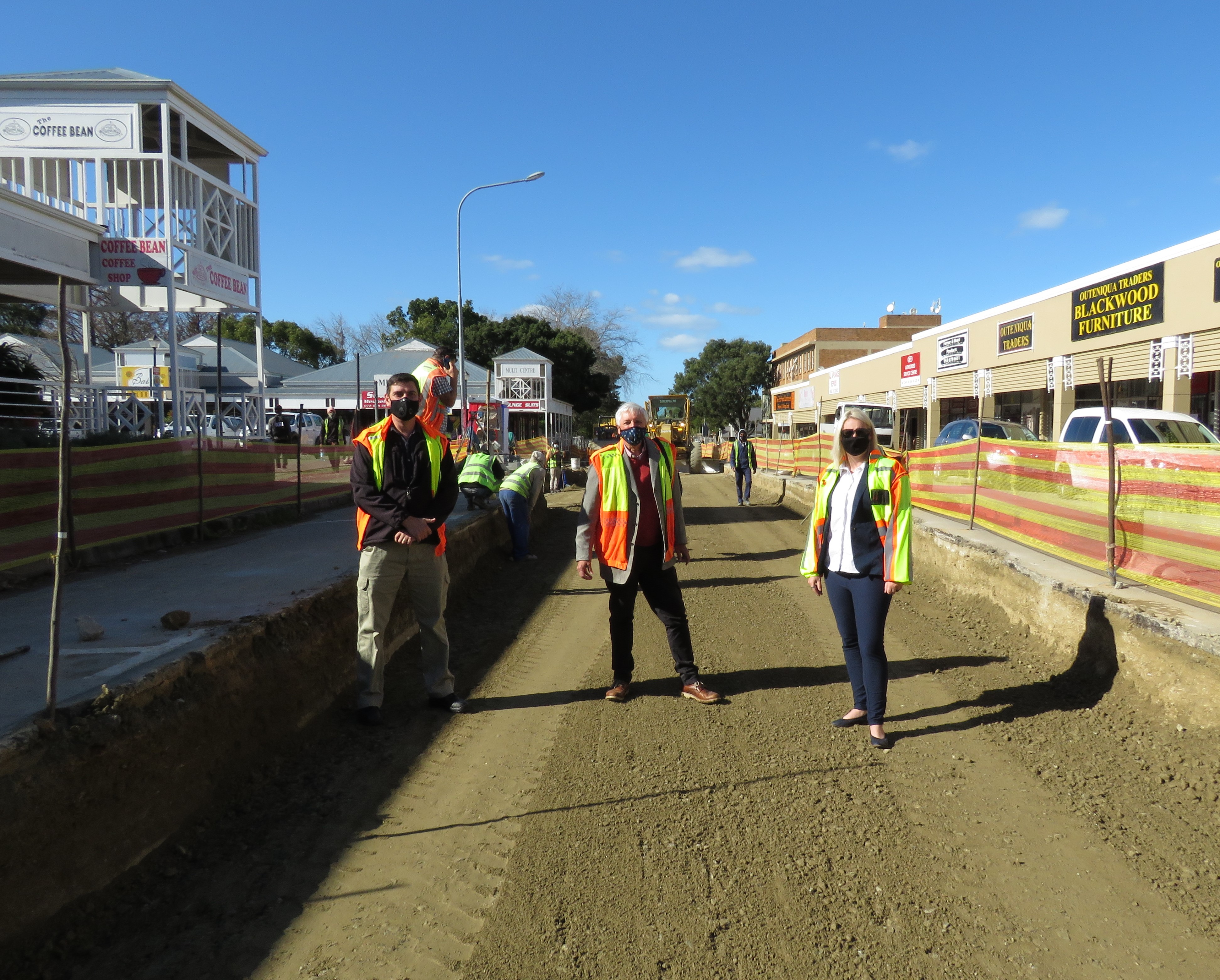 Wellington Street
As part of the road rehabilitation process, Wellington Street has been completed including the universally accessible sidewalks.
Market street
The 15-month Market Street project will be completed in phases and includes the upgrading of underground services such as stormwater and sewerage pipelines in addition to road structure and surface rehabilitation, as well as the construction of universally accessible pedestrian walkways to support high foot traffic in the city's central business district. The full project extends from the York Street to Hope Street. Roadworks will be done in phases, intersection to intersection, with the five phases of construction overlapping.  Phases 1 – 3 have commenced between York and Mitchell Streets.  Construction of the first 3 phases is planned to continue to mid-May 2022.
George Municipality is currently working in three sections between York Street and Mitchell Street, and the area will be an active construction site for the duration of the construction periods. The contractor will, where as far as is possible, maintain property accesses and will make the necessary arrangements /provisions in advance with any affected business owner via Mr Alewijn Dippernaar, should access not be possible.  Business and property owners affected by the road construction are requested to contact Alewijn Dippenaar at dyndev@mweb.co.za or on 082 457 5675 if they have any queries or concerns, and must not communicate directly with, or request information from, the Contractor's personnel.
Makriel Street
The construction in Makriel Street in Maraiskamp, which serves as a link road between Conville and Parkdene, has commenced with the Contractor relocating existing infrastructure and upgrading the existing stormwater, where after the physical road and sidewalk construction will commence.  The project is set for completion in mid-November 2021.
Rosedale Access road
The rehabilitation of a portion of the Rosedale Access Road, eastwards from Beach Road,  has started and the project is currently on schedule for completion at the end of October 2021.
Tabata street  Phase 1
The upgrading of a portion of Tabata Street, Thembalethu from Nelson Mandela Boulevard to Mfayana Street (about 760m), recommenced  in February this year, following the approval of funding.  Intense labour and sub-contracting procurement processes were followed, and this phase is expected to be completed by mid-October 2021.  The improvements to this main arterial through Zone 12, 13 and 15 will most certainly improve the experience of road users, pedestrians and the lives of residents.  The road, sidewalk (similar to other community routes) and stormwater pipe upgrades will improve vehicle and pedestrian movement, and reduce flooding of the street and properties.
The entire intended Tabata Street upgrade extends from the intersection with Nelson Mandela Boulevard (Fourways) to where the road re-joins Nelson Mandela Boulevard and will be implemented in phases.  . Further phases (phases 2 to 5) will be rolled out subject to the availability of funds.
Fourway stop maintenance
The rehabilitation of the Nelson Mandela Boulevard four-way intersection with Tabata Street was completed in the first week of July 2021 with the bulk of the work taking place at night time to reduce the impact and inconvenience on traffic movement.
New Dawn Park
The existing roads and associated stormwater pipeline servicing New Dawn Park from the c/o Protea and Sierrisie Drive to the intersection of Sierrissie and Voëlnesvaring Drives , as well as portions of Garnaalbloom Street, Klokkiesblom and Voelnesvaring Drives have been upgraded.
General construction information
Traffic impacts are different for each project depending on the nature of work done, details of which will be published in red-framed advertisements in local print media and the George Municipality social media channels.  GO GEORGE implications at the Market Street roadworks will be communicated by GO GEORGE champions on location as well as via the usual social media and other communication platforms.
Municipal services such as water, sewer and electricity may be temporarily disrupted, and will be communicated via social media when required.
"The municipality realises the impacts during road works are inconvenient, but we ask that road users and pedestrians bear with us and keep the bigger picture in mind. Liaison with business and affected parties in the construction zones will be ongoing and we thank residents, tenants and all general road users in advance for their support and cooperation. Please take extra care when you are inside or near the construction zone and adhere to all signage and directions by road works personnel. Vehicles should take heed that road surfaces can vary in height at times," said Mr Daniels.
Wellington Street completed with brand new universally accessible sidewalks being inspected  by, from left Executive Mayor Leon Van Wyk, Portfolio Councillor Civil Engineering Services, Jackie Von Brandis and Ricus Fivaz, Civil Engineering Services.  Similar road and sidewalk construction is currently being undertaken on other community routes within the municipal area.