Wilderness now serviced by its own fire station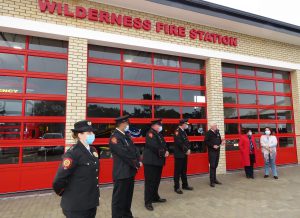 Wilderness area is now being served by its own satellite fire station, which was officially opened on Friday, 17 September 2021.
Situated near the Caltex The Waves circle on the N2, the new station was built to serve the diverse fire and rescue needs of the area east of the Kaaimans River Bridge, which had until recently been addressed from the main fire station in the George CBD 14km away.
George Chief Fire Officer Neels Barnard said a satellite station in Wilderness had been a long-term goal of the department to cover the area's fire and rescue risks more effectively. "We now have quick and easy access to the N2 for vehicle accidents and hazardous materials spills, the Wilderness beach and lakes for water incidents and rescues as well as significant fire risks such as fuel stations, hotels, dense vegetation and agricultural land."
The Wilderness station is also the first in the Southern Cape to be a double-storey facility with a fireman's pole.
The 440sqm station comprises 348sqm bottom-floor space for vehicles and equipment and 92sqm above for staff quarters. It has three spaces for specialised vehicles including a major fire appliance, 4×4 off-road firefighting vehicle and a jetski, quadbike and rubber duck. The facility is manned around the clock by four firefighters.
"There are many advantages of having a fire station in an expanding and diverse community such as Wilderness and surrounds, including the much faster response times to road accidents and fires. Its location next to the Wilderness police station is ideal as there are several overlapping services and administration between the SAPS and municipal emergency services during and after an incident.
"The department is grateful to its Municipal Council for recognising the diverse fire and rescue needs that exist in the area and for supporting an ongoing programme to equip the Fire and Rescue department with specialised gear and facilities to continue protecting land and property.
"We also thank donors Peter Grindlay and Mikaila Hendrikz of Dotsure and Jenny Harding of Delightful Gardens for their contributions towards the interior design and beautifying of the Wilderness Fire Station," said Mr Barnard.
At the official opening George Executive Mayor Alderman Leon van Wyk commended Mr Barnard and his department for their pursuit of excellence. "I am very proud of their hard work – their persistence in continuance expansion of capacity will pay off for decades to come," said Ald van Wyk.
Wilderness is the municipality's third satellite station in addition to Thembalethu and Uniondale.
Caption
In front of the shiny new Wilderness fire station from left are Platoon Commander Santa Sternsdorf, Platoon Commander Shane Fisher, George Station Commander Johann Crouse, Chief Fire Officer Neels Barnard, George Executive Mayor Alderman Leon van Wyk, Deputy Executive Mayor Charlotte Clarke and Wilderness Ward Councillor Marlene Barnardt.