Blue Flag for Wilderness and two Pilot Blue Flags for Victoria and Herolds Bay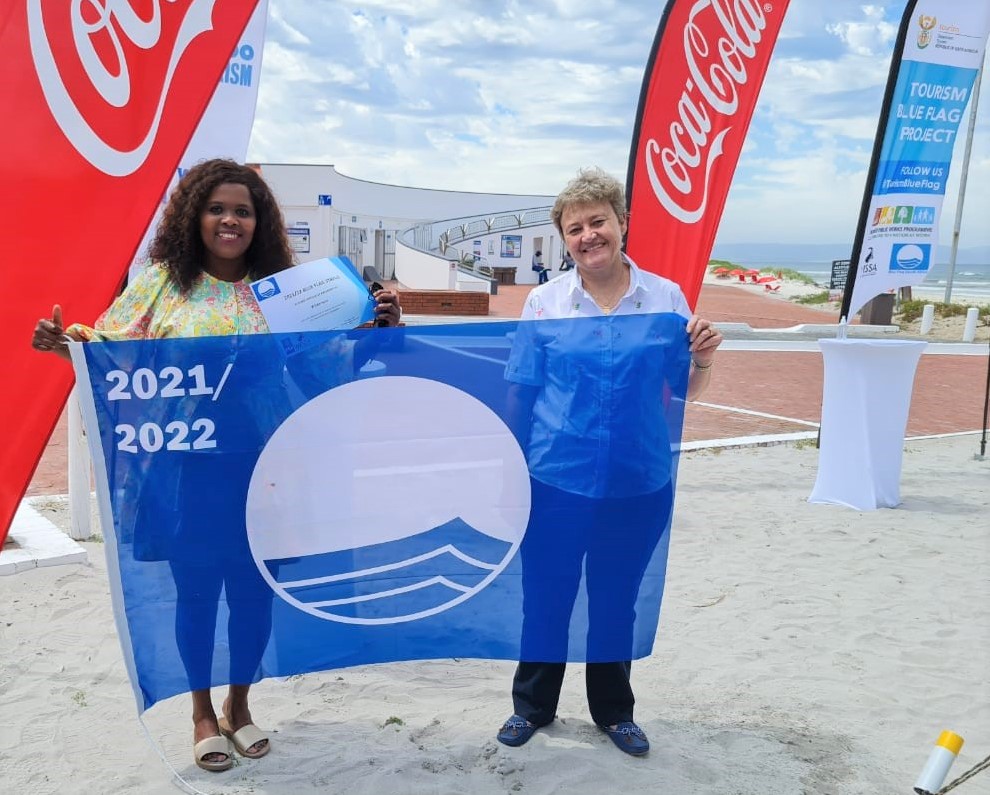 George Municipality will be hoisting a Blue Flag and putting up two Pilot Blue Flag boards at local beaches for the 2021/22 summer season.
Wilderness Beach has regained full Blue Flag status after two years of Pilot status following a change in criteria and Covid-19 implications. Victoria Bay and Herold's Bay this year both gained Pilot status following application by the George Municipality.
Blue Flag is an international coastal management programme that accredits beaches that meet standards of excellence in water quality, environmental management, environmental education and information as well as safety and services. In South Africa the programme is implemented by the Wildlife Environmental Society of South Africa (WESSA).
George Acting Municipal Manager Dr Michele Gratz and George Municipality Manager Parks and Recreation Nosidima Vumindaba received the flag and boards at a WESSA function in Hermanus yesterday (27 October 2021).
Dr Gratz said Blue Flag status offered many benefits including improved tourism facilities, enhanced management of coastal ecosystems, increased awareness of the coast and capacity building of coastal municipalities. "Local and international tourism to our region have taken a major knock since the start of Covid-19 and impacted countless local livelihoods. Blue Flag status has significant international merit and achieving these accolades are important to stimulate and confirm international and high-end interest in the city and district as a desirable, quality tourism and lifestyle destination."
"We thank Garden Route District Municipality for their role in the application for Wilderness, as well as other roleplayers such as SANParks Garden Route National Park who shares jurisdiction of Wilderness beach with the George Municipality."
"We look forward to achieving full Blue Flag status for Victoria and Herolds Bay in the near future and will continue working with other relevant roleplayers to ensure compliance."
The Blue Flag season runs from 1 December 2021 to 31 January 2022. Compliance includes high standards of water quality monitoring, public safety and lifeguard services, and well-maintained coastal amenities.
South Africa has participated in the Blue Flag programme since 2001.