#gettoknowgeorge – MARCH 2023
WHAT'S HAPPENING IN GEORGE, WILDERNESS AND UNIONDALE – TOURISM UPDATE MARCH 2023
Us 'Georgiette' proudly live in an area many people dream of making their home and one of South Africa's top destinations. Follow our monthly #GettoknowGeorge tourism update to discover interesting snippets happening in our beautiful area, curated just for you, as well as upcoming events you can look forward to!
Find all the tourism information you need in the greater George area at www.visitgeorge.co.za – the official tourism destination website.
#GeorgeTourism #GettoknowGeorge
UPCOMING EVENTS
Coming up over the next month you can look forward to exciting rugby matches, lekker live music and theatre shows, running and golfing for a cause.
GENERAL EVENTS
25 March: Links Lodge Craft Day at Fancourt, George
083 400 7177 | karenwarneke17@gmail.com | R250
This craft day is especially for women and an opportunity to connect with others who enjoy crafts.  The idea is to bring your UFO's (unfinished objects) or PHD's (projects half done) for a time of crafting and reconnection, with lunch included.  From clay to crochet, any form of craft is welcome!  Booking is essential.
25 – 26 March: George Koi Show at the Garden Route Mall, George
082 896 4624 | ingridcronje@gmail.com | Facebook Event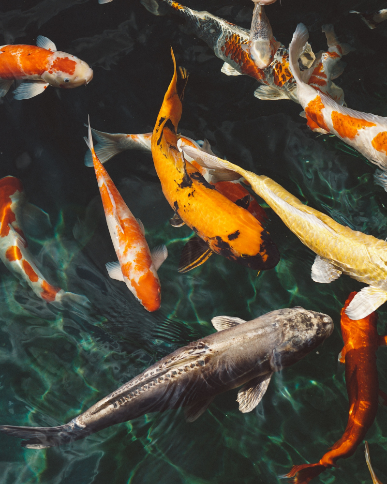 Calling all fish lovers!  Be mesmerised by the vivid colours of different varieties of Koi fish, measuring from 12cm to over 90cm. The Southern Cape is the second biggest Koi chapter in South Africa and the show attracts entrants from Cape Town, East London and other parts of the country. Two certified judges from Belgium, as well as our own internationally accredited South African judges, will decide the champions through ranking the fish by breed, size and class.  There will also be Koi fish for sale for those interested in starting their own pond.
SPORTS EVENTS
25 March: Oubos MTB Marathon
Blanco Primary School, George | 083 662 2022 | www.chaingangevents.co.za | juan@chaingangevents.co.za | Entry is R120 – R350
This annual mountain biking event, consisting of a 10km, 25km and 50km, also features a fun potjiekos competition and food stalls.  E-Bikes are also welcome!
25 March: Uniondale Trail Run at the Uniondale Showgrounds
074 260 2871 | www.jakhalsevents.co.za | corne@jakhalsevents.co.za | Entry is R60 – R190
Enjoy the splendour of the Klein Karoo while participating in the new Uniondale Trail Run.  It offers 3 distances – 5km fun run/walk, 10km and 21km – consisting of single and jeep track.  Get your tekkies on and come enjoy Uniondale's unspoilt beauty and small-town charm.
02 – 07 April: George Mega Sports Festival at Outeniqua Park Stadium, George
084 082 5212 | https://scst.co/#EVENTS | info@escst.co.za
2,600 high school students from across South Africa flock to George to take part in this prestigious tournament, hosted by Southern Cape Sports Tours.  Spectators can enjoy live rugby, netball, hockey, soccer, and tennis, along with festive vibes, music and food stalls.
07-11 April: Eden Games at Outeniqua Park Stadium, George
084 082 5212 | https://scst.co/#EVENTS | info@escst.co.za
This multi-sport primary school sports festival welcomes spectators can enjoy watching rugby, netball and soccer, with food stalls available.
SWD Eagles Rugby at Outeniqua Park Stadium, George
044 050 0660 | www.swdarende.co.za | veda@swdeagles.co.za
24 March: SWD Eagles vs EP Elephants
01 April: SWD Eagles vs Welwitschias
14 April: SWD Eagles vs Valke
Outeniqua Highschool Eeufees
044 874 4156 | www.outeniqua.co.za | eeufees@outeniqua.co.za
The 'Kwaggas' are celebrating their centenary!  Outeniqua Highschool has a variety of celebrations and events throughout 2023, to celebrate their 100-year old mark:
18 March: Eeufees Sports Weekend
31 March: Kwaggas Junior Rugby and Hockey Week
01 – 05 April: Kwaggas Junior Rugby and Hockey Week
15 April: Kwaggas vs Grey Kollege
Golf Days:
|24 March: K9 for Rhino Conservation Golf Day at Kingswood Golf Estate, George
Liam Quinn 067 720 1702 liam@commodoredefense.com | Facebook Event | R3000 p/4-ball (includes green fees, carts, comp fee and dinner)
The Amazulu K9-Unit is a non-profit in the KZN region, who track poachers in the rugged, thick areas. The rhinos are more vulnerable in this region due to the Black Rhino Expansion Project where many of the rhinos are not de-horned.  The golf day format is a Betterball Stableford.
30 March: Rico Wolmerans Fundraiser Golf Day at Kingswood Golf Estate, George
0861 72 71 70 | golf@kingswoodgolf.co.za | Facebook Event | R3000 p/team (includes green fees, cart and meal)
Rico Wolmerans has been invited to play in the Callaway World Championship (California) AND in the US Kids World Championship (North Carolina) in July 2023. Help raise funds to enable Wolmerans to participate, where he will proudly represent the Louis Oosthuizen Academy 57, the Southern Cape Golf Union, Kingswood Golf Estate and South Africa.  The golf day format is a Betterball Full Scramble with 100% handicap allowance.

MUSIC, SHOWS AND DANCE
Dotsure Insurance George Arts Theatre, George
044 873 3938 | WhatsApp: 062 851 0751 | www.georgeartstheatre.co.za | enquiries@georgeartstheatre.co.za | Tickets available from Computicket and the Theatre Box Office
24- 26 March: The Grand ol' Dame Arts Festival
This line-up is fabulous!  It includes a Theatre and Taste food experience, kids' entertainment, and Elrine Lottino Jazz Trio, 'Vroudrie', South Cape Children's Choir and so much more.
12 – 22 April: Finding Fame, A Musical Quest
Directed by Heather Stead, and in collaboration with Songbird Music Studio and George High School, this local theatre performance is the story of four teenagers who begin a journey of fame or failure which takes them back in time.
01 April: Oppie Plaas Dans at Oppieplaas Venue, George
082 300 0971 | www.oppieplaasvenue.co.za | Facebook Post | info@oppieplaasvenue.co.za | Tickets are R150
Enjoy a fun evening with good music and DJ-ing by Morne Meister, who is ready to set the dance floor on fire!  A meal is included in the ticket price, and a cash bar will be available.
LOCAL DEALS AND HAPPENINGS
Have you spotted these local deals and special activities taking place?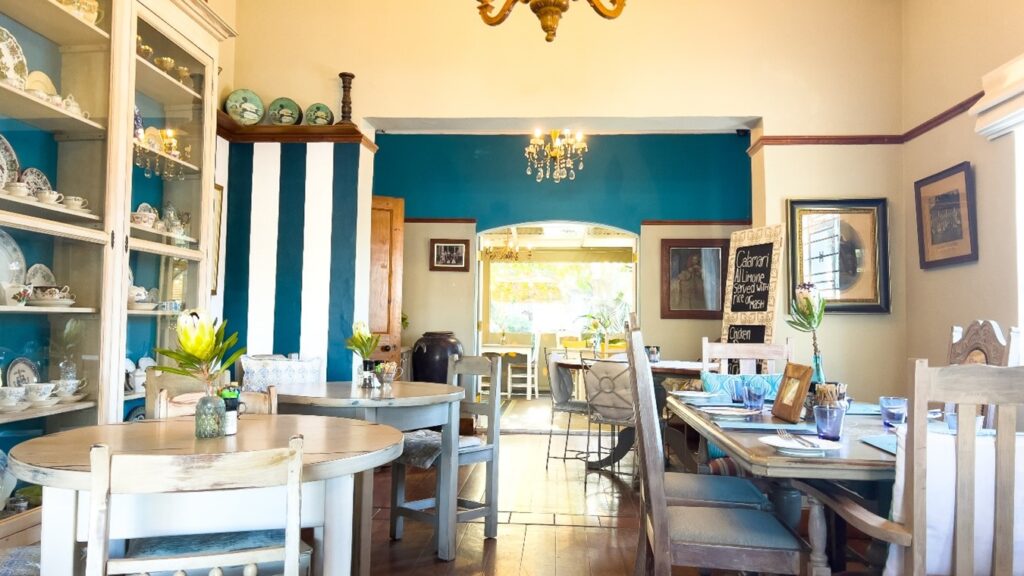 Featured image: Bayleaf Café in George
Eateries
Bayleaf Café: Bottomless Pizza Night – 31 March from 6-9pM
The Fat Fish: Fish & Chips lunch special – R170 for two on Tuesdays and Thursdays
The Pottery: Buy 1 Get 1 Free on Protea Rosé by the glass along with their R110 pizza special
Texas Grill:
Crazy Tuesday Specials available for sit down and takeaway
Double Burger Special – 2 cheeseburgers and chips for R99
Texas Schnitzel – chicken schnitzel with cheese/mushroom sauce and chips for R59
Kingswood Golf Estate Restaurant: Friday dinner special – delicious Fish and Chips for only R110 per person. Our crispy battered fish is perfectly paired with golden chips, and there will be live music by John Oeschger.
Mujo Restaurant:

Friday: Lamb Curry R109
Saturday: Janine Fourie 5pm, 'Margaritas & Margheritas', 2d ODI SA vs WI
Sunday: Albert Meintjes and Tanja Storm – Kids eat for half price.
The Blind Pig and Bootlegger Brewery are celebrating St Patrick's Day with amazing food and drink specials all day long on 17 March.
The Fairy Knowe Hotel's Amare Vita: Pensioner's Lunch on Tuesdays 12:00 – 14:00 includes a main meal, dessert and glass of wine for R100.
The Hawthorn Boutique Hotel: Weekly high tea every Thursday from 11:00 – 14:00 at R175 per person. Enjoy scrumptious treats, delightful company, and of course, a steaming cup of tea!
Trail Kiosk at GroundZero: Weekly high tea every Thursday at R120 per person.
Activities
Redberry Farm Easter Maze Hunt: 13 March – 13 April 2023
The hunt is on to find 8 egg-citing stations inside the maze! R50 per person with a sweet surprise at the end for finishers.
Views Boutique Hotel & Spa Wellness Emporium: Summer Spa Promotion valid until 31 March – Classic Radiance Boost Facial and Spa Deluxe Pedicure with your choice of any one of the following add-on treatments: Salt glow full body exfoliation / Med Heal peel / Scalp and hand massage / Gel application – R990 (Save 15%)
Accommodation
Fancourt:

Family Moments at R3435 per room on a luxury room with daily breakfast included. Kids under 16 stay free.
Tee Off in Paradise at R2250 per person sharing per night on a two-night stay, including daily breakfast and a round at two golf courses.
Ultimate Golf Escape at R3670 per person sharing per night on a three-night stay with daily breakfast and a round at the Links golf course.
HAVE YOU VISITED THESE CAFES?
Rocket, 27 Arbour Road in George
Situated opposite the bike park in Heatherlands, this chic café has locally roasted coffee and tasty food which is grown, made and prepared in George!  They opened their doors in December 2022 with the aim of supplying an outlet to support local producers.  Everything they sell also comes from the local community.  Another amazing thing they do is donate 5% of hot drink sales to a local cause, and patrons vote where the donation should go.  It can even be to a community champion, and not specifically an organisation.  This amazing café is also one of a few places to visit on a Sunday.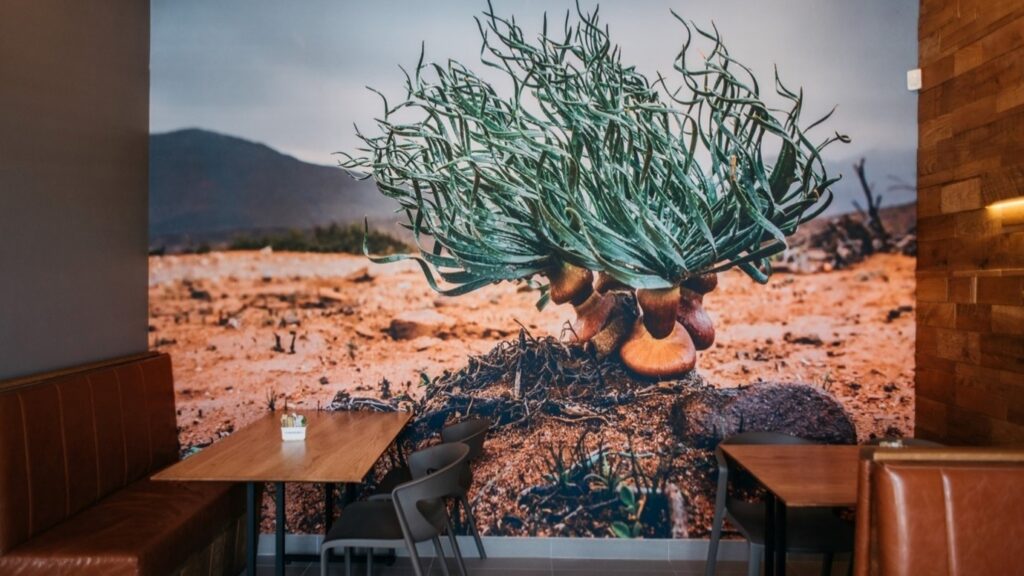 Featured image: Koekemakranka in George
Koekemakranka, 123 Meade Street at Beacon Place in George
From the same owners of George favourites Poco Loco and Ground Control, Koekemakranka – with its unusual name – may be your next favourite coffee 'go to'!  This café and espresso bar serves breakfast and light lunches, and features Sugarbird Coffee.  We love how green George is and this café is just another example, using compostable cups for take-aways!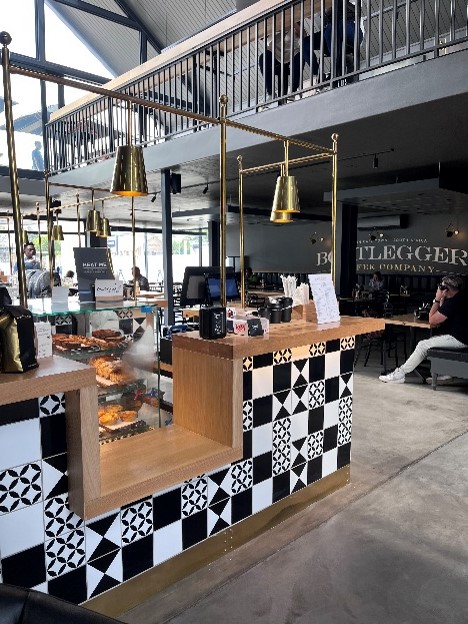 Bootlegger Coffee Company on Courtenay Street in George
The coolest franchise has made its home in George! And have you seen how trendy it is inside?!  We also love their gourmet style menu. While there may be Bootleggers all over SA, this is the only one countrywide to have a drive-through.  Grab ready-to-go meals like salad bowels, bagels and more. George's Bootlegger is also open in the evenings on Thursdays to Saturdays until 9pm, as well as Sundays during the day.  The coffee is Rainforest Alliance (RFA) certified, and they sell compostable pods for the more eco-conscious. The restaurant has a wine boutique and gift shop inside.

Featured image: High tea at Ground Zero
Trail Kiosk at GroundZero Bike Park on Camphersdrift Street in George
Have you heard that the Trail Kiosk at GroundZero Bike Park recently reopened under new owners?  They have upgraded the facilities and are now running a beautiful and relaxed high tea.  Delicate tea cups, fresh flowers and delicious sweet and savoury bites make this an enjoyable activity, offered at a very affordable price.  It takes place every Thursday (bookings must be made by Tuesday).
Kraft Wood and Coffee on Binne Street in George Industria
There's a new kid on the block!  This craft furniture showroom has an industrial style coffee shop on-site. While you grab a cuppa, start designing your dream furniture piece. Each item is crafted with care and diligence to create an elegant and comfortable living space. The coffee shop menu includes breakfast and lunch options, sarmies and smoothies. They are open during the week, on the last Saturday of the month and any other Saturday by appointment.
JOIN THE CONVERSATION
Share your awesome experiences with us on your socials!
#visitgeorge #visitwilderness #visituniondale
Quick to-do! Cast your vote for Fancourt in the World Golf Awards for South Africa's Best Golf Hotel.
VISIT YOUR LOCAL TOURISM OFFICE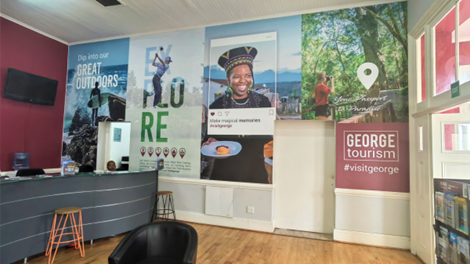 Featured Image: George Visitor Information Centre
Want to know more about what you can see, do, eat and where you can stay?
Go to visitgeorge.co.za to find out more.