Partnership to benefit incubation programmes for ICT business and innovators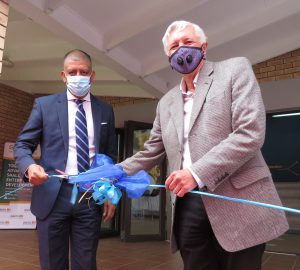 George Municipality Executive Mayor Alderman Leon van Wyk formally handed over the Thembalethu iHUB, an ICT business and innovator incubator programme, at a ribbon cutting service today (14 October 2021). The municipality provides the premises, services and an annual cash contribution towards the project. The Small Enterprise Development Agency (SEDA) funded the repurposing of the building to the needs of the iHUB.
Ald Van Wyk said collaborations such as these were very important for the municipality's ongoing pursuit to lure international companies to establish their call centres here. "The ongoing installation of optic fibre in our city and region is a good sign for all levels of business and the establishment of an ICT iHUB that develops advanced IT skills and businesses is an ideal way to introduce young people to this new world."
SEDA Western Cape provincial manager Alex Qunta said the municipality had contacted him with an idea for a business incubator in Thembalethu. "SEDA and the municipality has worked well together through the years and I knew Nelson Mandela Bay iHUB was looking to expand, it seemed like a perfect fit. We look forward to more projects in George, which I consider to be the new capital of the Western Cape," said Mr Qunta.
iHUB CEO Darryl Dennis said Covid-19 had placed emphasis on the need for remote working and had made much reliant on technology. "Among the iHUB projects for Thembalethu is the Global Virtual Apprenticeship in which we identify and mentor students to the level of advanced IT skills so that they could work on database-based IT platforms such as Booking.Com and LinkedIn – both of which can be done from home and pay in American dollars."
Situated at municipal premises next to the local Thusong Centre in Jericho Street, Thembalethu iHUB's location next to the N2 ensures easy access to local communities and the rest of George.
Thembalethu iHUB Centre Manager Sivuyo Ngcwangu said the hub brought programmes to Thembalethu and surrounding areas that would enhance economic activity and thereby assist in solving societal challenges through the application of ICT solutions.
"The iHUB as business incubator renders support to young grassroots innovators with the needed infrastructure, industry collaborations, enterprise supplier development linkages, access to funding linkages, mentoring, and coaching and potential partners or investors.
"The iHUB helps enterprises take on the challenge of township transformation in specific industries and business sectors and creates innovative solutions to those challenges," said Ms Ngcwangu.
Caption
iHUB CEO Darryl Dennis (left) and George Municipality Executive Mayor Alderman Leon van Wyk cut the ribbon at the formal handover of the Thembalethu iHUB today (14 October 2021).